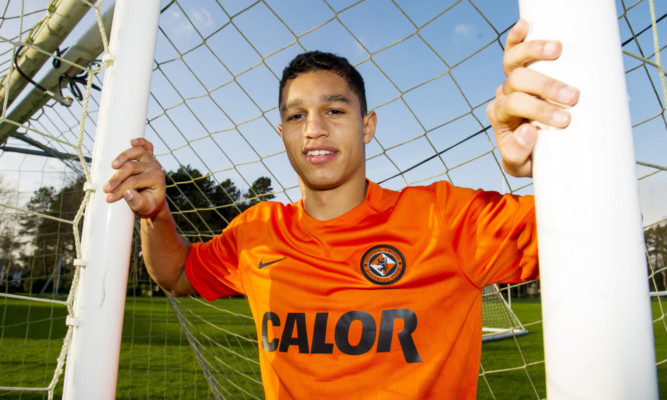 Saturday's 3pm match between Partick Thistle and Dundee United has been postponed.
An 11am inspection had been called after overnight snow.
With more snow falling today and forecast to continue, the referee decided to postpone the game.
It is a real blow for United, who were hoping to capitalise on last week's thumping win against Kilmarnock and go on a winning run.
Following the pitch inspection, the referee has made the decision to call today's game with @dundeeunitedfc off.

— Partick Thistle FC (@ThistleTweet) January 30, 2016
Inverness v Hearts was also called off earlier this morning, and there is further disruption down the leagues.
Full details here.
Here is Ian Roache's interview with Kyle Knoyle before the postponement was announced:
Kyle Knoyle is looking to help Dundee United survive while, at the same time, making himself ready tio shine under the bright lights of the English Premier League.
The 19-year-old right-back has joined the Tangerines on loan from West Ham United until the end of the season.
By the time the curtain comes down on his spell north of the border, Knoyle hopes to be celebrating what would be one of Scottish football's greatest escapes and heading back to the Hammers on a high.
United, who travel to Firhill today to face Partick Thistle, currently sit 11 points behind second-bottom Kilmarnock in the Scots top flight.
Meanwhile, in the east end of London his parent club occupy a superb sixth spot in the EPL and are dreaming of climbing even higher.
With that in mind, the move may not have appealed to everyone but Knoyle knows exactly what he wants out of the switch and he believes it can benefit both United and himself.
Knoyle, who is in contention to feature against the Jags having played over an hour of a 20s match against Dunfermline in midweek, said: "There was no doubt when I heard Dundee United wanted me.
"I wanted to come here straight away.
"I am pleased to be getting an opportunity at a Scottish Premiership club.
"All I knew about the game up here was Celtic and Rangers. I hadn't followed Scottish football too closely but that doesn't mean I wasn't delighted to get a chance to play for United.
"I think the people at the club watched some footage of me and then showed an interest.
"I then spoke to the academy manager (Tony Carr) at West Ham and he told me about the move.
"What I want from this move is, first of all, to help United stay in the division.
"Also, I hope to develop as much as I can as a player and as a person because this is my first loan move.
"I also want to enjoy my time up here and it is better for me to be playing competitive football.
"Even though the level at 21s in England is not too bad the gap between that and the first team in the Premiership is a problem. A lot of young players can't break out.
"They need loan opportunities to help them bridge that gap and that is the case with me.
"I am now at a stage in my career when I want to take the next step."
Asked if he would be ready to wear a tangerine jersey if handed one by manager Mixu Paateleinen this afternoon, Knoyle's answer was unequivocal.
"Yeah, absolutely, I would be confident," he said.
Knoyle will be joined in the United squad today by someone he knows very well former West Ham player Guy Demel.
He said: "Guy stays in the same hotel as me so that's great for me, having just come up to Dundee.
"Last season at West Ham, I trained with him and the others quite a bit.
"He was a player I looked up to, indeed that's the same for anyone in the West Ham first team because that's where you want to end up yourself.
"I would say Guy is more of a mentor now than he was back then because last season was awkward for me.
"I had an ankle injury and was out for a few months so didn't have as much first-team training as I have had this season.
"There have been others who have influenced me, for example Matt Jarvis (now at Norwich) was someone who was very helpful to the younger players.
"When I first got to the club Joey O'Brien was the right-back and then it was Carl Jenkinson last season.
"Since then I have been watching Aaron Cresswell, picking up what I can from him."