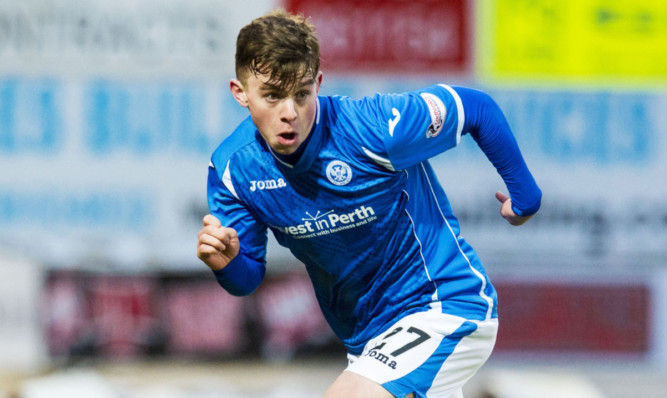 St Johnstone manager Tommy Wright has admitted that the Perth bench didn't appreciate the seriousness of winger Craig Thomson's injury at the weekend.
The young wide player hurt his shoulder in a challenge with Dundee United's Callum Morris after being brought on as a second half substitute.
But it was only after the match that the full picture was revealed, with a hospital x-ray confirming a fractured collar bone that has ended his season.
A specialist will determine today whether there needs to be an operation or the break will heal itself.
"At the time I didn't actually realise how seriously he was injured," Wright reflected.
"We were told it wasn't dislocated and it had just been a knock. So I was encouraging him to get into the game.
"We thought he was OK and we were actually giving him a bit of stick. You know what it's like, you think the younger generation isn't as tough as in our day.
"But in hindsight I'd have taken him off even if all the subs had been used.
"It is an unfortunate injury for him but he is out for the rest of the season.
"He is seeing the specialist to find out if an operation is required or whether they can leave it to heal."
There was more positive news to report regarding Chris Millar, who came off in the first half of the Tayside derby
"I think Chris will be fit for the weekend," Wright explained. "He has every chance.
"He felt his hip and erred on the side of caution and came off because of the problems he has had this season.
"It is a strange one. He is doing all the work he is meant to be doing but he has had a problem this season. Maybe it is down to too much football over the last four or five seasons and it is catching up with him.
"Hopefully a good summer break will help him. It certainly has to be resolved."
Millar's regular early substitutions this season have been far from ideal for the team.
Wright pointed out: "Having to make early substitutions does affect your plans and it is something we have had to deal with too many times this year."
Murray Davidson has already been ruled out of the Kilmarnock game on Saturday.
"Murray is getting a scan on his hamstring so we have to wait for the results," Wright reported. "He won't be available for Kilmarnock."