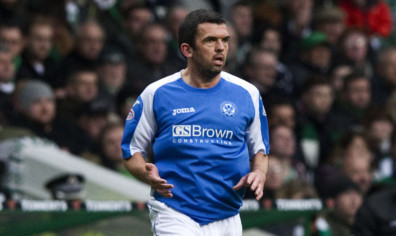 Callum Davidson has revealed there is now a chance he will be staying with St Johnstone beyond this season after chairman Steve Brown made a dramatic U-turn.
The veteran defender was told by the McDiarmid Park supremo earlier this year that his contract would not be renewed this summer as Brown felt Davidson was too old.
The 36-year-old admitted that he was determined to prove the chairman was wrong and like a fine wine, he was improving with age. Now, it seems he has achieved his goal, forcing Brown into a rethink.
Davidson said: "It was pretty clear-cut earlier in the season as far as I was concerned. But I have had some positive talks with the chairman."
When asked if he felt Brown's change of mind has been based on his performances, Davidson replied: "Yes, it probably has been. I will have to see how I am playing as well. If I am not playing well enough and can't perform to the level I want to, then I will probably make the decision that will be it.
"But I feel I have done OK this season when I have played. Football is a great job, so if I can keep playing and looking after myself then we will see."
"Now that we are in the top six, I will be knocking on the chairman's door," Davidson said.
"Seriously, though, I will probably go and speak to him again after the Inverness game on Friday and see where we are.
"I would also love to get into the coaching side of things. I have enjoyed the time I get with the Under-20s at the club and hopefully, there might be something we can do on that side of things.
"If I could play and coach, in my world, that would be ideal. St Johnstone is where it all started for me so it would be nice to give something back."
Davidson was nursing a slight hamstring strain on Monday as Saints scored a last-gasp equaliser against Dundee United that secured a top six finish for the second season in succession.
And before the post split games, there is the small matter of a trip to face Inverness as Saints look to cut the gap on the third-placed side to two points.
Murray Davidson is an injury doubt with an ankle knock while David McCracken is still recovering from a stomach bug.
Last season Saints failed to win any of their five matches after the split, although they were hamstrung by a crippling fixture schedule.
Davidson said: "Last year we got to the top six and then didn't deliver, so this season we are determined to make this St Johnstone's best-ever finish.
"We will probably go about things a bit differently this time compared to last season.