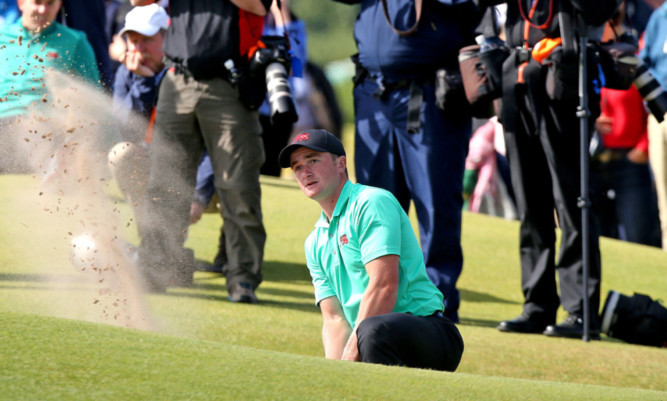 In the end, it was almost easy. Great Britain and Ireland regained the Walker Cup with a wholly commanding performance and their record points total against a much-touted USA side on a glorious day at Royal Lytham and St Annes yesterday.
Buoyed by some outstanding performances, a sound strategy by skipper Nigel Edwards and an often inept American performance in almost all aspects but for big Bryson DeChambeau and Beau Hossler, GB&I had the cup regained by mid-afternoon yesterday, eventually winning 16 to 9 .
After a strong foursomes comeback in the morning got them the commanding lead they might have had from Saturday, the home team bagged the three and a half points they needed from the first four matches of the ten singles, Paul Dunne having the honour of getting the clinching half-point.
"I'll take winning over 30th place any day," joked the Irishman, referring to his leading the Open at St Andrews back in July. "It's means much more to win as a team."
Edwards meanwhile became only the second GB&I captain after Peter McEvoy to win twice, and wholly outplanned his American counterpart John "Spider" Miller. Edwards' experience from two former editions came to the fore while the US skipper's singles order in particular seemed ridiculous, the imposing DeChambeau in the anchor role but the cup lost just after he reached the turn.
The great thrill of matchplay is the way it fluctuates so quickly, and this was never better illustrated by the Sunday morning foursomes that laid the final foundation stone for GB&I's victory.
With a two point lead from the first day, the home side were down in two matches and had been pegged back to square from four-up in another.
The overall perception was that GB&I maybe could have done a little better than two points ahead from Saturday's play, and the feeling growing that the great unmeasurable of these contests, momentum, was in favour of Miller's outfit in the near-perfect playing conditions.
Instead, the English pairing of Ashley Chesters and Jimmy Mullen, the backbone of Edwards' team all weekend, closed out the opening foursome impressively and momentum switched the other way.
Irish pair Gary Hurley and Dunne, whose performances had been mostly notable for the entirely warranted warnings they had on both days for slow play, roused themselves for a one-up win on Mike McCoy and Scott Harvey, aided by a dreadful OB drive on 17 by the Americans.
Cormac Sharvin and Jack McDonald, the pair pegged back from four-down, had watched Hunter Stewart and Lee McCoy erase the deficit with birdies.
But Stewart's erratic play all weekend, at times inspired and at times dreadful, happened again with a wild drive on 16 and another on 18 deep into a gorse bush, which allowed the two University of Stirling team-mates a two-up win and their second foursome point of the match.
Thus the two point overnight lead, which seemed in danger of being wiped out, actually doubled and there was breathing room for the ten afternoon singles. Not that they needed any.
Chesters, leading off for the fourth session out of four, comfortably handled Jordan Niebrugge, the Open Championship Silver Medal winner but out of sorts this weekend. Why Miller opted to frontload his singles draw with two players without a win beggared belief.
Mike McCoy, one of the USA's statutory older "mid-am" players, was four-over for the front nine in the perfect conditions and Sharvin won easily. Mullen, who had been regarded as a marginal pick for the team, joined Luke Donald, Paul Casey and Andrew Oldcorn as the only GB&I players to go a perfect 4-0 in a Walker Cup by beating Denny McCarthy.
That left Dunne, the 54-hole leader of the Open, to get the crucial half-point in somewhat anti-climatic fashion. He missing an eight foot putt for birdie to win on the last only for Maverick McNealy, the world ranked No 2 but a huge disappointment like Niebrugge, to miss from three feet shorter.
There was still time for a little drama. Scot Ewen Ferguson, who had won over the crowd with his singles win on Saturday, sparked another fist-pumping celebration by holing a long pitch over two bunkers at the 17th, although the Scot lost on the 18th to Hossler, one of the few Americans to impress.
Former Scottish champion Grant Forrest ensured that every GB&I player contributed a point with a comeback win over Scott Harvey, while fellow Scot McDonald finished the weekend an outstanding 2-0-1 from his three matches with a half in his singles clash with Lee McCoy.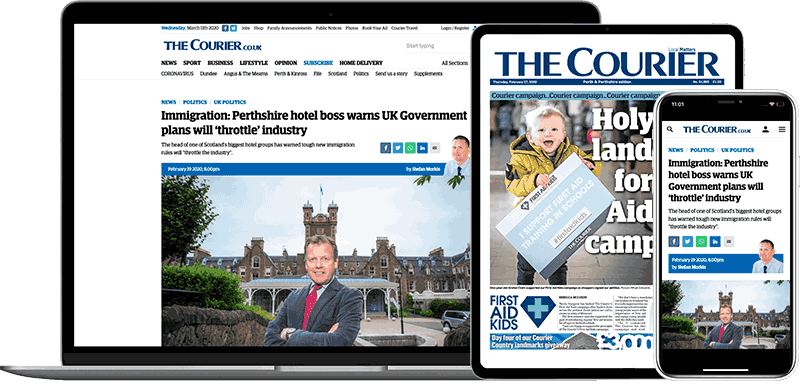 Help support quality local journalism … become a digital subscriber to The Courier
For as little as £5.99 a month you can access all of our content, including Premium articles.
Subscribe