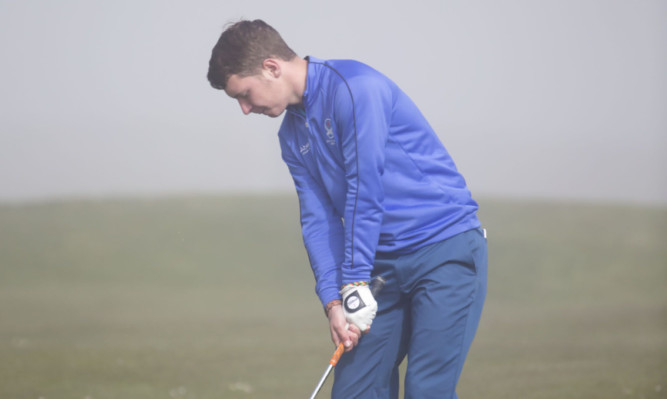 Glorious as the weather has been these last two days, it wouldn't be the Scottish Boys' Championship if there wasn't an issue with it.
Driving snow has occasionally been a problem in the past, but even as temperatures touched 18 degrees there was a problem at Dunbar as the championship got under way on Monday.
Haar from the North Sea swept in to cause a three-hour delay in the morning, followed by another half-hour's break when they finally got going, meaning that just 64 first round ties started when they had hoped to complete 74 on the first day.
Championship favourite Calum Fyfe lost the first hole, then waited half an hour on the second tee, before finally getting his rhythm in his first round match against Bobby Willan of Machrihanish.
Fyfe, of Cawder, the backmarker in the field at +3.4, had already been up five hours when he struck his first blow, but he made light of things once he finally got going, to win 5&3 and reach the second round, which is, oddly, as far as he's ever progressed in three attempts.
However, his performance in reaching the semi-finals of the South Africa Amateur earlier this year, losing to Jovan Rebula, who in turn lost to Craigie Hill's Daniel Young in the final, earmarks him as the class of this field.
Fyfe's promise got him trips with the Scotland senior squad to Dubai and South Africa this winter, but a few weeks in that company made the 5ft 6in, nine-and-a-half stone 17-year-old aware of where he had to improve.
"I'm probably one of the longest hitters here this week, but pretty short among the seniors," he said. "After the 10 days in Dubai I realised I had to bulk up a lot to get more power.
"I'm in the gym first thing twice a week now just to build my strength."
Looking at the likes of Bradley Neil, just a couple of years older than him and a practice partner in the past, gives Fyfe plenty of inspiration.
"I hope that Brad does really well at Augusta, and it's a great chance for him," he said. But I've played a lot with him and I know there's not that much of a gap between us. Winning the Amateur has been a huge breakthrough for him and I know a lot of the guys in the squad are thinking about Carnoustie this year."
From a field that was heavily over- subscribed last year at West Kilbride not really as accessible as Dunbar the draw has not been completely filled this year, despite a handicap limit of 7.4, causing a few scratched heads around Scottish Golf Union circles and a number of byes in the draw.
Two beneficiaries of that were two chief Midlands hopes in Carnoustie's Will Porter, who won the opening SGU Junior Tour event at Longniddry, and Lundin's Niall McMullen, both of whom got free passes into second-round ties this morning.
Not so lucky were the players who won the Quadrangular International U16 event just up the road at Archerfield, including Darren Howie, brother of former champion Craig.
Scotland's team defeated Ireland, Wales and the Netherlands in that event, but the six youngsters played 36 holes for three days and then came straight to Dunbar.
The delays mean that at least Darren gets a lie-in after being up at 6am after winning his opening tie 6&5 against Crow Wood's Sean Barnes.
The advice from his elder brother, winner over Euan Scott at Murcar three years ago?
He said 'don't be Mr Nice Guy, that just gets you halves', although I'm not sure I could be like that," he admitted.
Getting rest is vital in the seven-round, six-day slog through the Boys' format still a straight 256-player matchplay draw when many events are switching to two rounds of qualifying before starting knockout golf.
St Andrews New's John Paterson avoided extra holes to save some energy in his first round tie.
The 16-year-old was one-up playing the last, but hooked his first two shots badly.
Paterson looked set for extra time before he saved himself the trouble by chipping in for birdie from 20 yards to win by two holes.