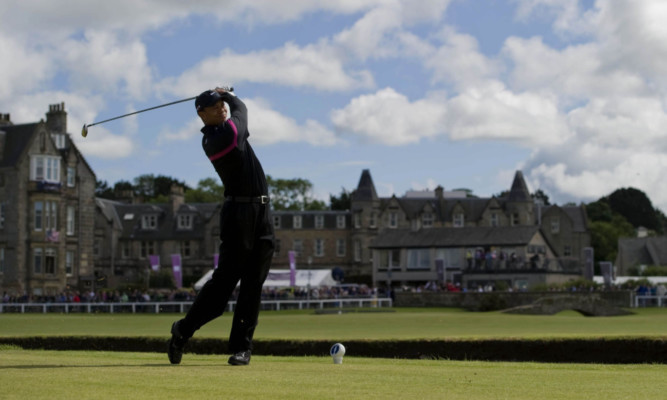 A third Champion Golfers' Challenge featuring most of the surviving Open champions will again hansel the 144th championship at the Old Course, St Andrews this summer.
The challenge was first held to great success on the eve of the Millennium Open Championship in 2000, and was due to be held again in 2010 but had to be cancelled due to heavy rain.
Peter Thomson, the five-time Open champion from Australia now 85, has confirmed he will play as has Tiger Woods, Rory McIlroy, Tom Watson and Gary Player.
All Open champions are invited to play a mini-tournament of four holes the first, second, 17th and 18th of the Old Course competing in teams of up to four for a prize of £50,000 which will be donated to their chosen charity.
The first challenge in 2000 attracted huge crowds and was particularly notable for the attendance of American legend Sam Snead, who returned to St Andrews for the first time since his Open victory in 1946.
Thomson will be marking the 60th anniversary of his Open victory at St Andrews in 1955 while Watson is playing what could be his final Open 40 years after his first, when he won the Claret Jug at Carnoustie in 1975.
Three-time champions Player, Sir Nick Faldo and Woods are playing in the event alongside the 1963 and 1969 champions, Bob Charles and Tony Jacklin, and more recent winners such as Phil Mickelson, Ernie Els, Darren Clarke and Padraig Harrington.
Among the other champions confirmed so far are Louis Oosthuizen, who won The Open the last time it was played in St Andrews in 2010, Stewart Cink, David Duval, Paul Lawrie, Mark O' Meara, Justin Leonard, John Daly and Sandy Lyle.
The occasion will also be used to pay tribute to Australia's Kel Nagle, who won the Centenary Open in 1960 at St Andrews and died in January at the age of 94.
Peter Dawson, chief executive of the R&A, said, "We are looking forward to a wonderful celebration of the rich heritage of The Open at the Champion Golfers' Challenge in St Andrews.
"As golf fans, we all have cherished memories of watching these great players competing over the years and the excitement of seeing such inspirational competitors winning The Open.
"It will also be a fitting occasion to recognise the wonderful career of Kel Nagle, one of the sport's great gentlemen, who is sadly no longer with us."
The challenge will begin at 3.30pm on Wednesday July 15, the day before the championship proper, with a musical performance in the centre of the 1st and 18th fairway and the first group teeing off at 4pm.