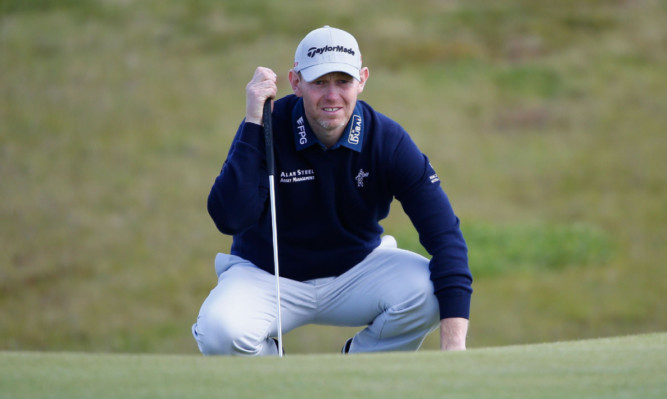 The best field in the history of the Aberdeen Asset Management Scottish Open next month is going to continue the legacy of last year's Ryder Cup, believes leading home player Stephen Gallacher.
Gallacher joked that he'd told colleagues on the main tours that the composite championship course at Gullane, hosting the Scottish for the first time on July 9 to 12, was "complete rubbish" to keep them from entering and win his national title for himself, but had failed miserably.
"You see the stature of the guys coming over, 12 Ryder Cup players and any amount of major champions, the World No 1 and the guy of my generation who arguably has the second highest profile in golf after Tiger," he said.
"It shows there's certainly no hangover from the Ryder Cup, we've got two weeks of quality events here.
"It makes things tougher for us Scots who want to win, and we don't think of it as a warm-up ahead of the Open, we want to win this first and then think about St Andrews. But what an event it is for the fans and for the Scottish guys who can qualify and rub shoulders with the greats."
Gallacher was gifted playing rights by the Gullane club many years ago and uses the course as his winter training base.
"It would run into the hundreds of times," he replied when asked how many times he's played it. "I come down here during the winter a lot for regular games with friends and it's always the same.
"The greens are always in fantastic nick and it's a fair course, there's only a couple of blind holes out there and nothing that will frighten you.
"It'll be fantastic for TV, you get to the top of the hill and there's that 360 degree view, over to Fife, Edinburgh and out to the Fidra Lighthouse. The layout up there is excellent and they've cherry-picked two more from the No 2 course which are great holes.
"It's always weather dependent, but it won't be too taxing. It'll be lots of fun, with lots of birdies."
Gallacher has no doubt who to credit for the growing stature of the Scottish Open.
"We've got Phil (Mickelson) to thank for winning back-to-back in 2013," he said. "A lot of guys changed their schedules as a result of that, pencilling in the Scottish Open not only as a warm-up for the Open next week but also because it's a top tournament in its own right.
"To have a supporter like Phil who plays, showcases it and is a great ambassador for the game is just fantastic. Rory (McIlroy) coming every year has had the same effect, players tend to follow where the World No 1 goes.
"There's no better warm up for St Andrews than here as well; same kind of land, same greens, same grass. It's perfect."
Rickie Fowler, Jimmy Walker and Matt Kuchar will all play in the Scottish again but tournament director Peter Adams said there will be no Tiger Woods, even if the former world No 1 has indicated he wants to get more "reps" in this summer.
"I spoke to Mark Steinberg (Woods' manager) and it's not in his plans for this year but we talk to him all the time and we're hopeful about future years," said Adams.