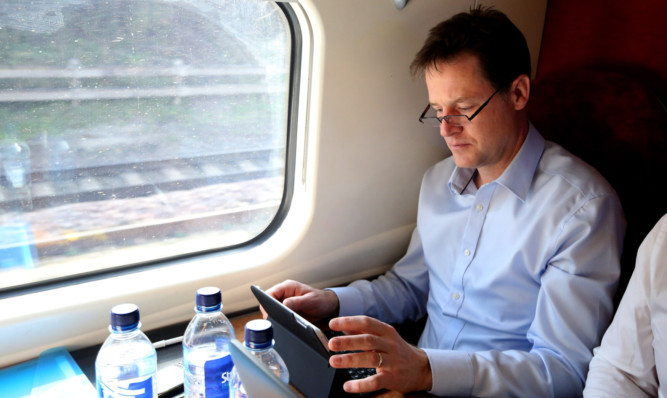 The Conservatives will be forced to cut 10,000 police officers, 28,000 carers and 25,000 military personnel to pay for the tax cuts promised by George Osborne, the Liberal Democrats claimed as Nick Clegg maintained his attack on the Chancellor's plans for the public finances.
The Liberal Democrat leader said the Tory plan to raise the income tax personal allowance to £12,500 and increase the 40p rate threshold to £50,000 by 2020 would cost more than £7 billion.
He said the poorest will "bear the heaviest burden" of the Tory plans and declared the days of "compassionate conservatism" were gone.
The Lib Dems have set out their own plans to raise the point at which people start paying income tax to £12,500, funded through an increased dividend tax rate and by using the proceeds of measures to clamp down on tax avoidance and evasion.
They claim that because the Tories have ruled out any tax increases to pay for their plans, Mr Osborne's promised giveaways must be paid for by deep cuts to public services, hitting unprotected departments with a further 6.6% reduction.
At a press conference in central London, Mr Clegg said: "To find that money they will have to do what Tories do best – cut."
A Lib Dem analysis predicted that the cuts Mr Osborne would be forced to make would hit the police, homecare workers, and the armed forces and could spell the end for free childcare for two-year-olds.
The Deputy Prime Minister said: "Gone are the days of compassionate conservatism. Now they promise to cut and cut and cut. Not because they have to but because they want to.
"As George Osborne has said, the Conservatives will cut much deeper than is necessary to balance the books and make the poorest bear the heaviest burden.
"But at the same time they are promising tax giveaways for the wealthy, all of which must be paid for by yet more cuts to public spending.
"In the firing line are parents and police officers, soldiers and social workers."
The Lib Dems, who have vowed to keep the Tories or Labour in the political centre ground if they form a coalition with either party after the election, said Ed Miliband's plans for the deficit would mean an extra £134 from every taxpayer being spent on debt interest payments.
Mr Clegg said: "If the Conservatives will cut too much, Labour will borrow too much.
"Labour will borrow £70 billion more than we will – meaning an extra £4 billion just to pay the interest on our debt. That's £134 for every single taxpayer thrown down the drain.
"Labour's failure to balance the books will leave future generations to pick up the bill."
The Lib Dems would "cut less than the Conservatives and borrow less than Labour", Mr Clegg said.