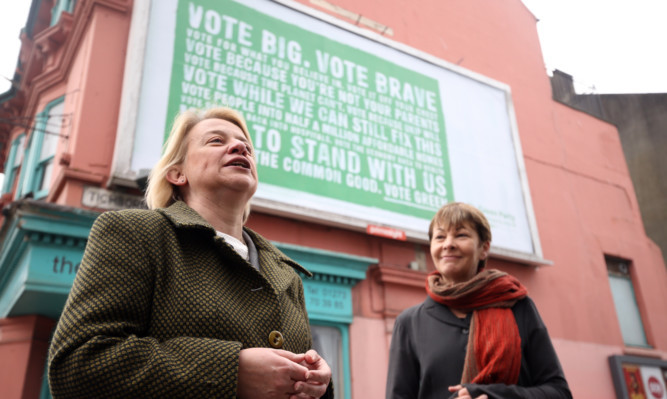 The Green Party is urging voters to "vote big, vote brave" in a national billboard campaign launched by its England and Wales party leader.
Natalie Bennett joined Brighton Pavilion parliamentary candidate Caroline Lucas – Britain's first Green MP – to present the billboard in the East Sussex city.
Ms Bennett said: "The time for half measures is over. This country desperately needs bold changes to take us away from business-as-usual politics.
"More people than ever will have a chance to vote Green at this election. Our message is clear: don't vote for second best, vote for what you believe in."
She said a Green vote would ensure big firms and rich individuals would pay their "fair share" and wages would be enough to build a life on.
Ms Lucas said: "We have a bold message that will resonate with the people of Brighton and Hove, and across the country.
"Only the Green Party is willing to stand up to the establishment parties on issues like climate change, a resilient economy and protecting the NHS."
The Green Party have vowed to put up the top rate of tax to 60p in the pound, which Ms Bennett said would bring in an extra £2 billion a year for public services while acting as a disincentive to firms paying "excessively high salaries".
And Ms Bennett has said her party wanted to call for a review of all "commercial animal racing", saying there were animal protection issues which need to be addressed.
Later, Queen rocker Brian May will join Ms Lucas in Brighton to talk about democracy and the importance of voting.