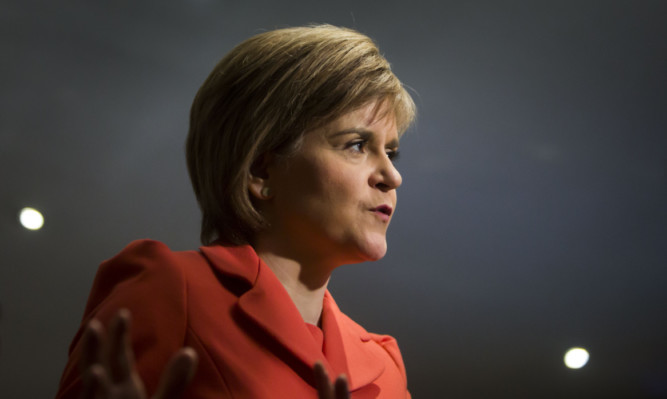 SNP MPs at Westminster will "do everything in their power" to support Scottish firms, Nicola Sturgeon pledged as she unveiled her party's business manifesto.
With the Scottish nationalists tipped to win a record number of seats on May 7, the SNP leader could potentially hold the balance of power if the election results in another hung parliament.
The Scottish First Minister said today that a "strong team" of SNP MPs in the Commons would use their influence to try to win a better deal for businesses.
Nationalists want measures guaranteeing prompt payment to small businesses to be put into law, along with the early devolution of control over Air Passenger Duty (APD) to Scotland, in a bid to boost tourism.
They would also press for the HS2 high speed rail line to connect with Scotland, and for more investment in the expansion of high speed broadband technology.
To help the energy industry, the SNP would attempt to secure changes to the transmission charging regime for power generators, and would keep pressure on the UK Treasury to support the North Sea oil and gas sector.
Nationalist MPs would also make a "strong case" for the UK to remain part of the European Union (EU), should a referendum on this be held.
Ms Sturgeon and her Deputy First Minister John Swinney spoke about their proposals on a visit to a construction site near Glasgow.
The SNP leader said: "Ensuring Scotland's businesses thrive is vital in order to strengthen and grow our economy and create the fairer and more prosperous country we all want to see. The SNP is committed to working closely with the business sector, and we have used the powers of devolution to support businesses and their employees however we can.
"But the cuts agenda of the Westminster parties is holding our businesses back as it stifles growth and hampers recovery. And the threat to take Scotland out of the EU against our will also looms large.
"A strong team of SNP MPs will make the case at Westminster for more support for our businesses. Pushing for measures such as the early devolution of APD, an increase in infrastructure investment, a Universal Service Obligation for broadband and the inclusion of Scotland in Westminster's HS2 plans will improve connectivity and remove barriers for businesses in remote and rural parts of the country."
She stressed: "The SNP wants to create a stable and balanced economy that is outward looking, confident, innovative, based on the core strengths of our people and supported by investment – and SNP MPs at Westminster will do everything in their power to support our businesses every step of the way."
Mr Swinney said: "The SNP is the only party offering an alternative to austerity – and our plans for a modest spending increase of 0.5% will enable us to strengthen and grow the Scottish economy as well as investing in our public services.
"In government in Scotland, the SNP's Small Business Bonus is providing 96,265 businesses across the country with vital support. Electing a team of SNP MPs in numbers at Westminster will enable us to push to put prompt payment measures for small businesses into law, offering real help to make sure small businesses are paid on time.
"Our proposed changes to Westminster's failed transmission charging regime will provide much needed support for our energy industry at all levels, instead of penalising Scotland as is currently the case.
"With 24,000 affordable homes built by this SNP Government so far, we are on track to meet our target to build 30,000 by the end of this Scottish Parliament. We will push for a funding boost for affordable housing from the UK Government to help build more homes.
"The SNP will use our influence at Westminster to maximum effect to ensure that the Scottish economy gets the support it needs to create and support jobs, boost competitiveness and tackle inequality."