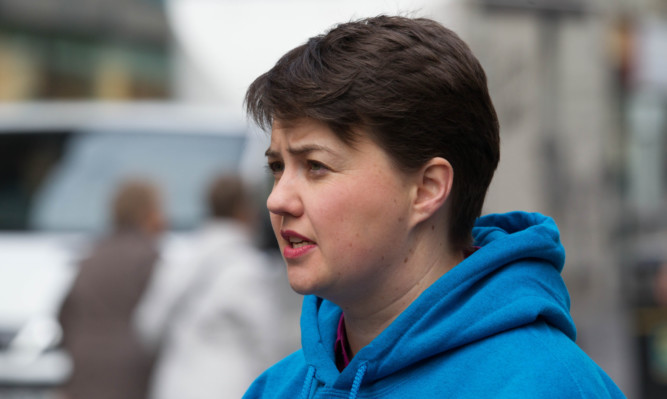 The Liberal Democrats are "finished" in Scotland with Alistair Carmichael likely to be the "last man standing" after the General Election, according to the Scottish Conservative leader.
Ruth Davidson launched an attack on the "desperate" Lib Dems after that party said its candidates were the only challengers to take on the SNP in their 11 seats.
Campaigning in Edinburgh, Ms Davidson said only Mr Carmichael, the Scottish Secretary and Lib Dem candidate for Orkney and Shetland, would survive the vote on May 7.
She argued her party "stands with Scotland" with policies supported by the majority of voters.
Ms Davidson said: "If you are a Liberal Democrat and you are looking at the facts, that your poll numbers have gone from 19% at the last election to 4% regularly in the polls right now, you are desperate to hang on in any way that you can.
"In Danny Alexander's seat they're already in third. I totally understand why they're doing it, to try and salvage something from the wreckage, but the Lib Dems are finished in Scotland.
"This will be akin to their 1948 wipe-out. Alistair Carmichael is going to be the last man standing.
"You will see the Liberal Democrats in increasing desperation circle the wagons around the 11 seats in which they have an MP.
"You've seen from independent individual seat polling that in a number of those seats their candidate is already in third and they are not the best person to back if you're looking for an anti-SNP candidate.
"But my message is clear, you will never waste your vote if you vote for what you believe in and I will urge people to vote for the party they believe in at this election."
Ms Davidson met voters at a street stall in the city's Princes Street where she took a turn serving ice cream to passers-by and showed off her juggling skills.
She highlighted polling indicating majority support for Scottish Conservative policies on opposing independence, controlling public spending, lowering the benefits cap, reducing immigration, and the EU.
She said: "We stand with the people of Scotland. The SNP and the Labour Party are so keen to try and portray themselves as the voice of Scotland but actually when you look at these issues, issues like immigration, issues like EU reform, issues like welfare reform, issues like Scotland staying in the United Kingdom, the Scottish Conservatives are on the side of the majority of Scots."