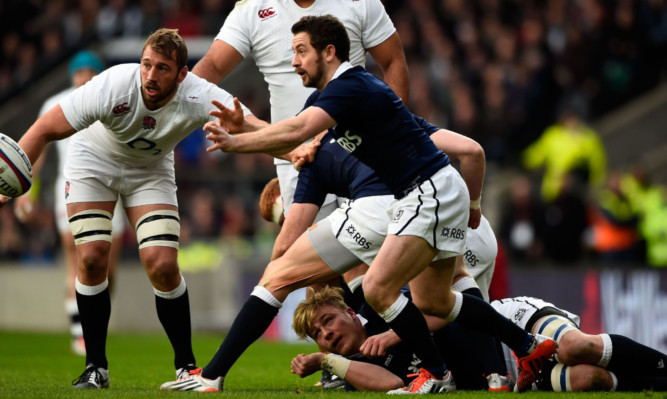 Scotland will be "chucking everything" at Ireland to avoid an RBS 6 Nations whitewash on Saturday but face a further injury crisis going into the final match at Murrayfield.
Captain Greig Laidlaw described some of Saturday's battling Scottish performance at Twickenham as "magnificent" but admits the situation is now desperate if the Scots are to avoid a third wooden spoon and whitewash in 10 years.
"It's simple: we have a massive challenge at home next week and we are desperate to win that game," said Laidlaw after the 25-13 loss to England, who now look in pole position to win the championship ahead of Ireland, Saturday's visitors to Edinburgh.
"We will be chucking everything at that game," continued the skipper. "We will stick together this week, look at the videos, do our recovery and stay together as coaches and players.
"We will put together a plan and then go and execute it. We're not out to prove people wrong, it's internal, it comes from us.
"We believe in what we are about. We believe we can win at home. If we start looking outside we will miss things.
"If we get our part right and are true to ourselves as players and coaches we will be in a position to be in this game."
Scotland stunned the 82,000 crowd at the home of English rugby by leading 13-10 at half-time but were angry that it might have been a bigger lead, feeling English prop Dan Cole should have been yellow-carded for a blatant killing of the ball on his own line just before half-time.
Scotland got Laidlaw's second penalty success to go ahead as a result, but head coach Vern Cotter was adamant "Greig was going to score a try there".
The head coach was visibly frustrated not just by the result but also by the injury count, saying at one point "we'll need to play the Under-20s next week".
Cotter said that all eight players replaced during the game were as a result of injury and all were in doubt for Ireland, but a medical bulletin from the Scotland camp yesterday detailed just five players, with centre Matt Scott – taken off at half-time with a dead leg – the principal worry. Scott was himself an eleventh hour replacement for Alex Dunbar, injured in training last week.
The others in the injured list are Jim Hamilton (back), Tommy Seymour (elbow), Blair Cowan (calf) and Alasdair Dickinson (leg), although Seymour and Cowan actually finished the game.
The head coach is as adamant as his captain that the breakthrough is close for Scotland.
"I thought there was a massive shift in our game for us today," he said. "We need to keep moving, but I am encouraged, I really am.
"I saw great character. We didn't worry about (England's fast start) and stuck to the game plan. We kicked for the first part of the game then played the second part when we got field position.
"That type of ability to change tactics is a great thing as the opposition don't know what you are doing. I thought our line out defence was very good, our scrum was very good.
Those simple things and doing them well creates confidence.
Cotter accepted that his team were not yet up to the class of England but said they would get there.
"We know we have to be at our best all the time. It is just getting used to setting those standards, and I believe it is coming.
"If I thought we were being dominated from start to finish I might worry but I don't think we are. There is more to come from this team."
Laidlaw added that he thought the measure of his team was the way they coped with the initial England onslaught.
"The response we got was measured, calm and controlled," he said. "That was the most pleasing thing.
"We played magnificent rugby from there until half-time, but we just got stuck in our half a bit in the second half. If we had picked that up we could have started playing in their half, hold the ball, get a couple of penalties. The game just went away from us a little bit.
"It's hugely frustrating and as players we're absolutely gutted with another defeat. But we are far from being dominated, we really feel that as players, and we're night and day from where we were (last season)."