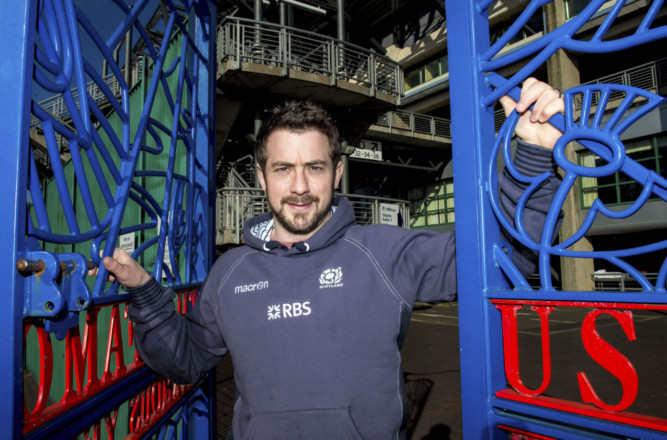 Suspecting he had not got his message across to the Scotland team prior to the Italian game, Vern Cotter doesn't appear to have left anything out as the Scots head for their mission improbable to Twickenham.
The head coach exhibited the other side to his style in a no-holds barred session with the Scottish team this week, pulling out a real video nasty to get his point over.
Skipper Greig Laidlaw admitted that the squad "have had it" from the coaches after the Italy loss and redoubled their attention on making history at Twickenham this weekend, a ground where Scotland have not won since 1983.
"We have now seen both sides of Vern, he's a hard man and rightly so," said Laidlaw somewhat ruefully. "He has high standards and we have certainly seen what he's all about and that's good.
"He's been on our case and he's certainly been on my case, that's for sure.
"We now know what's expected of us. Some of the analysis we have done this week, he's done it in a very clever way, there has been a slight change in tact from him.
His analysis has been about going back a bit further into previous tournaments, we've had a look at the last game against England at Murrayfield where we were well beaten and we played poorly.
"He pointed out the same kind of mistakes (as against Italy) in that game and we need to learn quickly and not make these mistakes."
The 20-0 loss last year at Murrayfield sparked a lot of navel-gazing in Scottish rugby although arguably the crushing loss in Cardiff later in the campaign was much worse and the memory of it is a motivation for Laidlaw.
"That was personally one of my worst games for Scotland, to be honest," said the captain. "I don't think many of the boys played well that day for whatever reason.
"When you play England you want to do yourself justice, it's the oldest game in the world and you want to do the jersey proud. We want to turn the result around if we can, we have to go in with the mindset that we can win.
"What's happened so far, it's not as if it's what other teams have been doing to us, or us being outclassed. We have been shooting ourselves in the foot a lot of the time so it's all been within our control.
"I was looking at the first three games and it's 13 points, that's all we've been beaten by, it's not much.
"We lost to Italy, which wasn't good enough. But against France and Wales alone 13 points would not have been a big margin.
"We're not far away; I'm getting pretty sick of telling people that, I really am. It's up to us as players to step up, go again and put in that performance. We're all craving to get off the mark."
However, the magnitude of the task is not lost on anyone in the squad, specifically as England are strong in areas where Scotland are thought to be vulnerable.
"I'm expected a big threat on their maul," continued Laidlaw. "They pride themselves on their line-out, scrum and their maul as well as putting a lot of emphasis on their defence.
"They try and squeeze teams in the opposition half and pick up a lot of penalties as well as getting their maul game going and look to kick to touch.
"They have good players and a couple who give them that X Factor. But we have good players also for Scotland and I truly believe we can match them and better them if we turn up and play to the best of our ability.
"Playing at Gloucester now, for me it just shows we can win. I've always thought that anyway, but we know they're not invincible, that's definitely not the case.
"You look at Glasgow when they played Bath, Bath were going well in the Premiership but Glasgow beat them well at home and arguably could have won down there without even a first team out because of injuries."
The Scots may not have won at Twickenham in 32 years, but they're very conscious that they could make a huge statement.
"We've got two massive games now and if we get something out of these games we're in a much better position than we are at the minute.
"Some people would look at the season as a success if we win, and it would definitely go towards helping us out as players.
"1983 was a different group of players and they have their own bit of history. It's up to us now to make our own bit of history, to go down there and be strong and have the mentality that we can impose our game on them."