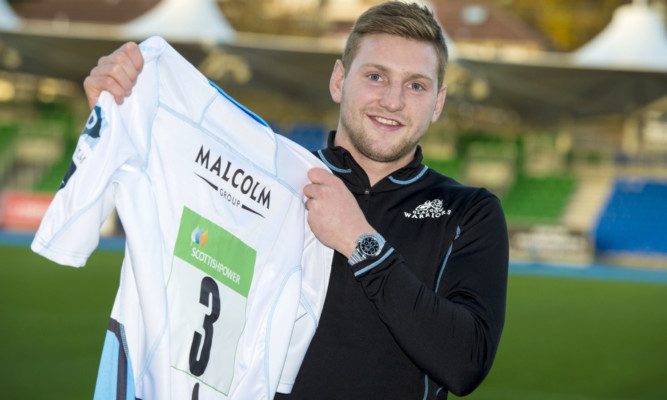 Finn Russell is a quicker learner than Gregor Townsend was at the same age, believes the Glasgow Warriors coach after the Scotland stand-off committed himself to three more years at Scotstoun.
Russell is now the unquestioned first choice for Scotland and has agreed a long-term deal that means he will continue his development under Townsend, who also graced the Dark Blue and British Lions 10 shirt in the 80s and 90s.
Although Russell said yesterday he hadn't even entertained offers from anywhere else before signing his contract extension, Townsend agreed that the 23-year-old from Stirling's meteoric rise from apprentice stonemason to one of Europe's most creative stand-offs would have got plenty of attention.
"I would imagine he was in demand elsewhere so it is good he has committed his future to us and for a substantial amount of time too," said the coach, who welcomed his 21 World Cup "exiles" back to training at the club this week.
"Finn has played very well in big games, he has really good temperament for a challenge; he seems to rise to the occasion," continued Townsend. "What we are working on with him is that he plays as well as he can in every game, whether it is a PRO12 final or a home game against a team at the bottom of the league.
"What I really like about Finn is that he is a really quick learner. He has got that composure and confidence when he plays the game but he takes in information and you see the transfer pretty quickly, a lot quicker than when I was playing in that position all those years ago.
"We often forget he is new to playing professional rugby," he added. "It is only a year and as half since he came into the team, but he has quickly adapted to playing an all round game, using his strength, his attacking and running game that he has, but also manipulating defences. He has realised that kicking can be a really positive thing for the team."
Townsend also believes Russell's whirlwind career woiuld help him as his career continued.
"In many ways he is a late developer too, he was not involved in our academy or any academy, really," added to the coach. "He worked as a stonemason, he left a Premiership club to play at a lower level to play stand-off.
"He has had some life experience, and one of the best experiences he has had was going to New Zealand for three or four months, living on his own and playing really well in a different environment.
"Now he has to build on what he has done. He is a real team leader very confident and when he plays his game, he has to bring those around him in with him and make sure that he is planning his games with a coach's mind-set. I am sure his experience in the World Cup will have helped him a lot."
Russell is back in training after some time off after the World Cup but his feet remain resolutely on the ground.
"My mates are doing proper jobs every day so even coming back to Glasgow I'm still appreciating how lucky I've been and trying to enjoy every minute of it," he said.
"We're coming back to a team that are playing well and a lot of guys have held their hands up in the absence of the guys who've been at the World Cup.
"But we're determined to use the experience we've had playing at the top level and here's going to be some great competition here, especially at 10 with Duncan (Weir), Peter (Horne) and now Gregor Hunter all here."
Glasgow have secured another backer with Scottish Power signing a three-year, six-figure deal as a shirt sponsor. The team to play the Ospreys at Scotstoun on Sunday in the PRO12 is announced today.