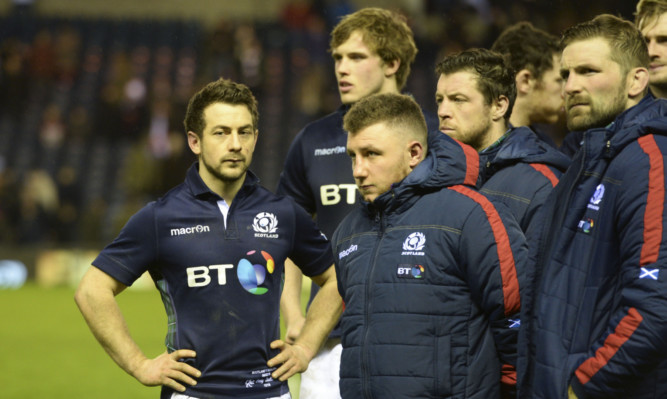 It's the hope that makes it all so depressing.
Scotland's latest defeat in the RBS 6 Nations, their eighth in succession which is a new low for them in the enlarged championship (the all-time record is 15 in a row in the old Five Nations from 1951 to 1955), was too familiar for those of us who have spent two decades reporting on the team and more than four watching them.
Scotland are like one of those endless Hollywood film "franchises", where they keep making the same movie, just titled with a different number. Was this Fast and Furious, or more likely Mission Impossible?
While it's certainly a valid point that we all put far too much optimism into one truly decent performance in 2015, in the World Cup quarter-final, it's equally valid that Saturday's team looked to have a real chance of wresting back the Calcutta Cup at last after eight fruitless years.
This result, and the way that England reverted to their staple one-paced game with the Scots were unable to do much about it, is possibly even more depressing than the 20-0 embarrassment from two years ago.
Nobody really thought Scotland were going to win that game. Plenty people thought they were going to win on Saturday, and it was 2012 rather than 2014 that brought the most valid comparison.
Like Saturday, England came north four years ago with a new coach, new captain and a new broom in the wake of a World Cup disaster. Like Saturday, they played point-to-point rugby, flexed their muscles, defended like mad and capitalised on Scottish mistakes on that occasion Dan Parks' last act as a Scotland player, having a kicked charged down for the only try.
England unashamedly played the kind of rugby that Eddie Jones used to regard with vocal scorn and contempt when he was coaching elsewhere. Not surprisingly, he likes it just fine now.
Vern Cotter, on the other hand, was visibly frustrated, although still sticking to his claim of progress.
"I think there was," said the head coach. "If I felt we had been completely dominated (he would think different) but we I don't think we were.
"We still need to be focused and show total concentration. We have ways to get about the park and put team under pressure, we managed to do that at times but did not hold the pressure long enough."
At the end it did seem that England played out the clock in some comfort and that Jones' description of an "easy" win was justifiable, but in truth the Scots were in position to have taken a grip on this game at several points.
Finn Russell inexplicably kicking away interception ball with Stuart Hogg at his shoulder couldn't be regarded as one of them due to the distance to travel, although Hogg would have my money on a length of the field sprint against anyone.
But there were plenty other chances more blatant. Greig Laidlaw pinpointed one when Tommy Seymour came off his wing to make ground and quick ball would have had England undermanned, but the wing allowed Jonathan Joseph to strip the ball from his grasp.
When John Hardie peeled off a maul just before half-time and made ground into the 22, Scotland had six or seven phases to force a try and another two or three more to set up the drop goal that would have had them ahead at the break, but made no real impact on the English defensive line and Russell's attempt at a drop was pretty feeble.
Directly at the start of the second half, a fumbled restart gave Scotland prize possession in the English 22 but again they made few inroads into the white blanket strung across the pitch. It was the old failings of not properly securing breakdown ball and it simply not coming quick enough to make a difference, and eventually a Scot was isolated and a penalty conceded.
For all that the visitors had dominated possession and were the better team on the day, Scotland taking even a narrow lead at these times after another poor start when they didn't see the ball for 15 minutes and conceded an early try would have had one-dimensional England chasing the game, which would be exactly where Cotter wanted them.
But taking chances demands composure, and that's an element the Scots have fallen down on for some time. Not in committing glaring errors like missed touches or silly penalties or botched lineouts and restarts this time, but they got far too excited and predictable in the red zone. It's new attack coach Jason O'Halloran's most significant task to put this right.
When chances are at premium, Scotland can't afford mistakes without the ball. Both England tries stemmed from errors, Richie Gray missing the tackle on George Kruis for the first, Russell flapping at a high ball which will have the Welsh salivating for next week for the second.
Admittedly, the one piece of art in the entire game eventually provided the second try, but it was from a prop, replacement Mako Vunipola's running angle and off-load opening the gap for Jack Nowell.
Plus points? Scotland's scrummage had the upper hand for the majority of the game. John Hardie is a dynamo at all points of the field, and Stuart Hogg was a genuine threat running back the multitude of kicks directed his way.
Scotland now head to Cardiff, and with a dire record at the Millennium Stadium and Wales having got a positive result in Dublin, it's likely they'll be heading to Rome staring down the barrel of a whitewash yet again.
This team should be better than that. But so, probably, were last year's. Those little margins Scotland are so deficient in need to be filled, because there are no gifts in international rugby.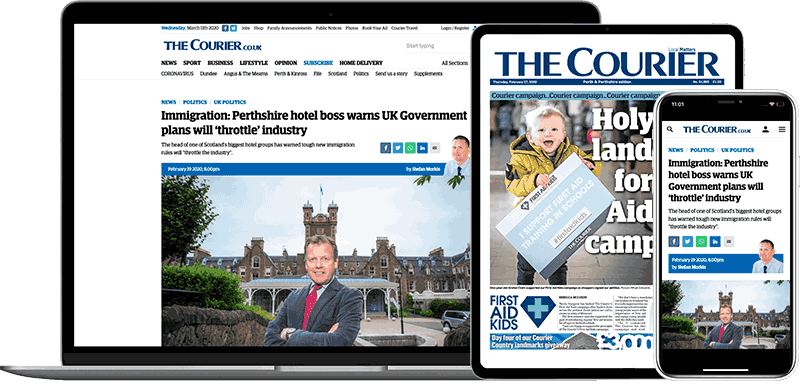 Help support quality local journalism … become a digital subscriber to The Courier
For as little as £5.99 a month you can access all of our content, including Premium articles.
Subscribe