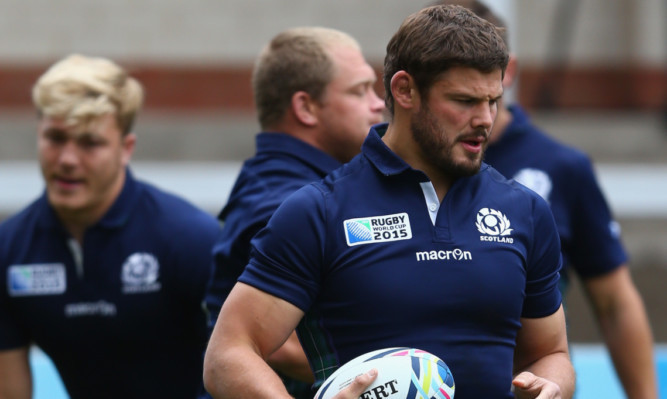 The only new thing Scotland learned about Japan in their epic win over South Africa was their resilience, believes Scotland's most experienced forward Ross Ford.
One of three Scots playing their third World Cup front row partner Alasdair Dickinson and wing Sean Lamont are the others Ford saw a Japan team that largely matched the detailed analysis prepared for the Scots squad and drilled into them for the last two months.
The sole element that surprised them was how Japan refused to buckle and stayed in the game.
"You could see by the way that the game unfolded on Saturday that Japan never gave up, they kept coming back at South Africa," he said.
"The Springboks would score, you'd think that Japan were wilting but they would bounce right back off the kick off.
""We knew as a squad we couldn't underestimate them and that proved to be the case. They played really well on Saturday but we were always aware of how good they are.
"As a squad they have made leaps and bounds in the last while. There was constant pressure on South Africa so we need to make sure we're on the ball all the time and not drifting away."
Ford thought there were "a few issues" about the Japanese scrum and plan to speak to referee John Lacey to highlight them.
"When you come to the actual game you have to deal with what happens on the pitch," he added. "So we will go into it with an open mind and adjust on the back of what we feel has happened and how the flow of the game is going.
"We're still going into this game in confident mood. Pre-season has been really good for us and we've improved massively from the 6 Nations, we've even made developments from the first warm up game.
"We are going into the game knowing what needs to be done and what areas we need to exploit. Japan's win hasn't changed any of that."
He doesn't expect that Japan, who have made six personnel and two positional changes from their Brighton team for their second game inside four days, will run out of steam.
"I know from guys who've gone to Japan just how much they pride themselves on their conditioning," he said. "They'll have prepared for this. They have a good squad, and there will be no complacency from our side."
Although Japan are now ahead of Scotland in the world rankings, they're still regarded as pretty much the underdog but Ford hopes that the neutral locals in the sell-out Kingsholm crowd won't go get wholesale behind the giant-killers.
"I hope it's not a hostile crowd, after all Greig (Laidlaw) is our captain and he plays here," laughed Ford. "When you see a result like that people will get behind a certain side.
"But when we went into Gloucester Cathedral for our arrival ceremony everybody seemed to be behind us, and Greig has assured us the Shed Heads will be behind us as well.
"I hope we can put in a good performance for them."