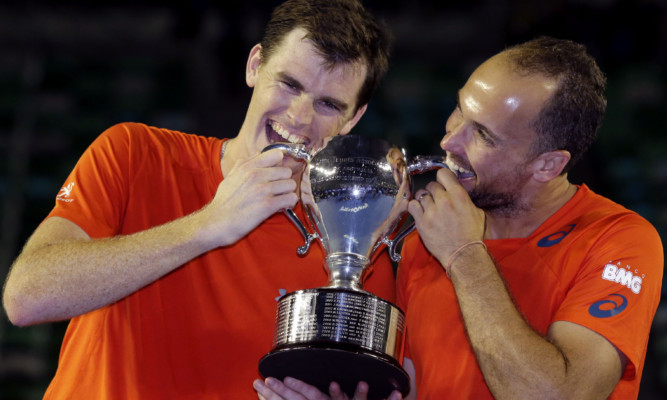 Jamie Murray believes he is at the pinnacle of his career after he won his first men's doubles grand slam title with Brazilian Bruno Soares at the Australian Open.
Murray had lost in the final at both Wimbledon and the US Open last year but he and Soares came from behind in Melbourne to beat Canada's Daniel Nestor and Czech Radek Stepanek 2-6 6-4 7-5.
The win could form the second part of a Scottish treble in Melbourne after Gordon Reid won the wheelchair singles earlier on Saturday while Andy Murray takes on Novak Djokovic in the men's singles final on Sunday.
It is the first time two brothers have made separate finals at the same grand slam since Lawrence and Reginald Doherty achieved the feat at Wimbledon in 1906.
Andy said he finds it too stressful to watch his brother live but the world number two was in the crowd, along with Davis Cup captain Leon Smith, for the presentation ceremony, which took place just after 1am local time.
In his victory speech, an emotional Jamie told his brother: "Andy you should be in bed, I don't know why you're here taking photos."
And Jamie later explained: "It was funny to see Andy there at the end. He'd obviously been watching the match in the locker room. I didn't know that.
"I thought he left to go back to the hotel obviously. Maybe he came back when he thought we had a chance."
Jamie Murray linked up with Soares after splitting with Australian John Peers at the end of last season and the new duo have enjoyed an excellent start together, winning their first title in Sydney earlier this month and now clinching a second.
"For me, the Grand Slam men's doubles, that is going to be the pinnacle of my career other than Davis Cup obviously," Murray said.
"This is what I'm working towards every day, every time I step on the court. It's an amazing feeling to have realised that with Bruno.
"We played a great tournament. Did a lot of great things on the court together. I'm pretty speechless.
"I'm really, really happy with our work the last couple of weeks. It's exciting to know where we can go from here."
Murray is set to rise up to number two in the world doubles rankings and his escalation marks a remarkable turnaround as just over 12 months ago he sat 41st.
"Did I ever consider quitting? I think so. I think probably just before I started playing with John I'd had a rough kind of couple years," Murray said.
"I didn't have a partner again. I'd been floating around, didn't really have any direction. I didn't want to keep going like that."
It means the Murray brothers could soon both be world number twos in their respective fields and Jamie said the race to reach number one was very much on.
"That's amazing. I never thought about that," Jamie said.
"I mean, he's getting to the final of a grand slam. If he doesn't win tomorrow, he actually drops in the rankings amazingly enough. Yes, I guess the race is on. Bring it on."