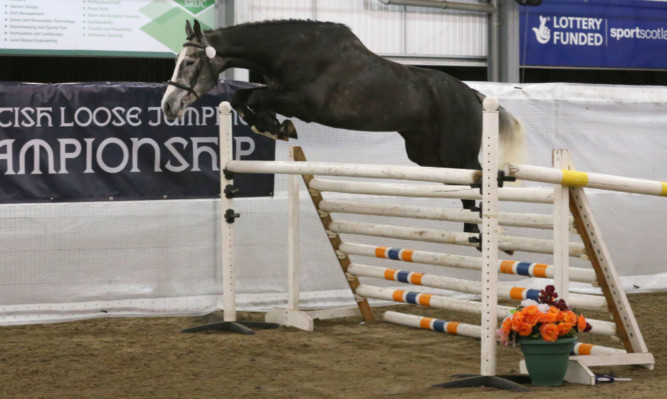 Fife's renowned Balcormo Stud lifted the four-year-old horse title at the Scottish Loose Jumping Championships with a youngster which ultimately achieved the highest mark of the competition.
Fresco, which brings showjumping to the fore on both sides of his bloodlines, was following in his mother's hoofprints by taking part in the contest, which was once again staged at the Scottish National Equestrian Centre.
"He's out of a Dutch-bred mare called Vinini, which I actually bought via video from Holland back when she was a three-year-old," said Balcormo's Sandra Low-Mitchell.
"That year she was herself placed third in the Scottish Loose Jumping Championships and she really has unbelievable ability.
"However, although she has such a fantastic jump we decided to keep her as a broodmare at the stud, and she has rewarded us with some fabulous offspring."
Fresco is just one of three full siblings which the stud currently has on the ground out of Vinini, a daughter of Emilion, with a fourth sibling anticipated next year.
Sandra said the stud used Emilion because he is sired by world-class stallion Glasgow, which she rode successfully as a five-year-old before he crossed the Atlantic to compete.
In turn, Fresco is sired by another stallion which Sandra has partnered Corraghoe Storm, a son of Cruising. She has jumped the Grade B stallion, formerly owned by Douglas Crawford, for some time up to 1m40 level and finally bought him for the stud earlier this year.
"He's such a stylish and smart youngster," she said of Fresco. "He really does show plenty of intelligence and ability."
On these points, the Scottish Loose Jumping Championships judges Sarah Billington and Henk Dirkson certainly agreed, awarding the gelding nine out of 10 for both his scope and attitude over the fences.
Fresco finished the event with a score of 83.5, half a mark ahead of the three-year-old class champion G-Star, owned in partnership between the Netherland's VDL Stud and the Scotland AI Service, based at Winchburgh, in West Lothian.
This young KWPN colt was sired by the VDL Stud's Indorado, himself by Carrado.
The Scholland Stud, also from Fife, prevailed to scoop the national supreme pony title for the second year in succession.
Their winner Scholland Royal Connection SSH was nicknamed Paddy by the children of Colinsburgh Primary School.
He is owned and bred by Debbie Mass, who runs the Scholland Stud from the East Neuk's Kilconquhar Castle.
Following his win in the same competition last year Debbie admitted that for Paddy 2014 has been somewhat of a quiet year.
"Since the end of the stud season where he was available to approved mares he has been back in work and is now under saddle ready to start a ridden show career," she said.
"We are extremely excited about this young stallion and look forward to his first crop of foals next year."
The Scholland Stud has a jumping pony mare and an event horse confirmed in foal to Paddy, with foals anticipated by the end of June next year.
She says 'Paddy'offers a pedigree and temperament that stands among "the best" of both Continental and UK breeding lines, being sired by Casino Royal K (FS Champion De Luxe) and out of Rushiefauld Bethany (Tullibardine Bonheddwr).
He was presented at the competition by Pony Club members Georgiana Maas, Robert Maas and Kelsey Atkinson, who all attend Waid Academy.
2014 marked the second year in which the national championship event welcomed all breeds of horses and ponies forward for competition, run under the independent management team of Ben Wentink and Suzi 'Scotia' McCombie.
It was also the first year which the event which has in former years been coordinated by the Scottish Sports Horse Society included a class for four-year-old potential jumping youngstock.
"Our intention is to build our annual event to further support and encourage the breeding of quality jumping horses whilst culturing better recognition for both breeders and horse owners," Scotia said.
They also said the championship competition presents a great opportunity to showcase the natural jumping ability of young horses, and it has already proven to be a successful tool in discovering international showjumping
stars of the future.
equestrian@thecourier.co.ukResults
[Conformation/Canter/Technique(x2)/Scope(x2)/Attitude(x2)/Reflexes(x2) (Total)]
Pony championship: 1 Deborah Maas, Scholland Royal Connection (by Casino Royal K), 8/8/8/7.5/9/8 (81); 2 Rhona Henderson, Follow Jazzy Lady (by Hemmingway), 7.5/6.5/7.5/8/9/8.5 (80); 3 Hugh Paterson, Miami Hotshot (by Wian Master Darron), 7/7.5/6.5/7/8/7 (71.5).
Three-year-old horse championship: 1 VDL Stud and SCAIS, G-Star (by Indorado), 8/9/8/9/7.5/8.5 (83); 2 Ben Wentink, G.I.Joe SCAIS (by Ben Nevis), 7/7.5/8/8.5/7.5/8 (78.5); 3 Bordergrove Stud, Bordergrove Hawaii (by Hollywood), 7.5/7/8/8/7/7.5 (75.5).
Four-year-old horse championship: 1 Balcormo Stud, Fresco, 7/7.5/8.5/9/9/8 (83.5); 2 Ben Wentink, F.B.I (by Ben Nevis), 7/6.5/8/7.5/8/7.5 (75.5); 3 Elana Chilton, Indian Dream (by Eurocommerce Zagreb), 7/7/7.5/7/8/7 (73).
Best turned out: Elana Chilton, Indiana Dream.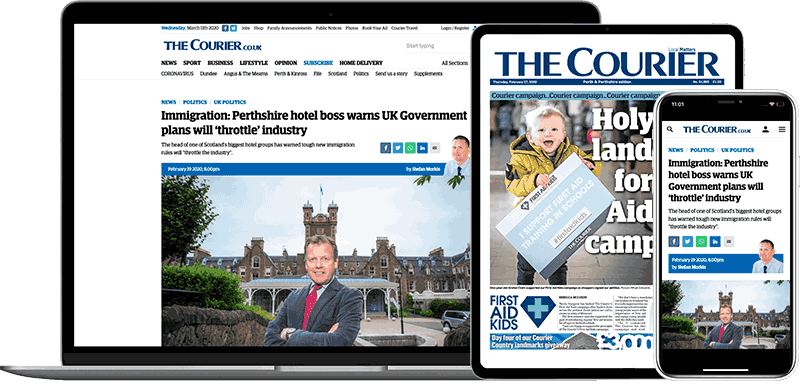 Help support quality local journalism … become a digital subscriber to The Courier
For as little as £5.99 a month you can access all of our content, including Premium articles.
Subscribe