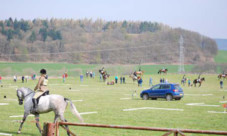 Angus farm, equestrian competition venue and livery centre Auchlishie has been put up for sale on the open market.
Run by James Helyer and his wife Nicky, the small farm has evolved into a large equestrian business over the last 16 years.
Speaking to The Courier, James confirmed the sale has "been on the cards for a while" following interest in the centre over recent weeks and months from another party.
However, he said the family cemented the decision to sell the venue only recently finally placing Auchlishie onto the market today (Friday, August 29).
Marketed by rural property agents Smiths Gore, the "delightful small farm" extending to 95.2 acres comes with a price tag in excess of £1.2 million.
Mr Helyer said intends to sell the farm as an "ongoing business", which will pave the way for the continuation of Auchlishie as a competition and livery centre.
Auchlishie offers two houses, each with four bedrooms and two reception rooms, and also boasts an excellent range of modern farm buildings "expertly converted for equestrian use".
A total of 36 stables, an indoor, two outdoor schools and cross country course – built to affiliated British Eventing standards accommodate liveries, local riding clubs, regional and national competitions and even the annual Kirriemuir Horse Trials.
Mr Helyer said he expects all of these equestrian activities to continue following the sale, but after 16 years at the helm of the "24/7, 365 days a year" venue, he would like to move forward to farm nearby and enjoy "a more quiet lifestyle".
He said with his two children now working full time away from the farm there is no immediate successor within the family business, so marketing Auchlishie as a whole became the "logical answer".
With at least one interested party already currently looking to invest in the property, Mr Helyer said he is very hopeful Scottish riders will notice no difference in the future running of Auchlishie as a facility.
"We are looking to sell the farm and equestrian business lock, stock and barrel," said James.
"We don't plan to move very far and, whilst horses will probably play some role in our future on a smaller scale, I am looking forward to a more quiet lifestyle based on farming."
In the interim, Mr Helyer plans to continue running the centre as normal which includes the planning of future events, such as the Kirriemuir Horse Trials.
However if, or when, the property is sold, Mr Helyer said it will be up to any future owners as to whether they wish to continue running affiliated competitions.
The farm is available as a whole or in three lots for £1.2m.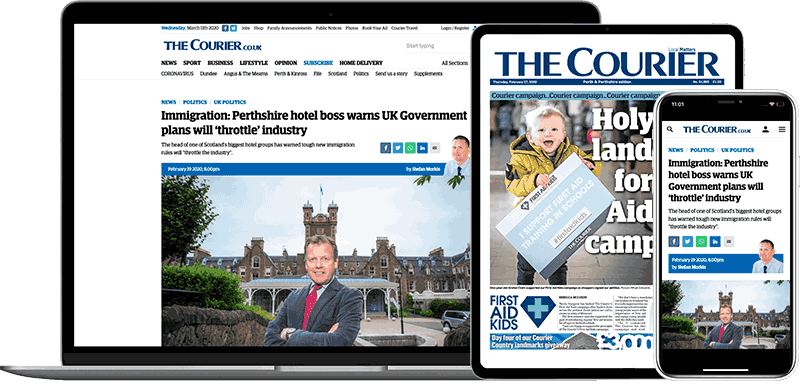 Help support quality local journalism … become a digital subscriber to The Courier
For as little as £5.99 a month you can access all of our content, including Premium articles.
Subscribe