 Scotland's showjumpers hit the arena running at the Scottish National Equestrian Centre, when the start gates were flung open in the race for the first available Royal Highland Show qualifiers.
Snatching the win from the very first senior RHS ticket of the season the Amateur was Fife rider David Harland and his regular partner Fauber.
"Fauber obviously didn't read the script as I was really just hoping to use the Amateur class as a warm-up with the real aim of qualifying again for the Grade C," said David.
He said the tracks at SNEC, built by Robert Canney, were "spot on" and indeed, from a start leet of 39 riders, the Amateur class yielded an ideal four double clears.
"The track couldn't be built any higher than 1m20, so Robert made a few of the lines pretty technical," explained David.
"There were a couple of crashing falls during the evening but I think that was really just reflective of the fact it was the first real test of the season."
Ahead of their outing to SNEC, David and Fauber had topped the Winter Amateur Qualifier, back in January, and last month on their only other outing of the year took first place in the 1m20 and second in the 1m30 at Tillyoch.
The Kirkcaldy-based rider has piloted the Belgium-bred 10-year-old, by Tauber Van Het Kapelhof, since early in 2011. Fauber is owned and kept at home in Edzell by Suzanne Craighead.
Last season, David and Fauber prevailed to qualify for and then win the Power & Performance Grade C Championship at the Highland a feat which David hopes to repeat this year: "He's more than capable of winning," explained David. "But after topping the Amateur class at SNEC, we had an unlucky slip in the middle of the treble during the Grade C qualifier, which meant he took down a back bar.
"We're heading to Morris EC to contest the next set of RHS qualifiers, but I'll be keeping the HOYS classes in mind too this year after narrowly losing out on qualification by just one placing last summer."
Hot on David's heels in the Amateur class, taking second place on the podium by only a fraction of a second, before going one better to tie for equal first in the Grade C was Falkirk young rider Jodie Crawford and Mira IV.
Jodie has been riding the eight-year-old by Irco Miro Gii for the last three years having bought her as a five-yearold and single handedly bringing her on through the grades.
Drawn early in the 1m20 and having nailed a fast clear, they held the lead for much of the duration of the class and were ultimately only denied the win in the dying seconds by David and Fauber.
Determined to up her game, Jodie, who works full time with horses at her family's Crawford Equestrian livery yard, pulled one of only two first-round clears in the Grade C qualifier from the 14-strong field.
"The track seemed to be causing all sorts of problems and difficulties, sitting at 1m25 to 1m30," reflected Jodie, who took equal first with Iain Warnock riding Harperland Micky Flynn.
"Iain and I were the only competitors to leave the arena on a clean score sheet, and as the large entries throughout the day pushed the class back to 11pm, we opted to withdraw from the jump-off to share the prize money in equal first position."
The following day, Jodie and Mira returned to SNEC to add a 1m15 win to their prize haul. With two Royal Highland qualifiers now in the bag from this first opportunity of trying, Jodie added: "Mira was on such top form at the weekend, I'm so pleased how she's progressing.
"If we could now also gain a Young Masters ticket that would be the icing on the cake."
As regulars at Foxhunter and 1m20 level, this will be the second year in succession that Jodie and Mira will head to the Highland.
Indeed, Jodie has achieved qualification for the show on various of her rides almost every year since she was 12-years-old only missing out in 2013, which was her first year on horses.
Leading the charge in the Foxhunter class, which also provided the first allocation of tickets to the RHS Foxhunter final, was Fife rider Alistair Gatherum, who competes from his base at Edenside Stables, outside Guardbridge.
He took the win on nine-year-old Gabor his partner in the same championship final in 2014.
Alistair sourced the Belgian Warmblood gelding as part of a consignment of 10 horses from the Continent when he had just turned two. Sidelined and allowed to mature while Alistair was riding in the United States for four years, he was brought into work as a six-year-old a little over two seasons ago.
The final Highland qualifier this time for the Young Masters Championship was won by Forfar's Lucy Guild and her ever-consistentTiti D'Oase.
It was the partnership's first outing together since September.
"I've not long returned from two months in New Zealand and Australia, so luckily my sisterAimee has been keeping him fit and has given him a couple of outings. She wasn't so willing to give him back!" said Lucy.
"Titi jumped amazingly."
Lucy will also contest the Foxhunter Final, riding Gillian Paterson and Mike Odonnell's Bora BoraVan Het Kroonhof, courtesy of a second placing behind Alistair and Gabor.
equestrian@thecourier.co.uk Results
Saturday
British novice: 1 Catherine Cousar, Super Nova; 2 Pamela Guthrie, Miss Cassini; 3 Mischa Irving, Miami Boy Cruiser. 90cm open: 1 Laura Mcneill, Tesoro; 2 Katie Mcgregor, Fogas Adare; 3 Ailsa Hamilton, Palmontegraaf. Discovery: 1 Claire Johnstone, Dutch N Go; 2 Nicholas Williams, Cookie De Reve; 3 Andy Blackwood, Copper V. 1m open: 1 Cara Tonkin, Lefeva; 2 Craig Hamilton, Jack The Lad V; 3 Katie Mcgregor, Fogas Adare. 1m05 open: 1 Ailsa Noble, Harvey IX; 2 Jane Ault, Triomf L; 3 Craig Hamilton, Jack The Lad V. Newcomers: 1 Mischa Iving, Casaretta; 2 Nikita Mansour, Coosan Lux; 3 Mischa Irving, Elektra VIII. 1m10 open: 1 Ellie Black, U2 Ds; 2 Laura Templeton, Vurelise; 3 Jane Ault, Triomf L. 1m15 open: 1 Emerson Sender, Van De Bay Girl; 2 Emerson Sender, Quattro 27; 3 Iain Warnock, Early Boyd. RHS Amateur Championship Qualifier: 1 David Harland, Fauber (Q); 2 Jodie Crawford, Mira IV (Q); 3 Suzanne Lumgair, Jack Up (Q). RHS Grade C Championship Qualifier: 1 (equal) Jodie Crawford, Mira IV (Q) and Iain Warnock, Harperland Micky Flynn (Q); 3 Trevor Nicholson, Amadeus.
Sunday
British novice: 1 Lisa Hiddleston, Bengarys Romeo; 2 Julie Mcclelland, Balou Fair; 3 Douglas Edward, Rehy Volunteer. 90cm open: 1 Sarah Williamson, Cavaliers Kingdom; 2 Laura Collins, Donnadoni B; 3 Mischa Irving, Jersey Beech. Discovery: 1 Jenna Brown, Sissi S; 2 Mischa Irving, Jersey Beech; 3 Ailsa Black, Lilliana. 1m open: 1 Sophia Ramsoy, Patsy II; 2 Karen Holt, Mr Cochise; 3 Kathleen Hamilton, Millfield Bemused. 1m05 open: 1 Jodie Crawford, Ce Ilonka VH Meyerhof; 2 Aimee Gardinder, Kilhalle; 3 Rachel Kane, El Diviro. Newcomers: 1 Mischa Irving, Elektra VIII; 2 Mischa Irving, Casaretta; 3 Martin Arnott, Drumconnick Verdi. 1m10 open: 1 Nicholas Williams, Guidamdale; 2 Lucy Guild, Bora Bora Van Het Kroonhof; 3 Hayley Bilsland, Corraghoe Down. 1m15 open: 1 Jodie Crawford, Mira IV; 2 Emerson Sender, Quattro 27; 3 Jodie Crawford, Telstar O. Foxhunter (inc. RHS Foxhunter Championship Qualifier): 1 Alistair Gatherum, Gabor (Q); 2 Lucy Guild, Bora Bora Van Het Kroonhof (Q); 3 Kelly Connor, Zeldzaam (Q). 1m30 open (inc. RHS Young Masters Qualifier): 1 Kelly Connor, Bailande Van De Kapel; 2 Nicola Mcarthur, Amaretto VI; 3 Martin Arnott, Her L'Amour. Qualified: 4 Lucy Guild, Titi D'Oase.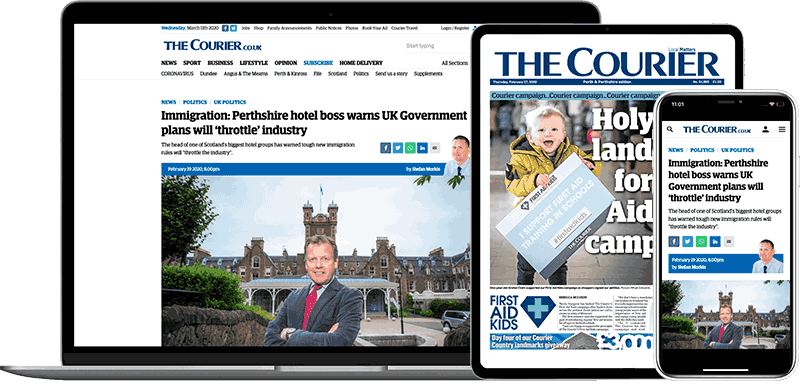 Help support quality local journalism … become a digital subscriber to The Courier
For as little as £5.99 a month you can access all of our content, including Premium articles.
Subscribe