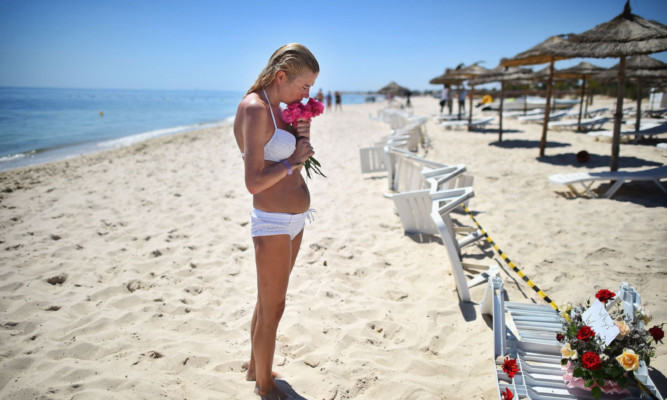 I was watching the Murnaghan show on Sky yesterday.
The programme went straight from an interview about the atrocity on the Tunisian beach to an advertising break, where the first advert was promoting the cheapest flight to the perfect holiday in the sun.
I felt a surge of anger at the failure of the station to realise how inappropriate that was for people watching who may have friends or neighbours caught up in the Tunisian atrocity.
However, I quickly realised there was no intent by the station to offend, that presumably the advertising schedule is organised weeks in advance.
In a world seemingly awash with terror it is difficult for all of us to maintain any sense of perspective or balance. However, we are going to badly need such qualities in the times that lie ahead.
There is something particularly terrifying about a slaughter on a holiday beach.
Holidaymakers enjoying themselves are both defenceless and vulnerable.
The rapid transformation from squeals of fun and delight to screams of terror is both dramatic and appalling.
Families sending their loved ones off on holiday never to return is a personal nightmare and one which will touch us all.
However, the terror on the beach was not the only atrocity being committed worldwide on Friday. There were a number
The bombing of the Shi'a mosque in Kuwait killed 27 and maimed 200.
That was the latest in a series of attacks on Shi'a holy places across the Middle East.
Just as people are entitled to holiday in the sun without being slaughtered so they have the right to embrace their faith without being blown to pieces.
What these two linked atrocities tell us is the scale of the challenge we face and the impossibility of any successful short-term response.
And these events are linked, not perhaps by a central terrorist command structure, but certainly by a spreading and warped ideology which sees the holy month of Ramadan, not as Islam would teach as a time for peace and reflection, but as a call to arms and atrocity.
There is no military solution which can guarantee success.
If one lone gunman can cause such carnage then what security response could possibly contain it?
It is simply impossible to envisage that every tourist beach in every sun-kissed holiday destination could be effectively patrolled.
As recent tragic events in America show, any country which has easy access to firearms risks the carnage of a single madman.
And therefore in our own society we should both maintain security vigilance and, as far as is possible, keep guns off the streets.
Similarly it is impossible to consider that avoiding more holiday destinations is a realistic strategy.
This is the second attack in Tunisia in six months.
Certainly, in retrospect, the Foreign Office advice that the beaches were safe looks hopelessly complacent.
However if Tunisia, given two terror strikes in six months was to be placed off limits, then how about France where there have also been two terror strikes in the last six months?
Nor can we turn the clock back and undo the disaster of blundering western military interventions of the last 15 years.
The vacuum that has been created by removing tyrants and replacing them with no viable state organisation has allowed unspeakable horrors to be unleashed.
Unfortunately we have no access to a time machine which would allow going back and confronting George W and Tony Blair with the consequences of their reckless programme of invasion.
The narrative that this has allowed of technologically advanced western forces bombing defenceless Muslim villages is now deeply ingrained.
It is wrongheaded but it contains enough of the truth to make it extraordinarily difficult to combat.
However that is exactly the struggle which must be undertaken.
We should start by understanding that in a propaganda war language is crucial.
Any description of terrorists which confers on them the image that they are representing either a religion or a state must surely be wrong and an own goal of massive proportions.
It is after all how they wish to refer to themselves.
French foreign Minister Laurent Fabius recently called for IS to be called by its Arabic name Daesh saying: "I do not recommend using the term Islamic State because it blurs the lines between Islam, Muslims and Islamists. The Arabs call it Daesh and I will be calling them the Daesh cutthroats."
Daesh, sometimes spelled DAIISH or Da'esh, is short for Dawlat al Islamiyah fi'al Iraq wa al Sham.
Many Arabic-speaking media organisations refer to the group as such and there is an argument it is appropriately pejorative, deriving from a mixture of rough translations from the individual Arabic words.
However, the real point of using Daesh is that it separates the terrorists from the religion they claim to represent and from the false dream of a new caliphate they claim to pursue.
That argument is surely correct and the group of MPs, led by Scotland's Tasmina Ahmed Sheikh, who are urging David Cameron to accept this point should be listened to.
It should become the official policy of the Government and be followed by the broadcasting organisations.
Terminology is only a start. It should herald a programme of education and inspiration to show the world what cooperation between nations and between religions can achieve.
We should replace in the minds of young people the images of terrorist atrocities with the battles that really matter. These are the ones against want and poverty and idleness.
We need to glorify those who engage in these campaigns both domestically and internationally.
That campaign of education is the only policy with any long-term hope of success.
Regardless of the security apparatus of any state the lone bomber or the lone gunman will always get through.
For every hundred or even thousand plots that are foiled one will surely escape the net.
That is not an argument for not having an effective security net, just a realisation that the real battle is one for hearts and minds.
We have to drain the dark well from which extremism breeds.
If we don't then the appalling scenes we have seen on our television screens this black weekend will be repeated time and time again over the next generation.
And many more families will wonder why their loved ones went off on something as innocent as a fun-filled holiday never to return.