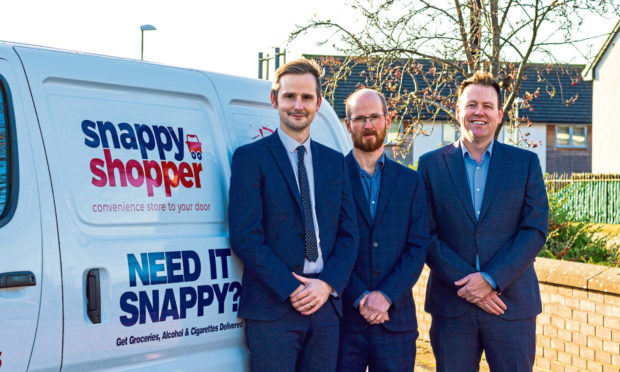 A Dundee tech start-up which provides a delivery platform for convenience stores has raised a seven-figure sum to fund its expansion throughout the UK.
Snappy Shopper allows customers to select from products available in store and have them delivered to their door within the hour.
A handful of stores in Tayside have demonstrated the proof of concept – with a shop in the Lochee area of Dundee receiving £7,000 a week of revenue through the platform.
Seed capital has been raised from Kelvin Capital, Mercia, the Scottish Investment Bank and the management team.
It will fund more than 20 jobs in Dundee over the next year as the platform is taken to market.
The technology has been developed by city digital firm mtc whose director Mike Callachan said: "We started with a retailer in Lochee and took it to consumers through social media like Facebook and Instagram.
"Over a period of about a year we added about another £7,000 a week of sales to that convenience store – the same amount it was doing through the tills.
"The key thing for them is that it didn't affect their in-store sales – they still had locals coming in – but being on the app they were able to cover a lot more of Dundee."
Goods are delivered by the shop. Customers are charged a £3 delivery fee and Snappy Shopper takes a small percentage it adds onto the value of the goods basket.
Since launching in Dundee, it has also signed up shops in Arbroath and Carnoustie.
Mr Callachan said he sees the platform as a home delivery solution for convenience store operators of all sizes.
He said: "All the supermarkets offer delivery but currently big players like Spar, Co-op, Premier and Mace don't have a delivery service and we think the market is ripe for what we are offering.
"We will be recruiting people to on-board more stores. We have ambitious targets to get literally hundreds of stores on the platform and we will also be spending on marketing.
"We will need around 20 staff in the next year."
The average order value on the platform is £21 compared to an average spend of just £6.50 in store.
Kerry Sharp, director of Scottish Investment Bank, said: "Snappy Shopper has channelled years of e-commerce and development experience into the creation of a platform that could completely transform community-based retailers' interactions with existing and potential customers."
rmclaren@thecourier.co.uk