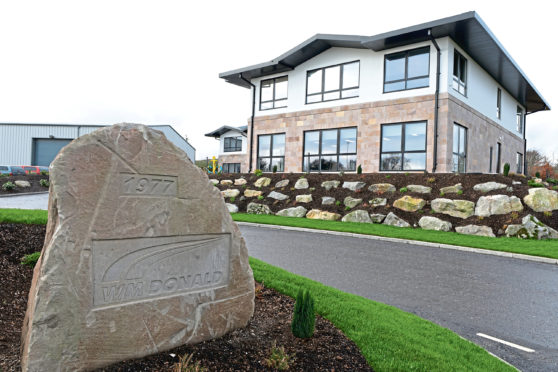 Turnover at a major north-east civil engineering firm has remained steady despite a "protracted local area recession".
Netherley headquartered W M Donald recorded a turnover of £33.7 million for the year ending March 31 2019.
The company recorded a pre-tax profit of £2.9m for the period, a substantial increase from the £11.5m loss posted the year before – attributed to an exceptional item relating to employer financed retirement schemes.
Established in 1977 the firm recruited its first employee a year later, but now has a staff of more than 140, with 34 employed in support roles and 107 working in production and other departments.
A fall in the number of specialist sub-contractors and greater and increased staff numbers saw salaries and associated costs rise for the period rose from £6.9m in 2018, to £7.4m this year, however, the increased staff costs has been offset by purchasing process improvements.
In October, the Duke of Rothesay formally opened the firm's new headquarters, which include purpose-built workshops and two-storey office block covering 10,000 sq ft.
In the annual report, director, William Donald, said: "The directors are pleased with the performance of the business in the year, with turnover remaining at a similar level to the prior year, despite the protracted local area recession and the competitive nature of the market.
"The company has continued to secure new contracts for commercial and residential developments."
Mr Donald added that the firm considers the general economic outlook surrounding the energy sector for the north east of Scotland is showing signs of improvement, but challenges remain.
Mr Donald said: "The local economy remains challenging however the company has operated efficiently in the past and the directors are confident that the company will do so going forward."
jimillar@thecourier.co.uk