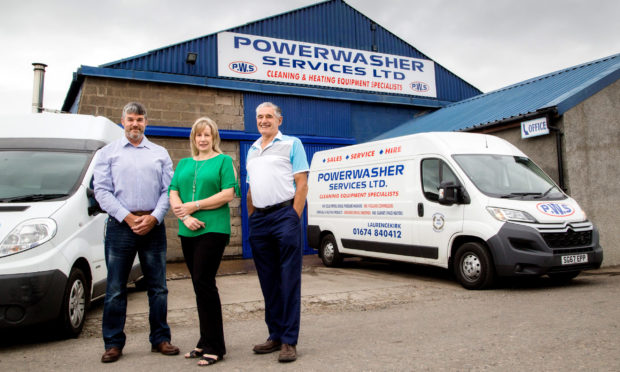 A cleaning-and-heating equipment specialist based near Laurencekirk is confident it will be required more than ever once the coronavirus crisis is over.
Powerwasher Services, of Northwaterbridge, supplies critical businesses such as farmers, haulage and the food industry.
It normally employs 22 people, but, with the vast majority of staff furloughed, it is currently running with just a skeleton staff to react to repairs.
The business was founded by Jack Whitecross nearly four decades ago but has been run by his daughter, Liz Carnie, and son, Jim Whitecross, for the last decade.
Ms Cairnie said: "Things have changed drastically for us. As a company this has been a very emotional time, laying off most of our staff as furloughed employees until the work picks up again.
"It was a very hard decision to make, but necessary to protect everyone and their families, and also to protect the business that we have worked so hard to build up.
"But I remain confident that, once things return to some form of normality, our services in the cleaning industry will be required more than ever.
"In the meantime, we remain on standby to help out customers that need us during this very trying time."
It was 1983 when former dairyman Jack Whitecross set up the company after spotting a gap in the market to provide maintenance for power washers.
Ms Cairnie said: "Because farming was what he knew, that was his target market to start with, mainly covering local farms extending to Dundee and Aberdeen.
"He learned to repair power washers as he went along, working many late nights and weekends to keep the customers happy."
The success of the venture since then is reflected in its financial figures – turnover at Powerwasher Services is expected to be around £3 million for the latest 12-month period.
Supplying to farmers remains a big part of the firm's business, but there are also customers in the oil, transport and food industries.
Jim has two sons and a daughter – Nick, Kevin and Rebecca – working in the business. Meanwhile, Liz's partner Colin runs the parts department.
Ms Cairnie said in the future the company would like to grow the floorcare side of the business – branching more into sectors such as leisure, hospitality, councils and health services.
business@thecourier.co.uk