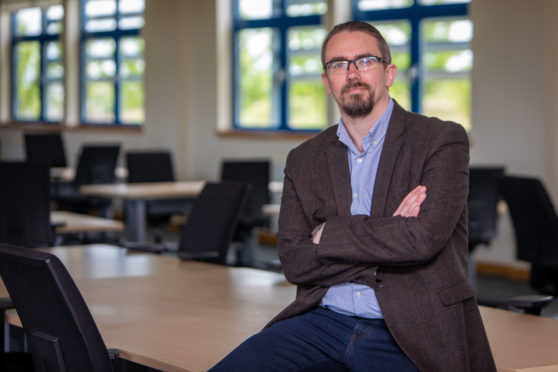 A Fife contact centre has increased its workforce by 400 staff this year after securing a number of new contracts.
VeriCall set up in Kirkcaldy just over a year ago and have far exceeded their recruitment target of creating 200 jobs in two years.
Recruitment drives in March and May saw the firm's headcount increase by 800% from 50 to 450 after the company moved into "an exceptionally busy period" in March.
Managing director Adam Taylor said 55% of the staff were working from home, with the remainder operating from the contact centre.
He said: "When Covid-19 restrictions were introduced we were able to move to home working within 24 hours.
"Staff could finish their shift, take kit away with them and start their next shift from home."
However, with some clients operating in heavily regulated industries such as health, finance and the public sector some staff, observing social distancing, continue to operate from the contact centre.
Mr Taylor said forward planning had been key to the company's ability to react quickly to the changing working environment.
He said: "At the start, we looked at how the industry might look five years down the line and we incorporated home-working solutions into our technology."
VeriCall, which counts directory inquiry service 118 188 among its clients, is also exploring larger premises as it eyes a greater market share of contracts with public sector organisations including local authorities through framework agreements.
Mr Taylor said: "What we offer can add significantly to the quality of engagement the public can experience.
"We are also in a position to complete sensitive transactions securely across all platforms."
Mr Taylor said VeriCall will continue to invest in new technology and sees the role of contact centres changing to become engagement hubs, adding the contact centres which survive will be the ones which adapt to new ways of communication.
The firm paid also paid tribute to the workforce.
"The team across the board have adapted exceptionally well to new working practices, and in particular those onsite adapting to the new requirements to be 'Covid secure'. Their adaptability and commitment has been key to our recent success.
"We are proud to have been able to recruit locally, offer a living wage and support the local community.
"We have been able to absorb some of the job losses from other sectors, including hospitality, where we have found employees come with important soft skills such as empathy when dealing with customers."