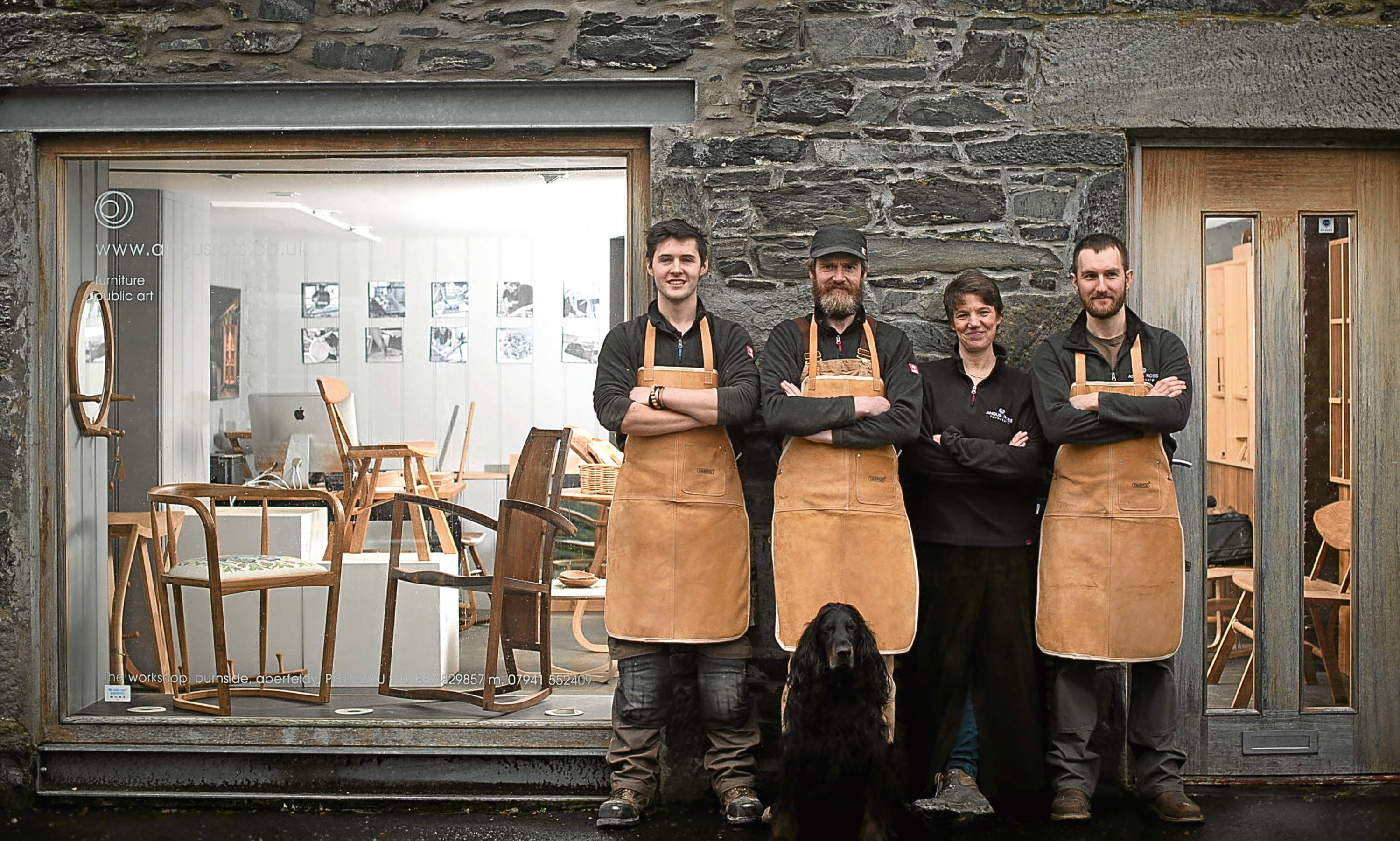 Aberfeldy artisan Angus Ross and his workshop team bend, mould, sculpt and fold wood into new, bespoke pieces of furniture and public art.
The Federation of Small Businesses member tells The Courier about his business journey.
Q How and why did you start in business?
A After graduating with a BSc in industrial design from Napier University I worked in London designing mass produced plastic products for Boots and Mothercare but I realised I wanted to work actually making things and design in a much more meaningful way.
Q How did you get to where you are today?
A I re-trained in practical furniture making at Rycotewood and started as a designer maker in a shared workshop in Oxfordshire.
I re-located to Aberfeldy in 2003 to establish a studio in an old joinery workshop in the centre of the town.
Q Who else has helped you along the way?
A My wife Lorna and furniture maker Steven Gray who has worked with me since 2005. Crucially all the clients who have commissioned me. Also I had a mentor in Alistair Hughes, CEO of Savoir Beds as part of Walpole Crafted Programme, and recently it has been great to have had support from the team at the new Victoria & Albert Dundee.
Q What was your biggest mistake?
A Poor record-keeping – so not every design has been photographed well or the craft hours recorded.
Q What is your greatest achievement to date?
A The Winged Shelter on the Phoenix Trail was the biggest and won many awards.
Having furniture at Collect in the Saatchi Gallery and Victoria & Albert London was cool.
Q What do you hope to achieve in the future?
A I just want to continue designing and making perhaps with bigger projects and to have time to do experimental speculative one-offs.
Q Do you want to recruit in the future?
A Definitely want to take on another apprentice. I enjoy working with students and am a mentor for the Crafts Council.
Q What is the hardest thing about running your own business?
A The business side of it.
Q Any advice to wannabe entrepreneurs?
A Follow your passion and always do the very best you can.
Q How would your friends describe you?
Hairy, out-doorsy and laid back.
Q Favourite film and book?
A Film: Cabaret. Book: Moby Dick.
Q How do you relax?
A Walking, working in our wood, eating with my family and the odd day ski-ing in the winter and sailing in the summer.