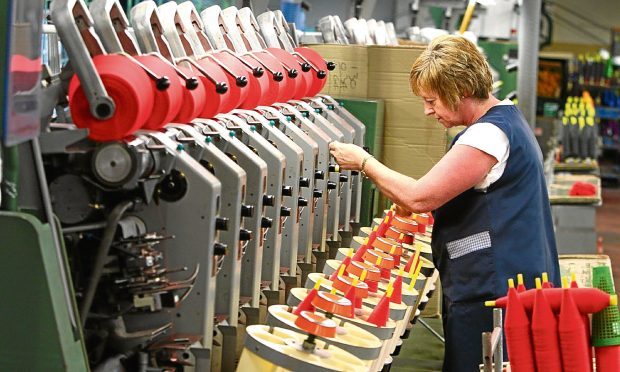 A Kinross based cashmere and lambswool mill that supplies fabrics to major global fashion houses has posted a seven-figure loss.
New filings with Companies House show Todd & Duncan plunged into the red in the year to December 31, 2016.
The company had made a pre-tax profit of £657,000 in the prior year, but said a challenging trading environment had impacted on the business during 2016.
The accounts show sales fell from £27.92 million to £23.11m in the most recent 12-month period, and the company declared a £1.57m pre-tax loss.
A £137,000 tax credit saw the overall loss for the year come in at £1.43m.
In his strategic report to the accounts, finance director Iain Cormack, said: "The results for the period continued to be impacted by the challenging trading conditions in our principal makets with the main future focus of the business to increase sales volumes within all markets.
"This will allow the excess production capacity to be utilised as we produce more yarn for sale."
The firm – part of the Ningxia Zhingyin Cashmere Company based at the Cashmere Industry Park at Lingwu, Ningxia – has been producing yarns since 1867 and has supplied fabrics to the likes of Hermes, Chanel and Dolce & Gabbana.
"The company is an international leading supplier of high quality cashmere, blended and woollen yarns to the world's top couture houses and fashion designers," Mr Cormack said in his report.
"At its current location in Scotland, the company dyes and spins cashmere and lambswool to customers' specifications and has the capacity to produce several different types of cashmere yarn.
"During 2016, the focus was on growing revenue from the existing customer base, as well as identifying and securing sales with new customers."
The new annual return is the fourth set of accounts to be produced and filed by Todd & Duncan this year.
The Courier reported in May that the company – which is the largest private sector employer in Kinross with more than 200 staff on its books last year – had just filed severely delayed annual returns for 2013.
At the time the firm acknowledged it had faced financial penalties as a result of its lateness and vowed it would deal with the backlog.
By July, the company had brought itself up to date by publishing accounts for 2014 and 2015.
The Courier approached Todd & Duncan yesterday for an update on current trading, but the firm is in its October production shutdown period and no-one was immediately available for comment.