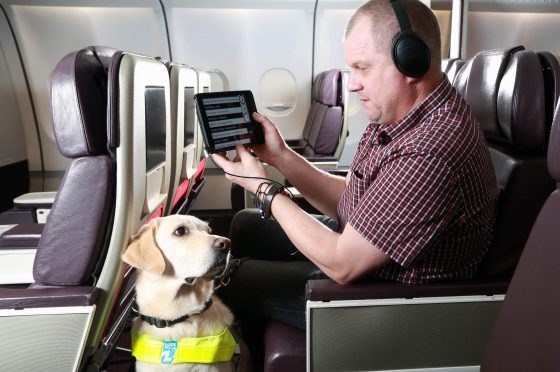 Technology developed by a Fife company which helps people with visual impairments access inflight entertainment has been launched worldwide by Virgin Atlantic.
Dunfermline-based Bluebox Aviation Systems specialises in creating the software for airline passengers to access information, television shows, music and films. It has contracts with aviation companies all over the world.
Its new tablet-based platform for people with sight issues is a result of a collaboration with the Guide Dogs for the Blind and Virgin Atlantic, who rolled out the platform across its fleet at the weekend.
Bluebox adapted its software to simplify its screens, increase the size of the font and enable people to hear audio descriptions of the television programmes and films on offer.
David Brown, of Bluebox Aviation Systems, explained: "The app offers high contrast screens in black and white which we have been guided is the best option.
"It also offers very large text and the ability to zoom into sections of the screen and of course the app also gives audio description by the voice over function."
In the development phase Bluebox met with a group of people with a range of visual impairments — from partial sight loss to total blindness.
This group then gave input and feedback at each stage of the development process as Bluebox adapted one of its software packages.
James Macrae, Bluebox's chief technology officer added: "We distilled the most critical elements of our Bluebox Ai IFE platform into a simple design that someone with sight loss can easily and consistently navigate, enriching this with additional background functionality.
"We kept the interface uncluttered and simple to navigate, but still providing information to help the passenger choose their selection."
A spokesman for Guide Dogs for the Blind said the software means people with visual impairments will be able to access entertainment without asking for help.
Welcoming the new facility, Mark Anderson, executive vice president at Virgin Atlantic, said: "Nearly thirty years ago, Virgin Atlantic was the first airline to offer seat back entertainment in all cabins, so it's apt that we should be the first to ensure our entertainment is fully accessible across all flights."
Bluebox has also announced that Japanese regional airline Solaseed Air has deployed its software system across its Boeing 737 fleet.
rmclaren@thecourier.co.uk