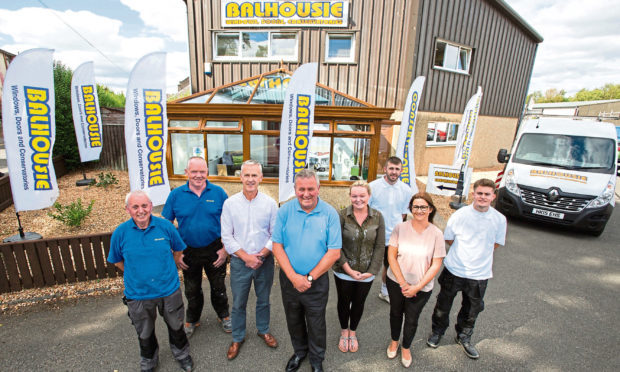 A Perth glazing firm has become Scotland's latest employee-owned business.
Balhousie Glazing's 12 members of staff now own the company, which has a turnover or around £1.25 million a year.
Founded in 1993 by Malcolm Sweeney and Drew Hay, Balhousie specialises in windows, doors and conservatories.
The founders had been discussing the issue of succession when they read about employee-ownership in The Courier.
Mr Sweeney said: "As neither of us have family members in the business, the only succession option we were really aware of at the time was a traditional trade sale.
"We would likely have been purchased by a rival company, something we didn't want.
"However we spotted an article about a seminar being held by Co-operative Development Scotland about business succession.
"One of the speakers was Bob Anderson, financial director of Bentley's Shopfitting, an employee-owned company based in Dundee, and we were really sold on it."
Mr Sweeney said he saw a number of advantages to employee-ownership as an exit strategy.
"A lot of our staff have been extremely loyal, and it was essential to us that we safeguard their jobs and ensure they could continue paying their mortgages and providing for their families," he added.
"Employee-ownership anchors the company in the local area and keeps our team's extensive skills here too."
Advisers from Co-operative Development Scotland provided the firm with information and supported the transition to employee ownership.
A trust has been formed and holds 100% of the shares on behalf of the workers.
Mr Hay said: "The employees now have a vested interest in the business, they will reap the benefits of strong performance, so it's been a positive boost for morale and motivation.
"As well as retaining jobs, employee ownership will ensure the business maintains its values and ethos.
"A trade sale to a competitor may have affected our standing in the local community or impacted the excellent customer service for which we are renowned."
Sarah Deas, director at Co-operative Development Scotland, the arm of Scotland's enterprise agencies which promotes employee ownership, added: "Malcolm and Drew wanted a solution that would ensure job security for their loyal staff and a continuation of their company's hard-earned reputation.
"The fact they made their final decision to go down the EO route after speaking to the founders of other employee-owned businesses is a real testament to the benefits of the model."