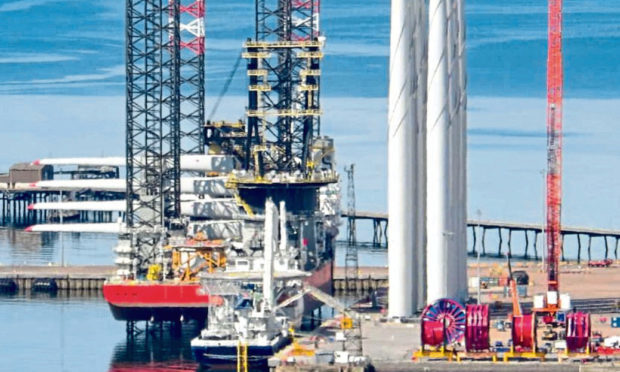 Perth power giant SSE is to take full control of a massive wind farm development off Angus after agreeing to buy out joint venture partner Fluor in a £118 million deal.
The utility will own Seagreen Wind Energy Limited outright if the proposed transaction gains approval from Crown Estate Scotland, the body that manages the leasing of the seabed around Scotland.
The wind power group is currently progressing plans for two phases of development – Seagreen Alpha and Seagreen Bravo – across a 391 square kilometre zone which lies approximately 27km offshore between Arbroath and Montrose.
Last week, the developers submitted plans to Marine Scotland to revise consents for the site.
The plan is to reduce the number of turbines installed but increase overall capacity by using larger, higher rated devices which stand more than 280 metres tall to maximum blade tip height.
The original consents for the project – and two other major arrays, Neart Na Gaoithe and Inch Cape in the outer Firths of Forth and Tay– were granted four years ago with a maximum output of 1,050 megawatts.
The revised plan for Seagreen envisages an uprating of power capacity to 1,500MW from Alpha and Bravo and further build-out across the wider development zone in future.
Seagreen is the second largest wind farm development in which SSE is involved and the biggest in Scottish waters.
Beatrice – in which SSE has a 40% stake and which is currently in construction in the Moray Firth at a cost of £2.6 billion – is SSE's second largest Scottish wind power project.
It has an overall capacity of 588MW, enough to power 450,000 homes, and is due to beging producing power next year.
SSE said the Seagreen deal was in line with its offshore wind ambitions and the group's broader strategy to create shareholder value by "developing, owning and operating energy and related infrastructure and services in a sustainable way."
It said it "remained focus" on preparing the Seagreen Phase 1 projects in readiness to bid for a vital power purchase deal in the next UK Contracts for Difference auction, which is expected in the Spring.
Martin Pibworth, SSE's Wholesale Director, said: "The Seagreen acquisition aligns with SSE's ambition to create value from owning, operating and developing clean energy assets and infrastructure.
"We are looking forward to taking full ownership of Seagreen as we progress through this critical phase towards the CfD auction, expected in May 2019.
"SSE's expertise in the development, construction and operation of offshore wind will be an asset to Seagreen, and we will review the ownership structure in due course."