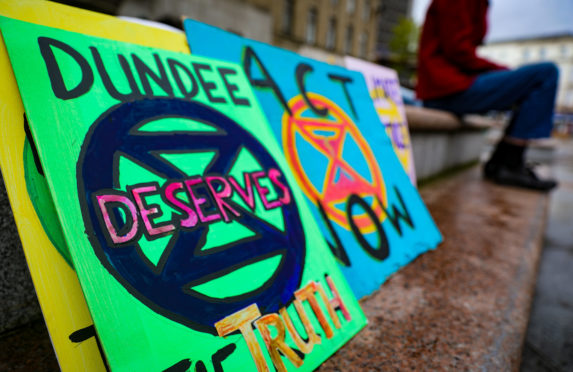 Sir, – Stop Climate Chaos Scotland (SCCS) is urging the Scottish Government to ramp up measures to tackle climate change, ahead of COP26.
Scotland has 0.15% of global emissions and China 30%. China is building 1,171 new coal-fired power stations to add to the 2,363 it already has.
Only a handful of countries have legally-binding Climate Change Acts. The rest, including China, made promises which are continually being broken.
The Scottish Government must invite SCCS chairman Tom Ballantine to visit China to persuade President Xi Jinping to close his coal-fired plants and save the planet.
Clark Cross.
Springfield Road, Linlithgow.
Better government in indy Scotland
Sir, – Much of what Michael Foreman (Little of pleasure but a lot of pain from independence, Courier, November 4) says is true, but he misses the point.
I am English, born and bred, and had no connection with Scotland before moving to Fife.
The reason I moved my family here, and the reason most Scots now want independence, is because they want to be governed by a decent parliament that looks after all its citizens.
Unfortunately, the UK has an elitist government in Westminster and the only way to secure a good government is to become an independent country.
It is a simple fact that a Scottish Government with full sovereign powers will be far better placed to look after its citizens than a London-based government that only views Scotland as a dumping ground for its nuclear weapons.
Andy Collins.
Ladyburn House, Cupar.
Hard border at Gretna on EU return
Sir, – Polling evidence shows Brexit has changed the views of some previously anti-independence voters, into a more favourable stance.
However, do these people understand the consequences?
They seem to imagine that after independence life would carry on much as before, and that this would apply to us rejoining the EU.
But they are forgetting that we have opted out of half of EU regulation.
Rejoining would see us signing up to all EU rules – if they let us in.
This would mean giving up the pound.
As England would be out of the EU, it could mean a hard border at Gretna, cutting us off from our largest trading partner and far more important than the EU.
It's time this issue was looked at seriously!
William Ballantine.
Dean Road, Bo'ness.
Avoid stigmatising mental ill-health
Sir, – In Jenny Hjul's latest political critique (Covid control less about public health and more about political game-playing, Courier, November 4) she takes aim at almost all political parties and their responses to Covid.
She saves her most vicious swipe at the political hyena that is Nigel Farage.
Whilst most would agree that he is a political opportunist and publicity addict, her use of the word "nutter" is unfortunate and does nothing to promote understanding for those with mental ill-health.
There is less stigma around now but surely there are many better ways of describing Farage.
Jim Sneddon.
Annsmuir Park, by Ladybank.
Wrong to exist at politicians' pleasure
Sir, – As we approach Remembrance Sunday and mark the sacrifice of those who fell for our liberty, I can only wonder how they would regard the current situation.
We seemingly now exist at the pleasure of our politicians, a class, both north and south of the border, so ill-equipped to manage their own affairs, never mind those who never conceded to them the authority they have assumed.
I will not only be remembering the grandfather I never met, also the freedoms I took for granted that were not the governments' to remove.
It is shameful what they are doing to this country, all of them.
Hamish Hossick.
Strathern Road,
Broughty Ferry.