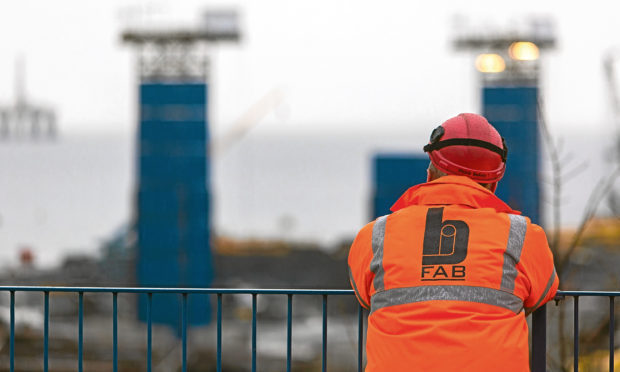 November 18, 2017.
The date on which First Minister Nicola Sturgeon declared victory in the Battle for BiFab.
It was a sensational turnaround from the group's shocking collapse – the proverbial industrial rabbit from the hat .
And it was no more than BiFab's extraordinary and inspirational workforce deserved after their dignified but determined display of strength in marching through the streets of the capital to protect their livelihoods just days earlier.
But there was no hiding from the fact this was a stay of execution.
BiFab remained in a perilous position and while the battle may have been won, the war was far from over.
The Scottish Government's intervention simply gave BiFab the financial breathing space to complete its subsea jackets order for the Beatrice offshore wind farm, while simultaneously looking for new work to keep it going.
But three months down the line and, with the Beatrice contract all but complete, there's been no sign of a vital new contract forthcoming.
But why can't BiFab find work?
It has proven time and again down the years that it is one of the most capable heavy engineering groups in Scotland, if not the UK.
And blue-chip companies of the ilk of BP, Shell, ConocoPhillips, Maersk, Chevron, Hamilton, Marathon and Halliburton don't just place contracts with anyone.
The answer then, rather unsurprisingly, is not straightforward.
First, since the oil price went off the cliff in 2015, there has been a huge focus on cost in the energy market.
Those willing to spend money – and it was a small and shrinking pool in that crash period– held all the cards.
They demanded quality at a rock-bottom price and tightened the noose with extended payment terms.
For contractors it was a case of get on board or watch your order books quickly empty. BiFab was as susceptible to those market forces as any other.
Secondly, there is the overheads and legacy costs that a firm like BiFab runs.
It doesn't take Einstein to work out that a firm with hundreds of workers and three full-time yards – Burntisland, Methil and Arnish on the Isle of Lewis – on its books is not cheap to keep ticking over.
Thirdly, there is market perception.
If you are in the position of placing a vital multi-million pound contract for a major marine energy development would you go with a company that has been so publicly on the brink of collapse?
And fourthly, in business you need an element of luck and fortune has not favoured BiFab in recent years.
Not only did it have the oil crash to contend with but the group's aspiration to become a major player in the renewables market was severely dented when development of three multi-billion pound wind farms off Fife and Angus was stymied by RSPB Scotland's call for judicial review of planning permissions.
The bird protection charity's intervention was ultimately thrown out by the courts, but more than two years of potential development time was wasted in the process.
Having said all of this, BiFab's fate is not yet sealed.
The firm styled the issuing of notices of potential redundancy to staff yesterday as a procedural necessity and insisted it is still trading and still in the market for new work – albeit acknowledging that time is of the essence here.
But, in this rollercoaster ride, who would bet against one more rabbit being pulled from the hat?
Not me, that's for sure.