IN FULL: 'I'm so proud' – Fife firm's delight at 2019 Courier Business Awards triumph
A Fife timber firm formed during the reign of Queen Victoria was crowned Overall Business of the Year at the seventh annual Courier Business Awards.
James Donaldson & Sons triumphed at the glittering black tie ceremony which was attended by more than 800 guests on Saturday night.
The sixth generation family firm has grown from humble beginnings in Tayport in 1860 to be one of the UK's largest timber firms.
Courier Business Awards 2019: Our business of the year is revealed
The company, which has its headquarters in Glenrothes, had earlier won Family Business of the Year.
Chief executive Scott Cairns dedicated the award to the 159-year-old firm's workforce.
He said: "I'm so proud and was absolutely not expecting it.
"We've got just under 1,000 people working for us across 31 sites in the UK.
"These awards are for our incredibly dedicated employees."
The evening began with a cocktail reception before guests made their way into a huge marquee erected at Apex City Quay Hotel for the occasion.
Entertainment was provided by Duende Voices with Loadsaweeminsingin' before master of ceremonies, Perth-born comedian Fred MacAulay, opened proceedings.
David Smith, managing partner of event partners MHA Henderson Loggie, said the awards highlighted the huge range of business activity taking place in Courier Country.
Never Mind The Buzzcocks star Phill Jupitus then took charge of proceedings as awards were presented before dinner.
Deputy First Minister John Swinney presented the first of 24 awards – a special Rising Star trophy to nine-year-old Amelia Milton, whose Smelleez soap company is about to go into its third year of trading.
Other winners included V&A Dundee, Baker Hughes and Hyper Luminal Games.
Nathan Pyne-Carter of Ace Aquatec won the coveted Entrepreneur of the Year award.
A three-course meal was prepared by an army of hotel staff and catering students from Dundee & Angus College.
In the second half of the awards, winners included J&D Wilkie Group, NCR, Balhousie Care Group, Dover Fueling Solutions and Castle Water.
The final award of the evening – for Outstanding Contribution – was awarded to Perthshire businessman Morris Leslie whose interests include plant hire and vehicle auction businesses.
Presenting the award, DC Thomson Media's head of newspapers Richard Neville said: "Our winner began his entrepreneurial journey 45 years ago when he established his own company on a Perthshire farm.
"His vision was to buy and sell construction equipment and, such was the success of that fledgling operation, the business soon expanded beyond local boundaries.
"In 1980, his company moved into the plant hire sector and the purchase of the disused Errol Airfield in 1988 prompted significant expansion into the plant auctioneering business. Under his steerage, his self-titled group went on to buy Perth Airport and turn it into a vibrant hub for business in the area.
"The plant hire and sale business's national network has continued to expand in recent years and is now one of the largest construction equipment providers in the UK. The plant sales business trades globally, trading with over 50 countries a year.
"A supporter of several charities, his unwavering backing for the Scotland's Charity Air Ambulance – which is based at Perth Airport – has helped save lives across Scotland."
After a standing ovation, Mr Leslie said: "After starting in business all these years ago I would never have imagined I'd be standing here.
"It's been a long and enjoyable journey from when I started buying and selling goods in the classified ads in Saturday's Courier. Guess what – I still am.
"Of course this award would not have been possible without my team, past and present and all my loyal customers over the years.
"The biggest thank you has to go to my wife Joyce who has been by my side for the last 40 years and has guided me successfully along every step of the way."
rmclaren@thecourier.co.uk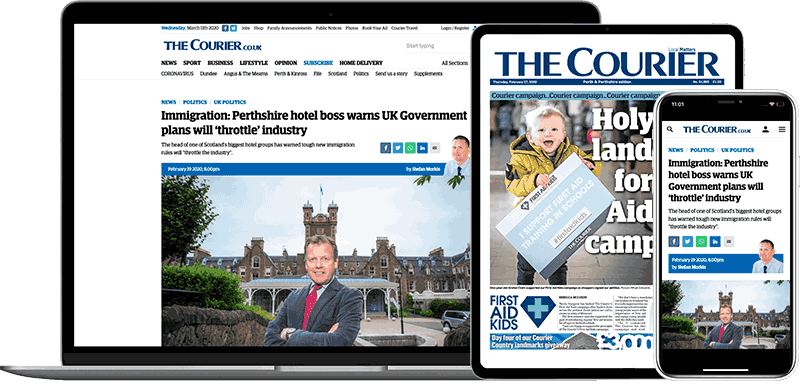 Help support quality local journalism … become a digital subscriber to The Courier
For as little as £5.99 a month you can access all of our content, including Premium articles.
Subscribe