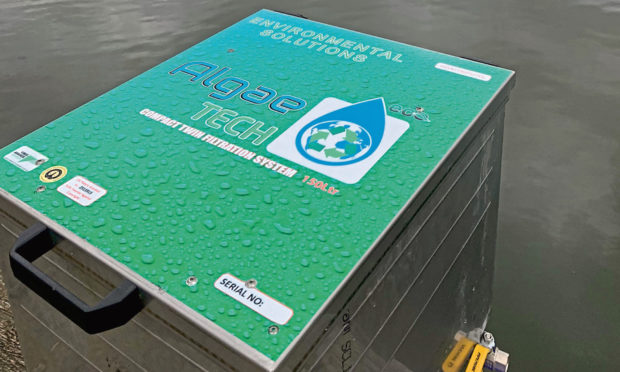 A firm which produces a revolutionary filtration system used in the life science and food sectors is relocating to Fife after its product attracted global interest.
Peel Tech's eco-filtration units were originally invented to reduce waste from potato processing in food outlets, but the units are now being used in the pharma and green energy sectors.
The expansion has seen the family firm, founded by Malcolm Wood in 2014, move to a 2,000 sq ft unit in Glenrothes, with a view to doubling that in the near future.
The firm is eyeing further growth that could see them ultimately add another 4,000 sq feet to their Southfield Industrial Estate facility.
The Peel Tech system has been installed in chip shops across the UK and does not use electricity, but works by gravity and micro jets.
Mr Wood, inventor and company founder, said: "If an average chip shop peels just 10 bags of potatoes per day, they will put an average of 420 kilos of food waste in the form of peel each week potentially down the drain – and it is estimated there is around 10,500 chip shops across the UK.
"This is a huge waste, because we have had the peeling starch gas tested and it is liquid gold for anaerobic digestion used in the production of green energy.
"However, it has to be the right consistency and the Peel Tech system makes it perfect for use in delivering eco-friendly energy."
The firm's technology has also been used to harvest algae from water, including rivers, lochs and even a safari park.
Mr Wood said: "The equipment used for this falls under the same patent that is used for all the applications.
"The harvested algae is dried and used to coat medicines, while the process also helps to clean the water it is taken from."
As well as growing sales in the domestic market, Peel Tech is fielding an increasing number of inquiries from potential clients overseas including India, Canada and Australia.
The system's ability to reduce the amount of water required in food preparation has made it an attractive proposition to regions where fresh water is at a premium.
The firm has opened an office in Dubai, and Peel Tech is creating a bespoke, industrial-sized system which produces around 40,000 gallons of waste water a day for a client there.
Mr Wood said taking part in a trade delegation to Dubai, including attending a garden party at the British Embassy there, had generated interest in the filtration system.
He said: "As part of the delegation, we were put in touch with a food processor who makes 140,000 meals per day, while Peel Tech units have also been tested on treating sewage water in Dubai with excellent results.
"Because of the results, we were then invited to go to a massive safari park there where they had problems with algae in ponds that animals such as hippos use.
"We did tests which delivered an 87% recovery of algae – there is nothing else on the market that can recover algae at this level."
Mr Wood said the company continues to develop new products and is working on a patent for an ultra violet system that treats water.
The system has delivered encouraging results in destroying a number of contaminants including E coli and listeria.