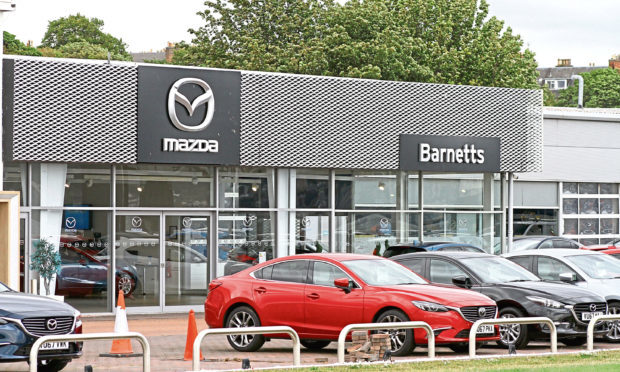 Dundee-headquartered Barnetts Motor Group has been sold to major Scottish car dealership Eastern Western in a multi-million pound deal.
The move – which follows an intense period of negotiations – means the Barnett family's more than 70- year association with the motor trade in the region is coming to an end, although the new owners will retain the Barnetts name on the Dundee site.
Chairman Paul Barnett will instead turn his focus to further developing the family's property interests through Barnetts Properties.
That business already owns Bassaguard Business Park at St Andrews and has a portfolio of domestic homes for rent.
All 150 staff of Barnetts Motor Group are being retained by Eastern Western, including directors Atholl Hutchison and Jim Brown.
Mr Barnett said he was delighted to have passed the baton on to Eastern Western, a business which he said shared the ethos and values of Barnetts Motor Group.
However, he said he had mixed feelings about leaving a trade his family has been so closely associated with through three generations.
"I will be sad to leave but, thinking about the car trade and running your own business, it is 24/7 – even when you are sitting around the swimming pool on holiday you are constantly thinking about the business," Paul said.
His grandfather Bob Barnett Senior first dabbled in the motor trade in the 1940s as he built up a fleet of lorries for his logistics firm, Dundee Express Removals.
The business had a small car lot at Roseangle and it was there that Paul's late father, also Bob, cut his teeth in the motor trade.
The company grew and went on to acquire its current site at Riverside Drive in 1973.
After a period working with Unilever, Paul joined his father in the business 25 years ago and was appointed managing director four years later.
Under his stewardship, Barnetts became a multi-franchise operator – most notably working with Volvo and Volkswagen – at Riverside and a location in St Andrews.
The business generated sales of £65.3 million last year and returned a £1.3m pre-tax profit.
Mr Barnett said he had known  Eastern Western group managing director Douglas Brown  for a number of years and believed the business was in safe hands as part of a larger group.
"Although we were one of Britain's most profitable Volkswagen dealerships, we did start getting squeezed," Mr Barnett said.
"In Eastern Western we have found a really great fit – it is a company with similar values and core ethos to Barnetts – and by being part of a bigger group there are better benefits to be had.
"We took a policy decision about a year that if anyone came to speak to us (about the business) then we would have the chat with them.
"Douglas came to us and said he was interested in the business and it seemed a really good cultural fit.
"He wasn't thinking about changing the name – which was nice for me – and they are keeping all the staff and my two fellow directors are staying on.
"There's a really bright future for the business."
In a related move, John Clark Motor Group has taken up the Volvo franchise that Barnetts has operated for many years.
It will trade from a temporary showroom in Dundee's Macadam Place for the coming year while the group's longstanding BMW franchise relocates to a new state-of-the-art dealership currently under construction in Kings Cross Road.