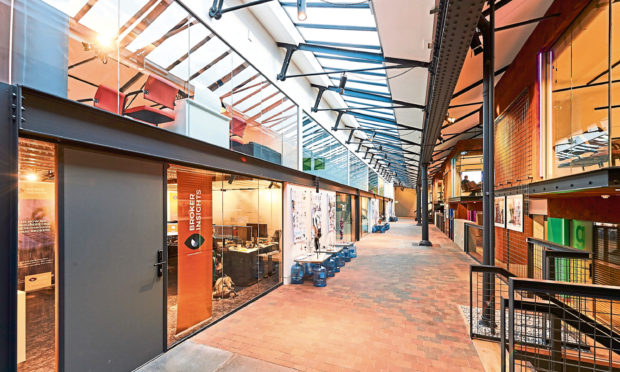 Dundee's high tech office development Water's Edge is planning a two-storey extension to meet demand for commercial space.
Tayforth Properties – owned by 4J Studio founders Chris van der Kuyl and Paddy Burns – is looking into adding to the footprint of the listed building previously known as Transit Shed 25.
The City Quay development is a mixture of office suites, meeting rooms and a break-out space designed to encourage collaboration and stimulate new ideas.
Its first tenant, Scottish Power, moved into the building six months ago following a £7 million refurbishment.
The next phase of the development was to form a restaurant at the south end of the building.
However, the operator who planned to take the large unit backed out due to financial difficulties.
Managing director Stewart Clark said the team were now planning to turn this space into five further offices.
He said a new extension to the building, which would contain a restaurant and a boardroom on the upper level, was being considered.
Mr Clark said: "The whole concept of the building is working well and we've got a waiting list for smaller offices.
"We are now looking into a new  extension.
"We've had a meeting with Dundee City Council which has been very positive.
"It will depend on the numbers adding up but we know we would be able to rent more offices.
"We are still keen to have a restaurant as part of the development."
The extension would be formed to the south of the building.
Mr Clark said that, depending on the planning process, ground could be broken on the development as soon as September.
Tenants in the building include 4J Studios, Broker Insights, Storm Cloud, Pure Energy and Puny Astronaut.
The development has a number of high tech features such as the ability to book meeting rooms and control lighting from a mobile phone.
Three larger office units – capable of holding between 30 and 40 employees – are still available to rent.
Tayforth is also considering turning one of these spaces into an open plan co-working office.
rmclaren@thecourier.co.uk