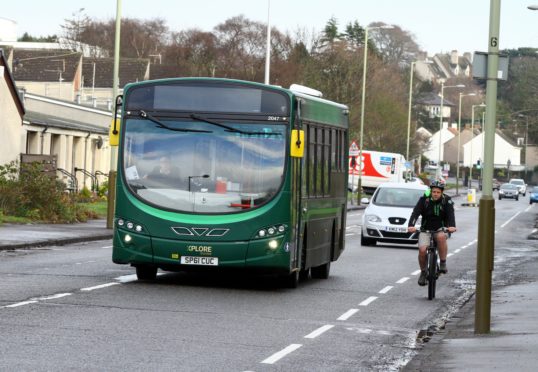 Dundee's first Pedal on Parliament event will take place next weekend in a bid to make cycling more accessible to all in the city.
Members of the Dundee Cycling Forum are joining similar groups across the country in a national movement on Sunday April 28.
The Dundee event will take place at Slessor Gardens with two feeder rides in from Invergowrie and Broughty Ferry.
Those taking part will ride around the waterfront park for an hour with organisers also asking the public to sign up to a manifesto outlining 11 ways they believe cycling could be made more viable locally.
Among the measures the group believes can make a big difference is the introduction of a 20mph zone and car-free areas near schools.
Other ideas are incorporating cycle storage units in new homes and traffic-free days in the city centre.
Donald Baddon, event organiser with Dundee Cycling Forum, said there are still too many issues discouraging people from jumping on a bike for work or leisure.
He said: "The event is geared towards encouraging greater cycling infrastructure in Dundee and further afield.
"80% of journeys in the city are less than three miles so that makes cycling a real competitive every day transport option.
"We have created a manifesto which outlines some of the main things we believe could be improved to encourage cycling.
"We want to tackle these barriers that prevent people of all ages and abilities from cycling the sort of journeys that make more sense on a bike."
It comes as the council sets out a major plan to improve cycling in many areas of the city.
The Northern Links project plans investments in cycling and walking routes along three corridors into the city centre: Lochee Road, Victoria Road and Princes Street/King Street.
£376,000 was also invested to open up the National Cycle Network Route 1 between Broughty Ferry and City Quay.
The group says the measures are not enough and highlighted other lingering problems such as high pollution rates in and around Lochee Road and the Seagate as major issues.
Mr Baddon added: "We recognise that there are good things going on but we believe there is much more that can be done."
The event will begin at Slessor Gardens at 1pm with feeder rides leaving from Invergowrie and Broughty Ferry at noon.
To find out more, visit www.pedalonparliament.org/events/event/dundee-slessor-gardens/