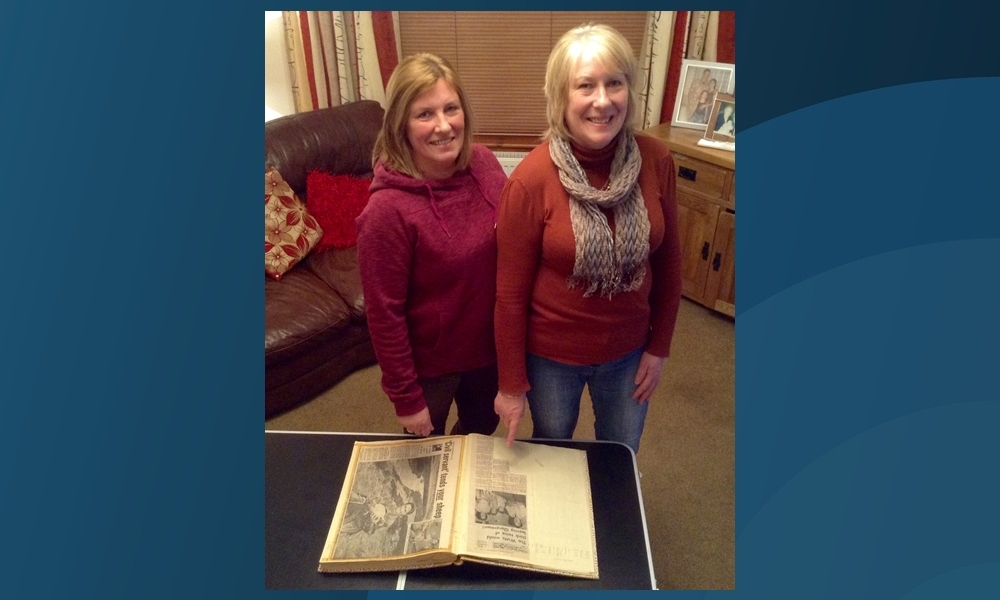 I've spent several evenings leafing through what some might call a scrap book – and in some respects it is – but I have found it to be a fascinating journal of one family from the early 1970s to the last entry dated April 9 2005.
Not that it particularly records what the family did during those years but rather, it is a record of newspaper cuttings of events and memories and people that the family wanted to preserve.
The family concerned are the Watt family, formerly of Glen Prosen – Jim, Bett and daughters Ann Stewart and Lynn Orrock.
Jim Watt must have been the most unlikely civil servant for he was a shepherd with the Department of Agriculture and his office – open-plan in every sense of the word – was the remote head of Glen Prosen, where he looked after a flock of 650 blackface sheep.
And remote it certainly was. The family lived at Runtaleave, the last occupied house in the glen. Previous to that they had lived at Old Craig, a further mile and a half up the glen. The nearest town was Kirriemuir, 14 miles away. You don't forget to buy the matches when you live that far from the shops.
Jim was the son of the glen shepherd and had grown up at Old Craig, so was well used to the remote life. Bett grew up in Kirriemuir but quickly adapted to glen living.
Ann and Lynn have the fondest memories of their childhood. The freedom and growing up with all the glories of nature and the outdoors on their doorstep.
They were never lonely – golden eagles, buzzards and grouse were their neighbours and the glen school was a couple of miles down the road.
Mind you, they were expected to help out with the sheep and the lambs too. When you're far from neighbours, everyone has their part to play in the family's life, especially the winter when the road to the house was snowed in for three months.
But it must have been a good life for neither hesitated to say "yes" when I asked if they would go back to it.
Turning the pages of the journal brought back forgotten names and faces. I recognised Jean Cameron, who ran the post office at Milton of Clova for donkey's years. And I remember her son Rab too.
Syd Scroggie from Dundee, the blind hillwalker and poet. A fresh-faced Andrew Welsh in 1978, newly elected SNP member of Parliament. Silver Beedie, the glen postie. She left the glen and lived for a time in Craigo and raised a lot of money for good causes with charity walks.
My predecessor, Colin Gibson, must have been a favourite columnist, for a number of his articles are pasted into the book. One I remembered was his description of eagles "cliffing" deer – separating a beast from the herd and driving it over a cliff to its death to provide carrion feeding for themselves and the foxes and ravens.
Its inherent interest apart, a personal record like this is more than just a local social commentary.
Times change and people move out of the glens, taking their memories with them. A way of life and the practical self-reliance that supported it is forgotten. The sense of community changes and a family record like this one tells future generations how life was different and lets them decide if what has gone was important.
I personally think it was and that there is much that we can learn from the past.
Box beds
The Doyenne has noticed several tits and sparrows taking what seems to be an unseasonal interest in the nesting boxes in the garden. Not just looking but actually popping inside.
It could be early stirrings of a nesting urge which wouldn't altogether surprise me as I've seen several rooks flying into the nearby rookery with twigs in their beaks.
I'm more inclined to think they are investigating overnight roosts to shelter from the bitterly low temperatures we've experienced over recent nights.
I've cleaned out the one box that had a nest in it and put both boxes back with a handful of dried grasses in the bottom – a wisp of dry straw would probably be better – and we'll keep an eye on them to see what happens.
Changing the menu
Wednesday was St Andrew's Day when we celebrate Scotland's patron saint. Traditionally, haggis is served for tea. A weel biggit haggis is a delight to behold and a joy to eat – and I'm very fond of it.
Andrew was a fisherman and, not surprisingly, is patron saint of fishermen and, by what strange association of interests I do not know, of gout sufferers too. It was Andrew who instigated the Biblical feeding of the five thousand by pointing out to Jesus – "There is a lad here who has five barley loaves and two fishes."
You might have thought that fish was a more fitting meal to celebrate the good saint's life. Haggis, after all, gets a pretty good outing every January 25.