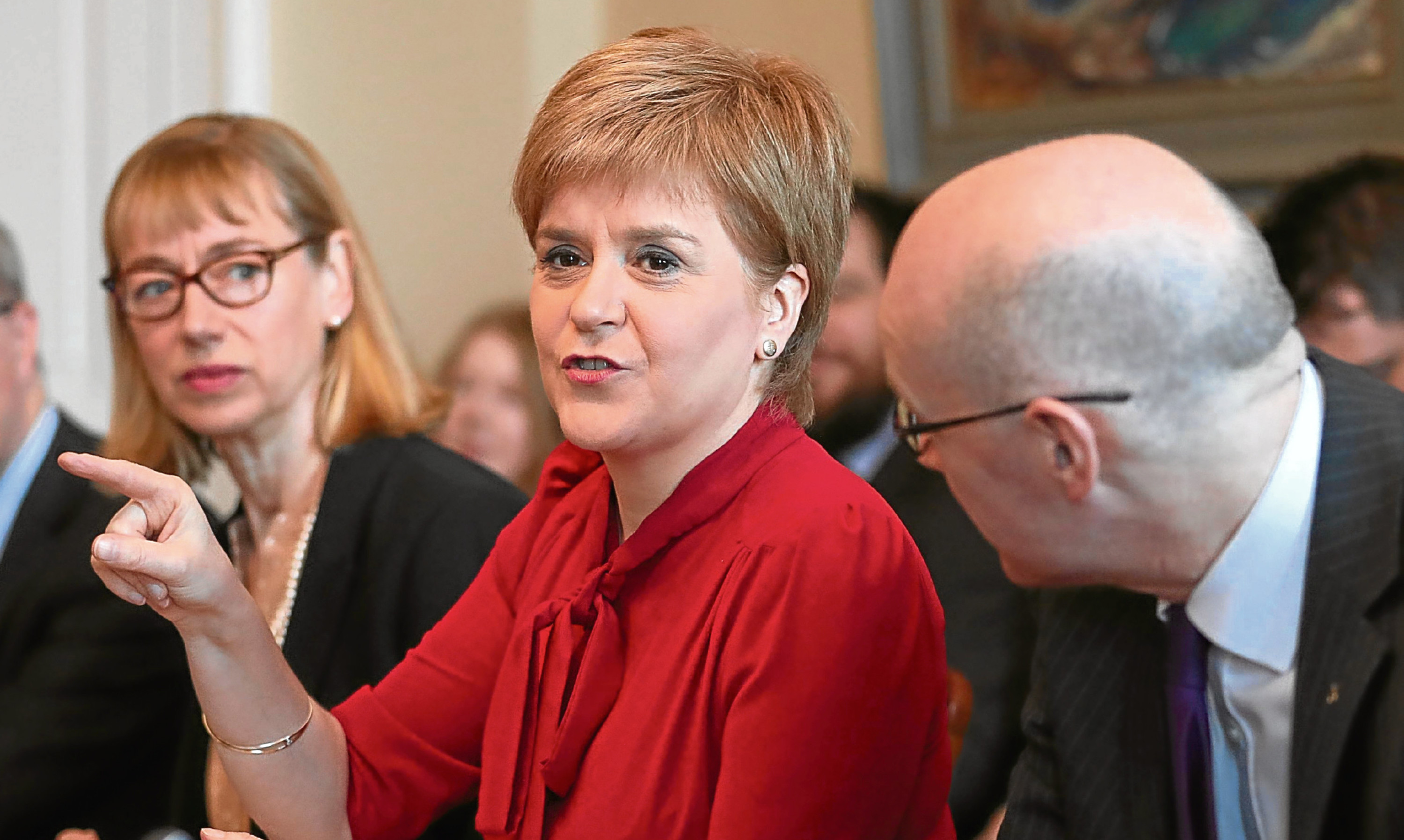 There was something suspicious in the timing of a pro-Nationalist newspaper's report on Sunday detailing online abuse against the First Minister.
The fact that Nicola Sturgeon is prey to such attacks is, of course, regrettable but she is not the only Scottish political leader to fall victim to these onslaughts. Her opposite numbers in Labour and the Conservatives, Kezia Dugdale and Ruth Davidson, are also easy targets.
While it is always shocking to witness how low some people will sink on social media, it is unlikely a politician of Sturgeon's experience is surprised by the vitriol, or indeed that she has just discovered it.
The cynics among us assumed the trolling had been put in the public domain now because she wanted it to be – possibly to try to garner some sympathy ahead of what could be a bruising few days, what with her spring conference and renewed threats of constitutional upheaval looming.
Her decision on Monday to call for a second independence referendum confirmed our fears: she did have a big announcement to make; she just decided to pre-empt her own party get-together and declare her intentions in a hastily assembled press conference.
She thus ended months of fevered speculation, whipped up by herself and her supporters ever since the Brexit vote last June, over whether the SNP would risk a second ballot so soon after the decisive result of 2014.
Fomenting discord
No one could say they didn't see this coming, given the single-minded devotion Sturgeon has shown in fomenting discord with London.
In the face of warnings from senior figures in her own party that this is not the right time to pursue a new constitutional ballot, she has stood firm.
And despite her protestations that her door is always open and assurances that she wanted to reach a compromise with Theresa May, it has been clear all along that she had chosen her route. If there was common ground, Sturgeon didn't want to find it.
By insisting Scotland should get a special (undeliverable) deal from Europe, including access to the single market and the free movement of people, she backed herself into a corner.
And in raising the expectations of her grassroots that she could deliver where Alex Salmond failed two-and-a-half years ago, she created a momentum that made another plebiscite seem inevitable.
But there is also an element of recklessness about her tactics. While opinion polls are unpredictable and some have given the SNP cause for hope, there is no appetite in the country for a new independence vote.
Sturgeon anticipated a wave of defections to the Yes camp in the wake of Brexit, which a majority of Scots had opposed – but she misread the national mood.
There is evidence of great democratic fatigue – and who can blame Scots for that? – but, more worryingly for Sturgeon, there are sure signs that she has lost the nation's trust.
As befalls most politicians, her popularity has declined the longer she has been in power. Voters have seen too much of her and apart from diehards on her own side, they are increasingly frustrated by her lack of action in office.
Even a former SNP minister, Kenny MacAskill, felt the need to point out that she was neglecting her duty and that vital areas of domestic policy, such as education and health, were in poor shape as a consequence.
Widespread anger
Sturgeon's approval ratings are negative, well behind Ruth Davidson's, for instance. There is widespread anger that she is playing politics instead of running the country, being "utterly irresponsible", as Davidson put it.
The online trolls that have turned on her have become par for the course thanks, largely, to the divisive aims of the Nationalists, pitting Scot against Scot and ignoring the language of hate when it has been levelled at their political foes.
If she had Scotland's best interests at heart, she would not escalate this internal conflict and stoke up passions further.
Sturgeon's followers will no doubt be overjoyed at her resolution but the rest of us, worried about economic uncertainty and the toxic politics of the campaign trail, must pray that Theresa May is resolute too.
It is up to Westminster to grant Scotland permission to hold a referendum and the Prime Minister has said Brexit negotiations should be complete before Scots are asked to vote again.
Sturgeon wants a referendum between autumn next year and spring 2019 – that is, before any EU deal is concluded.
It would not suit the SNP if London Tories managed to secure a package from Brussels that did, say, give Britain access to the single market.
So she is going for broke, driven by desperation and a now or never, gung-ho attitude to Scotland's – and her own – future.
It is a gamble she is bound to lose.