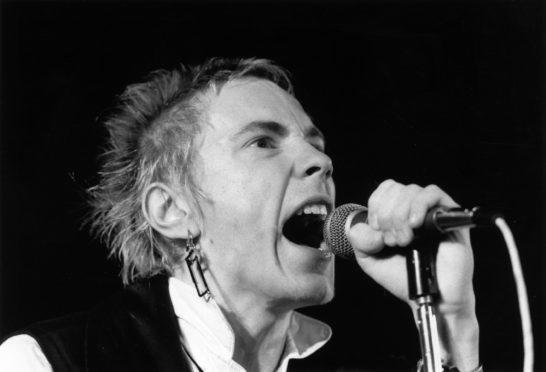 "Hellllooooooooo Dundeeeeeeee!"
There's no point in asking if it's John Lydon on the other end of the transatlantic call. It couldn't be anyone else. If the greeting is effusive, then the news that the Dundee gig on the upcoming Public Image Limited (PiL) tour is the first to sell out is met by further unexpected exuberance. "I'm happy for that! I can now go to the grave saying, 'I'm big in Dundee'."
When the announcement came that Lydon would be bringing PiL to The Church on Ward Road, with its capacity of hundreds rather than thousands, some refused to believe it, particularly as this tour marks the band's 40th anniversary.
Lydon disapproves of playing large venues. "No. No! Don't want to. You lose the empathy. I see the tour as a collection of pub meets. You can be more intimate with people and reveal more – it's for the betterment of yourself and everyone else in the hall. Large gigs can be emotionless and it's hard to break the ice. It's pointless. What you're doing is raking in money and making everyone not like you. I want to show vulnerability and I can't do that in an arena. Well I can when I think about it !" (laughs) "I have done… but I won't." PiL's longevity, opposed to three years of the Sex Pistols, makes it hardly surprising that he refers to them as "my first band".
"This tour is a 40-year celebration of whatever else I've done against humanity. I've described PiL over the years as a church without religion, so the irony of the Dundee venue is not lost on me."
The word religion is delivered with a naughty growl. Now 62, Lydon is difficult to capture on the printed page. His voice swoops and falls, and although any writer tries to avoid a forest of exclamation  marks, it's often the only way to communicate his rollercoaster speech patterns. It's also like herding verbal cats – trying for supplementary questions is impossible – but endlessly entertaining.
Coming out of his "first band" in his early 20s meant there was no strategy. "I never had any expectations for PiL, just like I never did in the first band. I didn't know if we would be liked or disliked.
"This is what I feel the need to do and if people like it, all well and fine. I've only got one life to live… That sounds like a soap opera title… in fact it is! Here in America."
Lydon moved to the US in the early 1980s, when his treatment in the UK and Ireland "I was locked up for a couple of weeks in Mountjoy Jail in Dublin, when my face assaulted some policemen's fists," was affecting his everyday life.
He sees the land of his birth from the love of the ex-pat but distance of the social commentator. "I see myself as celtic – the original Brit. It doesn't matter what your religion is, if celtic is what you are. Not like Celtic and Rangers though, fighting over silliness and destroying Scotland. How can 22 men kicking a football be more important than getting on with your neighbours?"
He recalls, however, that the two Dundee football teams are located spitting distance from one another. "Yesss! Dundee is a fine example of how things can be. Just enjoy the pageantry!"
Talking of pageantry, he has watched the build-up to the wedding of Prince Harry and Meghan Markle from the US end, and for the man who serenaded the Silver Jubilee in 1977 with "God Save The Queen. The fascist regime…" his views are surprising.
"The royals are not bad people. They didn't ask to be born into this gilded cage. If anything, have a sense of empathy and maybe pity – never hatred. I turn on the regime itself, which is draining money that could be better spent, but it also has a unity and aprinciple to it.
"I'm most sickened by the fact that they've brought racism into the wedding."
Meghan Markle has a white father and black mother. "Diversity is a gem to mankind and it's being frowned upon by belligerent ignoramuses."
Anyone living in the US will be asked about their opinion of the current President, but it's forthcoming without being prompted.
"I want the current fella to make sense – some of it does but an awful lot of it doesn't. There's no clarification in any of it and that's the puzzlement. He's not well read enough to know what he's saying.
"The problems there and in Britain are down to the basic principle of all greedy businessmen – divided we fall."
He enjoyed the unity of the Winter Olympics, to an extraordinary level, but Eve Muirhead and her curlers can't count him among their fans.
"The Winter Olympics – just incredible. Brave, extraordinary people. But no, not the curling… listen no… let's be sensible now. I'm sure there's a point but I'm yet to discover it. Bowling on ice.
"But I so wanted to do the bobsleigh when I was learning skiing. Nora (his wife of almost 40 years) convinced me not to do it. She doesn't like me to do anything that's way out of my depth.
"But what about Eddie the Eagle Edwards? Why would people laugh at him? These people are amazing – he'd only get accolades from me."
The Queen to Eddie the Eagle in one discussion – only with John Lydon.
Apart from a 32-date tour in the UK, Europe, and Japan, his next challenge is driving. After almost 40 years in the US he doesn't have a licence but will sit a test after the tour.
His written test was almost upon him – picturing him striding into a test centre with high school kids answering questions about Stop signs was bizarre but hilarious.
Getting back to the point of the chat, a retrospective tour and boxset doesn't mean he isn't planning his next set of songs.
"I haven't written the ultimate song yet – I only have 40-odd years of doing it, not long enough to hone your skills and tell the truth in the most accurate way you can.
"Everything and everyone around me is an influence. Every single situation whether row at the supermarket or a perfectly good day's shopping – it called experience.
"I might as well comment on it as honestly as I can, and I do. It's the way I buy books or records, I want to hear other people's opinions. It's how I make sense of the world – through a consortium of ideas.
"But as long as there is loud-mouthed opinionated intolerance, I will always have a place. I'll stand for the disenfranchised no matter who they are or where they come from. We're all going to the same place… the cemetrrrrrrryyyyyy – so we might as well go happy."
PiL are at The Church in Dundee on Friday, August 31. It is sold out but check for returns. 01382 203875. For more dates in Scotland check www.pilofficial.com
info
On October 12, 1976, the Sex Pistols came snarling into Dundee. At the time no-one could have predicted that this would turn out to be the only Scottish date they ever played (in their heyday at least).
It happened at the students' union of the Technical College, known as the Bowling Alley, a hangover from its days as, well, a bowling alley in the 1960s.
"I had no idea of who I was going to see," says Ross Niven of Monifieth. "I was 18, hair down to my shoulders and listening to Led Zeppelin and Pink Floyd. We would go along to the Bowling Alley because they had a good track record.
"It was clear that some people had come to Dundee for the gig – I'm sure I would have noticed people dressed like that I the city centre!"
Around that time that the band were being signed to EMI but hadn't settled into the classic line-up. Sid Vicious was part of the crew, with Glen Matlock on bass.
"I really enjoyed it," says Ross. "The songs were short and sharp and it was the loudest gig I've ever been to –  that includes AC/DC."
The Pistols were due to play the Caird Hall on December 1 that year but postponed to the 16th to appear on Bill Grundy's TV show, when a surly and sweary performance, led to the cancellation of most dates on the tour after being banned.
"Lydon was very charismatic. He had the audience in the palm of his hand. I would have gone to see PiL, but I didn't know it was happening and it's sold out!"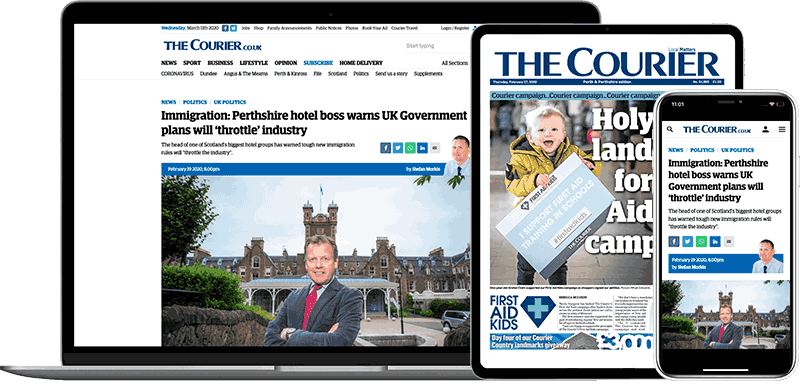 Help support quality local journalism … become a digital subscriber to The Courier
For as little as £5.99 a month you can access all of our content, including Premium articles.
Subscribe