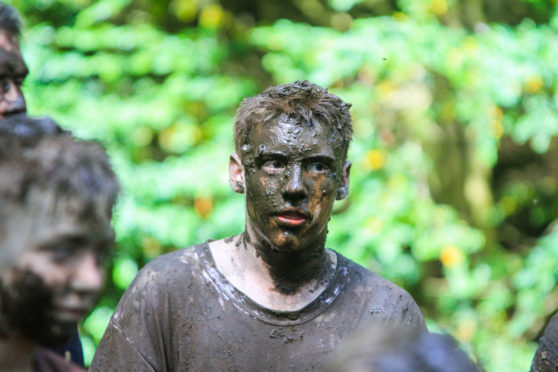 It's not all about badges, boys and dyb (do your best), dyb, dybing as Gayle Ritchie discovers when she joins an international scout camp at Blair Castle
A gang of mud-spattered youths sits in a hollow, chanting.
One teenage boy, sporting a Rambo-style headband and a huge grin, stands up and takes charge.
"Who loves the mud?" he shouts, a faint Dutch twang filtering through. "We love the mud!" retorts his merry band.
This military-style cadence call continues for some time, reaching a heady climax with the chant "muddy, muddy, muddy!" echoing through the trees.
Then, one-by-one, the youngsters, which "Rambo" describes as "mudlings", hurl themselves full-force down a slope, landing in a pool of liquid mud at the bottom.
This cult ritual takes place at the Blair Atholl Jamborette, a 10-day scouting event held at Blair Castle in Perthshire every two years.
This year's camp attracted record numbers – 1,100 Scottish and international scouts and 650 leaders attended – and places were hotly contested.
Once thought of (by some) as the domain of weird and slightly nerdy woggle-wearers, scouting's image was given a boost after former Special Forces soldier and TV adventurer Bear Grylls became Chief Scout aged 34.
There's no doubt he made it super-cool and, well, he looks pretty good in a woggle.
Keen to give me a flavour of what 21st century scouting involves is Donald Mackay, a solicitor from Edinburgh who's taken a fortnight off to be here in his capacity as volunteer scout leader.
He's tasked with ushering me around for the day and persuading me to take part in activities.
"I wouldn't miss this for the world!" he declares, before asking if I want to join in mud wrestling.
It's a bit early in the day – I have people to see, places to be, and interviews to be conducted.
"What about the 'slip and slide', then?" he persists. "That's where you fling yourself down a slippery, soapy slide on an inflatable ring and throw a ball through a quidditch ring. You might get a bit wet."
Ambling over to where this madness is taking place, and hearing the shrieks of sodden teenagers before I see them, I again desist. Call me unadventurous but I'm here to do my job.
I do, however, "get it" when Donald says the point is to push youngsters out of their comfort zones, and I shrink slightly at the fact I'm not setting a great example.
"It's about trying new things, whether mountain biking, cooking, abseiling, making jewellery, doing a drama or Gaelic class, kayaking, canoeing, canyoning, staying overnight in a bothy, rafting, gorge walking or doing bushcraft," he enthuses.
"It's a fantastic social scene for youngsters and adults. I'm 26 but I've been scouting since I was six. It's become a way of life. The camp is really intimate, even though there are almost 2,000 people here. You get to know everyone."
While we're chatting, I'm approached by two junior "reporters" working on the camp newspaper. They interrogate me with a list of quirky questions, such as: Are you naughty or nice? What's your favourite animal? Your favourite colour? And so on.
Interview complete and photograph of me snapped (how weird to be on the 'other side'), the smell of wood smoke and clinking of metal attract me to a clearing in the forest.
Here, groups of youngsters and adults are huddled around campfires doing everything from bushcraft to woodworking to making copper woggles, spurtles, bracelets and tent pegs.
I squat down with a group of girls and have a bash at firelighting using a fire "steel" and cotton wool. To my surprise, it sparks into life within seconds.
"Fancy trying some tomahawk throwing?" booms an Irish voice, which turns out to be that of scout leader Pat Rathborne. This entails hurling a hatchet-like axe at a target. It's tougher than it looks but apparently it boosts your "feel-good" factor.
Stopping for lunch at one of the sub-camps, which is strangely decorated in Christmas paraphernalia (each sub-camp has a theme), I chat to 14-year-old Rosie Singleton from East Fife.
Between bites of her cheese sandwich, she tells me why she loves being a scout. "We're teamed with people from different countries so you learn about other cultures," she says.
"We share tents, cook and clean together and generally all muck in. There are loads of great opportunities. I'm going gorge walking later and I can't wait. But I'd definitely say that scouting is more like a family than a club."
Walking through the woods, I meet Steve Schmidt, a scout leader from Texas who's been coming to the Jamborette at Blair since 1998. "That was the wettest camp ever!" he recalls. "But the weather didn't dampen our spirits. This year, we brought 10 kids from Texas. It's very spirited and inclusive and we love it."
Meanwhile, leader Stuart Woodrow has been coming from Orkney since 1980.
"I don't think I'd have become a teacher if it wasn't for scouts," he says. "The organisation gives you a great world view. It's like one big family."
Pootling down the hill, distinguished by their muddy faces, is the gang I witnessed earlier, their faces and bodies most definitely in need of a good scrub – or a dip in the nearby River Tilt.
Jack Watt, a 17-year-old scout from Alford, is ecstatic. "This is epic fun!" he beams. "I've met so many great people from around the world, the activities are fun, and the mud is amazing! What's not to like?"
Meanwhile, Ben Robertson, 16, from Edinburgh, tells me the highlight for him has been gorge walking and Ross Clark, a 15-year-old from Glenrothes, says he's loved meeting "international people" and has made pals with girls and boys from Gibraltar.
During my day at Blair, I discover there are a lot of misconceptions about scouting.
Thought Scouts was just a big boys' club? Wrong.
Bear Grylls' presence may or may not have been the reason for attracting record numbers of girls to the movement but today, one third of scouts are, in fact, female.
Thought all Scouts did was collect badges, attend church services and go camping? Wrong again.
Scouts are involved in everything from bushcraft to watersports to rock climbing, abseiling, canyoning, gang shows, marching bands and orchestras, plays and pantomimes, orienteering, caving and lifesaving courses.
They also work on environmental projects and travel to far-flung places like Cambodia, China and Nepal to do charity work.
Leafing through an edition of the Scouts Scotland magazine, I catch a feature about a scout who is transgender.
Clearly, the organisation is embracing the concept of inclusivity these days and truly moving with the times.
Andrew Sharkey, known as "Sharkey", was appointed Scout Scotland's Chief Commissioner earlier this year.
He started as a cub scout "way back", experienced his first Jamborette at Blair Atholl in 1988 and took on the role of "camp chief" this year, 20 years on.
"I came here as a wee boy and thought it was really cool," he tells me.
"The overall ethos is one of inclusivity, respecting the agenda that young people want to talk about, learning about what's going on in other cultures and sharing ideas.
"I heard a Japanese boy telling a group of youngsters from Perthshire about a tsunami in his country and I thought it was great to be able to share such insights with foreign friends. It's about understanding that while we might be from different countries and cultures, there's no difference between us as human beings."
Andrew reckons scouting gives both young people and adults, who become leaders, skills for life.
"It teaches resilience, builds character, boosts confidence and employability and gets kids off the streets," he says.
"Ultimately, 650 adults paid to come and volunteer at the Jamborette this year because they know they'll have an amazing time."
While delighted scouting is growing in popularity – this is the 12th year in a row the movement has recorded growth and indeed the longest period of sustained growth experienced since the 1930s – Andrew is concerned about the fact there's a huge waiting list to join Scouts Scotland. The problem, he tells me, is a lack of adult volunteers and leaders.
"Our current membership is 51,371, and that consists of 11,946 volunteers and 39,425 young people," he says.
"Because the demand from young people far outstrips the number of adult volunteers, thousands of young people are waiting to sign up – 4,137 to be precise.
"We really need more volunteers to come along and get stuck in. We know scouting makes a tremendous difference to young people and adults who become leaders.
"It gives them skills for life and opens their eyes to adventures and opportunities."
info
The Blair Atholl Jamborette, a huge gathering of teenagers from across the globe, is the world's oldest continually held "jamborette", with an impressive 72-year history.
Places for the 10-day extravaganza are hotly contested – and paid for.
The event at Blair Atholl, which has been running since 1946, is unique in that every district in Scotland is represented and scouts camp in mixed-country leaderless patrols.
After the camp, the experience continues with "home hospitality" offered to those from abroad with friends made at the camp.
For more information, see www.scouts.scot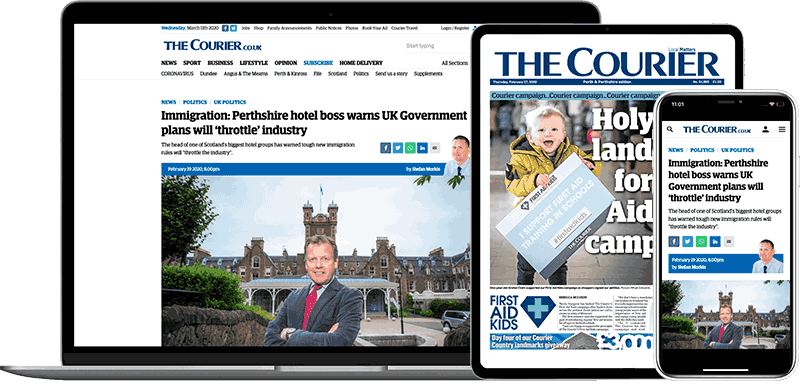 Help support quality local journalism … become a digital subscriber to The Courier
For as little as £5.99 a month you can access all of our content, including Premium articles.
Subscribe