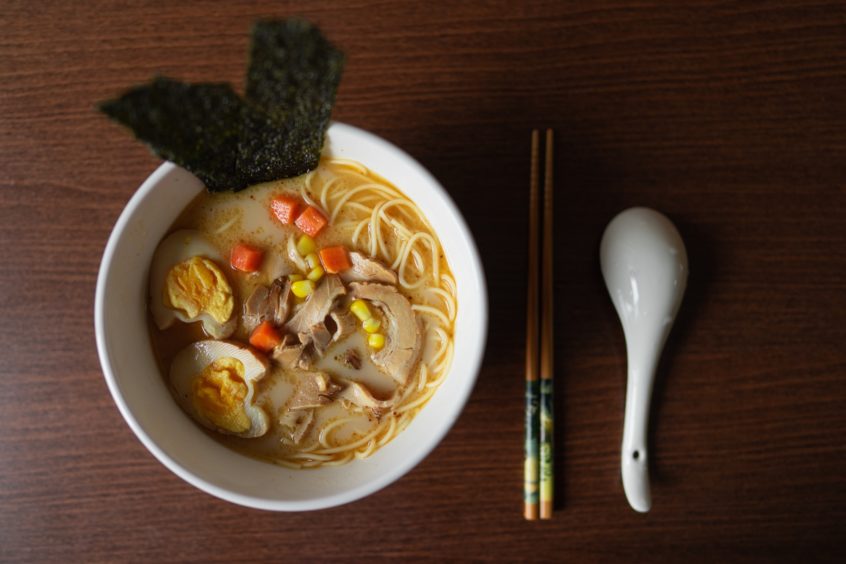 Put this noodle soup on the list of easy dishes to make at home.
With noodle bars popping up across the country over the past few years, it's more than likely that you'll have tried a helping of delicious ramen.
Easy to make, the Japanese noodle soup is a light, yet wholesome dish – one which is quick to rustle up in the kitchen meaning its great for those in a rush, or with demanding family commitments.
With nearly nine million posts tagged with the hashtag #ramen on Instagram alone, it is no wonder so many people are making a bowl or two of the broth-based dish during lockdown.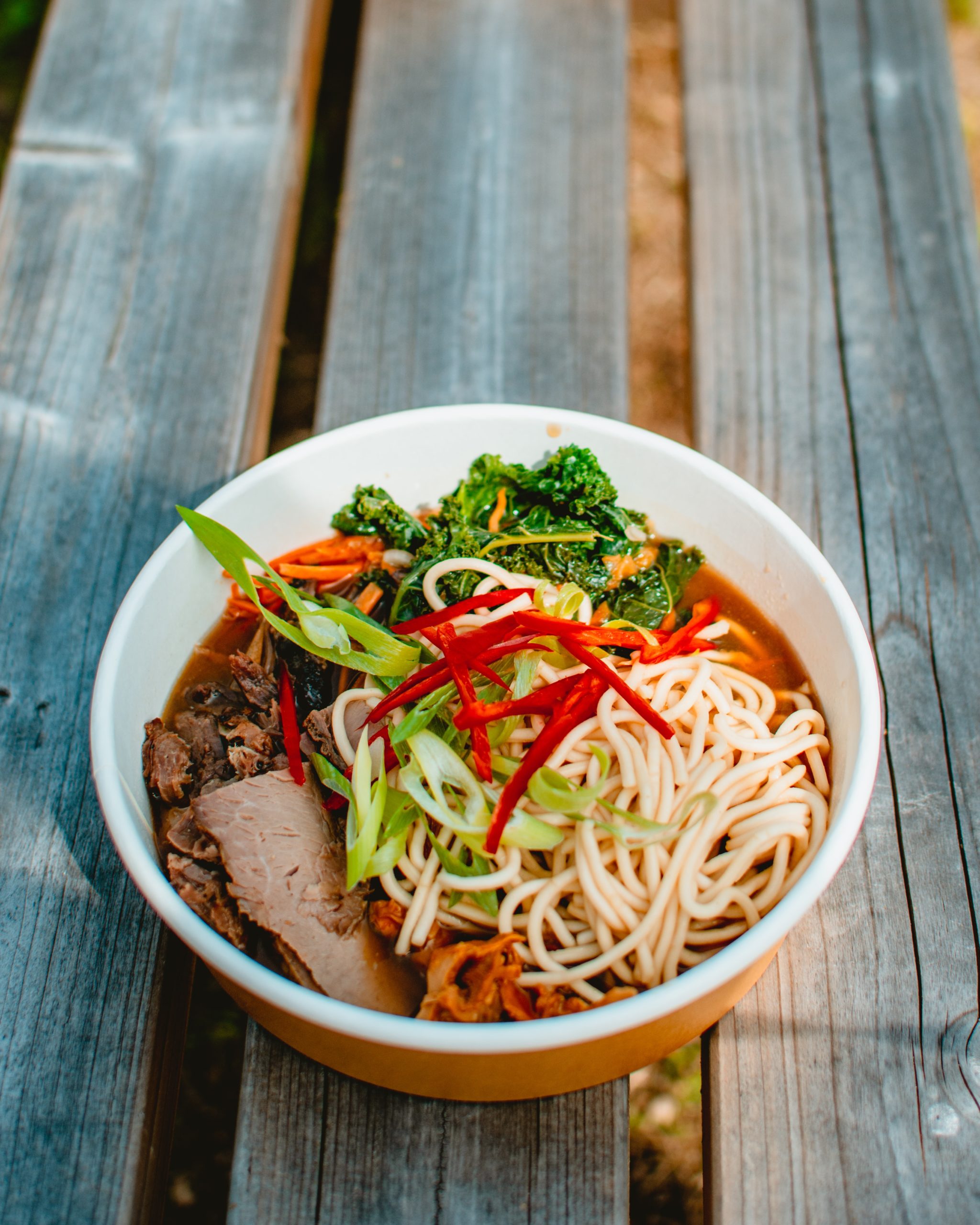 Inspired by noodle soups brought by Chinese immigrants to Japan in the late 19th century, it's now considered to be one of the nation's most popular 'fast foods'.
The dish consists of noodles in a broth which is then topped with a range of ingredients including chicken, pork, eggs, spring onions, pak choi and much more.
In Japan, every region has its own spin on ramen, meaning there is a whole range of ways to customise the dish to your liking. Other countries including Thailand, Malaysia, and Korea also add their own twist, adapting it to their culture and popular flavours they use in cooking.
For ramen, there are three different types known as 'tare' – shio (salt), shoyu (soy sauce) and miso.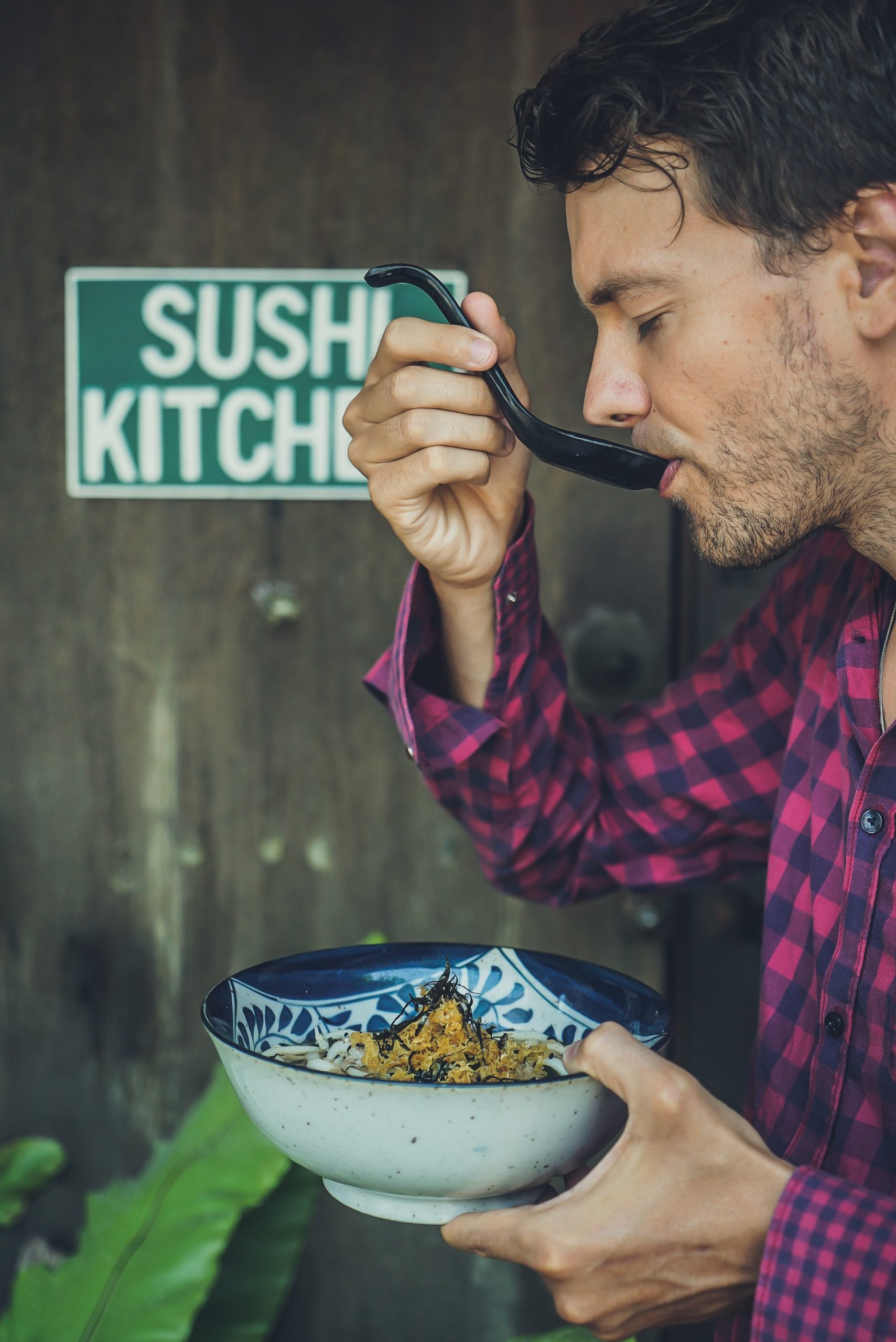 Shoyu is the oldest and traditionally features chicken or vegetable stock combined with soy sauce giving a tangy, savoury flavour. The most popular ingredients used are eggs, seaweed and spring onions with a chicken broth. It is also usually served with thin and wavy noodles.
Shio is very light and the broth usually is the main focus with this style. Chefs in Japan will soak dried fish in water with extra salt to achieve the perfect saltiness to suit their tastes. It is then be added to the broth. Served with straight noodles, it's a translucent broth which features chicken, fish or vegetables.
The miso style contains a lot of miso paste. It boasts a rich chicken or fish broth and chilli oils and spice pastes are added to it sometimes, as well as vegetables such as leeks, spring onions, corn, bean sprouts and cabbage. The noodles used in this style are much thicker, creating more of a soup-like ramen.
Try out a range of ramen recipes below…
---
Create delicious home cooked ramen noodle bowls with this insanely easy recipe from A&O. Check out our Asian inspired monthly box for a selection of goodies to keep you motivated on the feeding front!!Asian Flavours Box here>https://angusandoink.com/collections/offers-gifts/products/april-monthly-box

Posted by Angus & Oink on Wednesday, 15 April 2020
Ingredients: 
2 pork fillets
Sesame oil (to season)
Korean BBQ rub
2 sweetcorn cobs
2 tsp of white miso paste
1 chicken stock pot or cube
1 bunch of chives, chopped
A few spring onions, chopped
2 red chillies, sliced
2 pak choi, steamed and cut in half
1 pack of udon noodles
Baby Pangang BBQ sauce
1 small tin of bamboo shoots
4 boiled eggs, cut in half
1 lime
Pinch of Sesame seeds
Pinch of chilli flakes
Method: 
Put the pork fillets in a long rectangular casserole dish.
Season with the oil and cover with the Korean BBQ rub. Ensure all of the pork fillet is covered, massaging the rub into the meat – leave to marinade overnight.
Place the sweetcorn cobs in the same dish, lying them below the pork fillets
Cook for 40 minutes at 200°C in the oven, or on the barbecue if you have one.
Boil a few inches of water in a pan – enough to cover the bottom of it.
Put the miso paste and chicken stock in and stir.
Boil the eggs in a separate pot.
Add the udon noodles to the chicken stock and some chives. Cook until done.
Remove the casserole dish with the pork in it from the oven after 30 minutes and glaze the pork with Baby Pangang sauce. Return to the oven and cook for a further 10 minutes.
Steam the pak choi.
Remove the pork and sweetcorn and chop the cooked corn into pieces and slice the pork.
Build the ramen bowl up with the bamboo shoots down one side, two corn pieces, a piece of pak choi and the pork fillet slices in the middle. Add a whole boiled egg (halved) and top with sliced chillies, spring onions, sesame seeds and chilli flakes.
Serve and enjoy.
---
Ramen noodle soup
(Serves 2-3 people)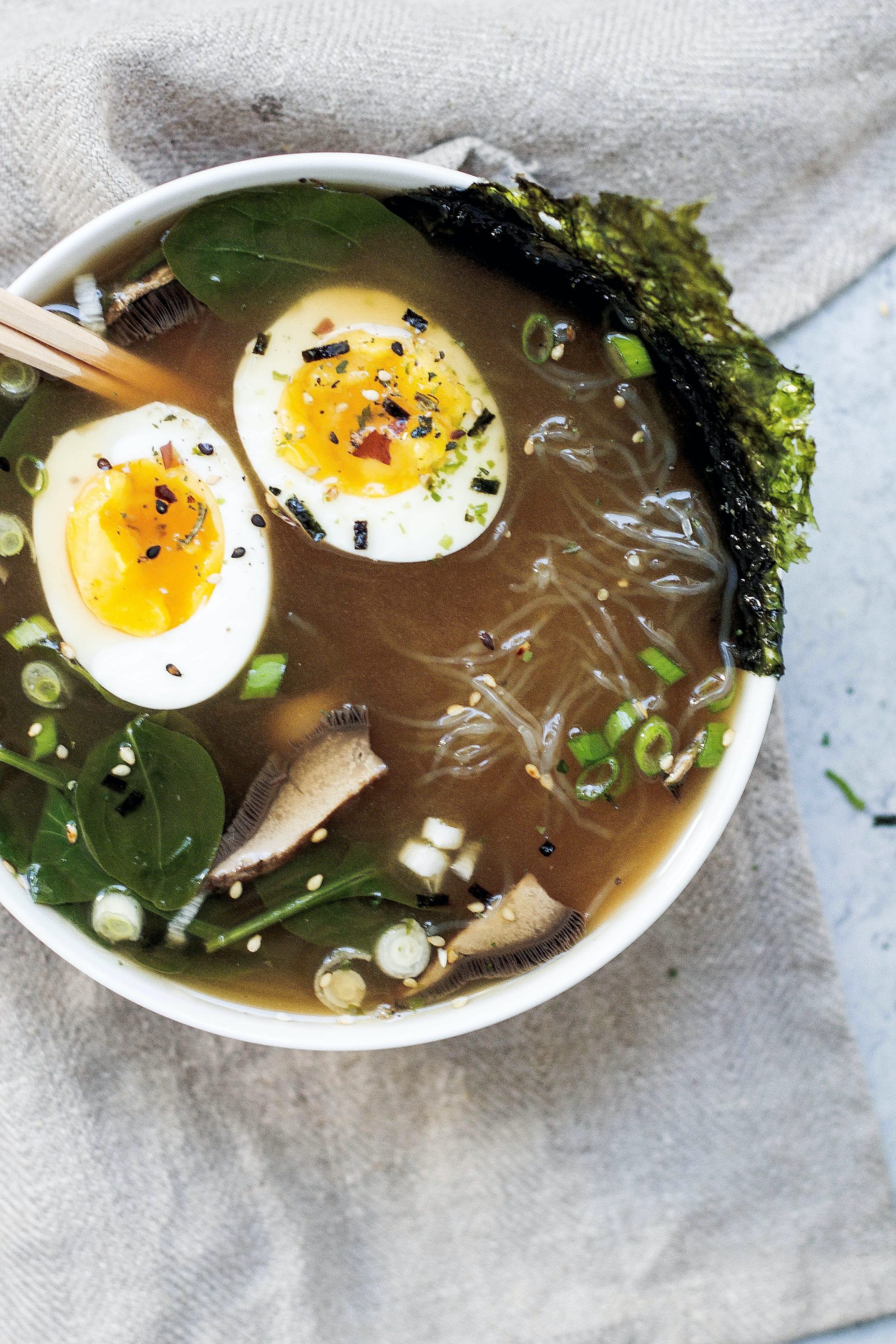 Ingredients: 
600ml chicken stock
300g ramen noodles
350g cooked chicken breast or pork, sliced
2 tsp sesame oil
thumb-sized piece of ginger, sliced
½ tsp Chinese five spice
Pinch of chilli powder
3 garlic cloves, halved
4 tbsp soy sauce, plus extra to season
1 tsp Worcestershire sauce
For the garnish:
100g baby spinach
2 boiled eggs, peeled and halved
1 sheet dried nori, finely shredded
4 medium-sized mushrooms, chopped and cooked
sliced spring onions
Sesame seeds
Method
Mix the chicken stock, garlic cloves, Worcestershire sauce, ginger, soy sauce, ginger, Chinese five spice, chilli powder and the water in a stock pot or a large saucepan and bring to the boil.
Reduce the heat and simmer for five minutes.
Add a sprinkling of sugar to make it sweeter or a more soy sauce to make it saltier to suit your taste.
Boil the noodles and drain and set to the side (follow the cooking instructions on the packet)
Slice the meat (chicken or pork) and fry it in the sesame oil until cooked.
Divide the noodles between two to three bowls, depending on how much you want.
Place some of the meat, the spinach, cooked mushrooms and the boiled eggs on top of the noodles.
Strain the stock into a clean pan and bring to the boil again. divide the stock between the bowls and add the spring onions and spinach.
Sprinkle the dried nori and the sesame seeds on top and serve.
---
Wagamama's Homemade Chilli Chicken Ramen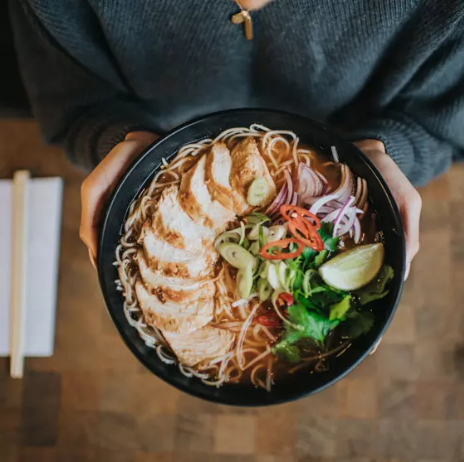 Ingredients:
500ml chicken stock
30g of sriracha sauce
160g of good egg noodles
1 chicken breast, marinated
A handful of beansprouts
1/4 red onion, finely sliced
1 scallion, chopped
1 fresh red chilli, sliced
A few spring of cilantro (to garnish)
1/4 lime (to garnish)
To marinade the chicken: 2 tbsp soy sauce and 1 tsp of freshly grated ginger
Method:
Marinade the chicken breast for one hour before placing in a hot oven (180°C) until cooked through (around 25-30 minutes).
 Cook the egg noodles in pan of boiling water (follow packet instructions).
Once the noodles are cooked, drain and place into a ramen bowl (or any large bowl).
Add the sriracha sauce and chicken stock, then stir to separate the noodles.
Slice the cooked chicken at 45°, placing gently on top of the noodles.
Add the freshly chopped ingredients to the dish and garnish with a lime wedge and sprigs of cilantro. Serve and enjoy.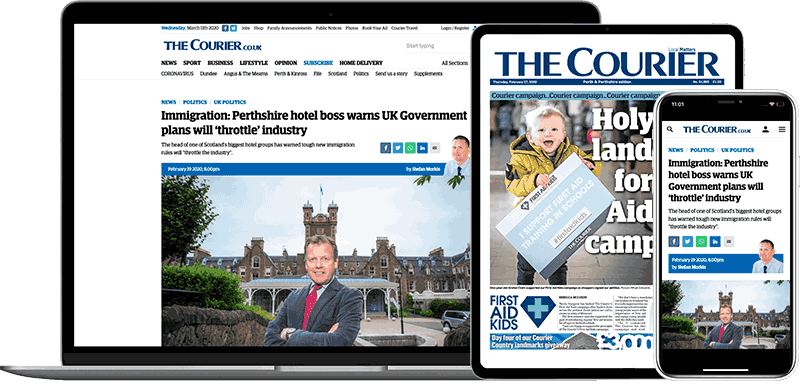 Help support quality local journalism … become a digital subscriber to The Courier
For as little as £5.99 a month you can access all of our content, including Premium articles.
Subscribe