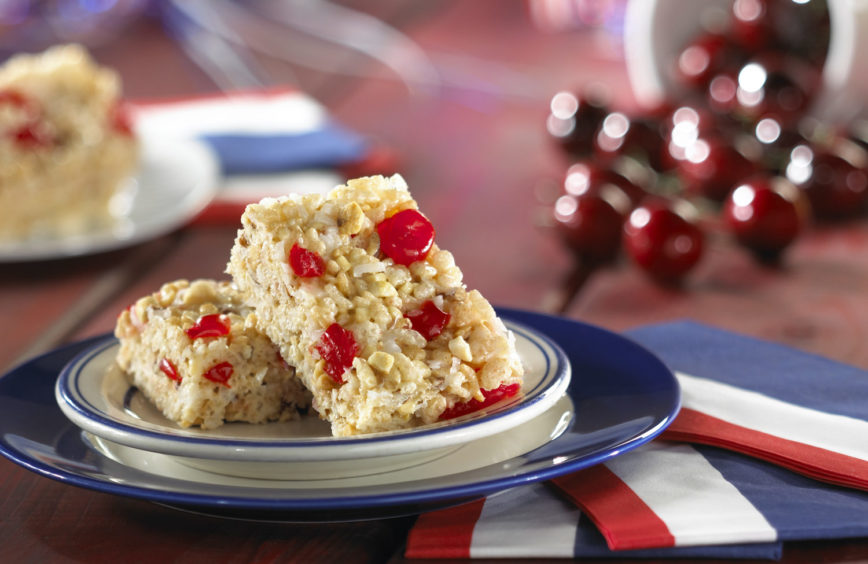 If you're looking for something a bit different then why not try these sweet treats made from breakfast cereals we are all likely to have in our cupboards?
Have you found yourself out of flour these past few weeks or low on bananas for that lockdown favourite banana bread? Perhaps you've just been to the shop but forgot to pick up a tasty treat for when you want something sweet?
Fear not, as we've found some yummy delights that can be made from the cereals most people will have in their cupboards.
Here are four easy and fun bakes to try…
---
Shredded Wheat Flour-Free Lemon Drizzle Loaf
Darren Chapman, Nestlé's professional business development chef said: "It's great that so many people are home baking during the lockdown, but we know it's not easy getting hold of ingredients like flour at the moment. That's why it's so handy to know that you can use wholewheat cereals like Shredded Wheat or Shreddies, that you may already have in the cupboard, to make a flour substitute that's super healthy too.
"All you need to do is put the cereal into a food processor and blend until it becomes powder. Then use in the same way you would regular flour. It can be used for biscuits, many types of cakes and even pasta!"
(Makes 10)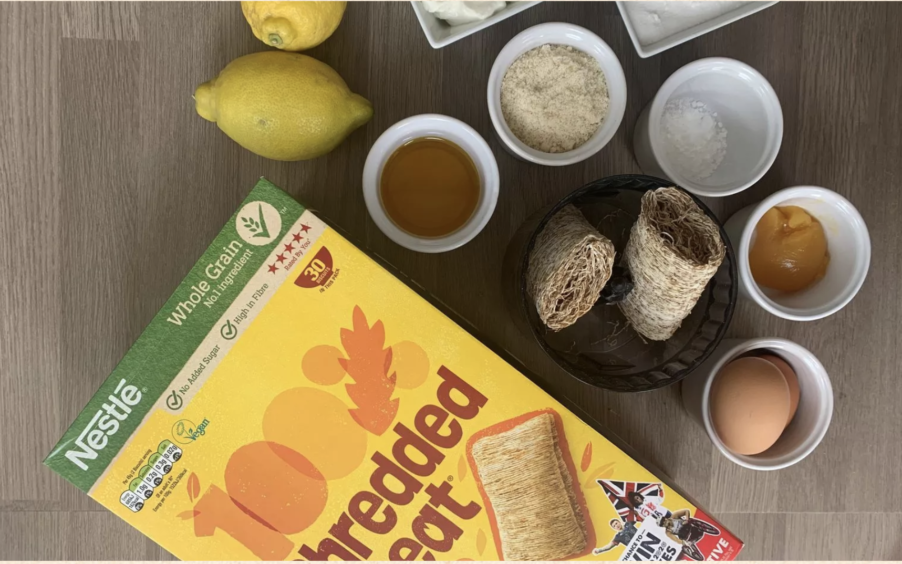 Ingredients
70 ml rapeseed oil
175g Shredded Wheat, blended in a food processor to make flour
1½ tsp baking powder
50g almonds
Zest and juice of 2 lemons
120g caster sugar
50g lemon curd
2 eggs
225g Greek yoghurt (0% fat)
100ml water
100g caster sugar
Method
Preheat the oven to 160°C fan. Grease and line a non-stick loaf tin.
Put the Shredded Wheat flour, baking powder, ground almonds and semolina into a large mixing bowl. Add the lemon zest and sugar. Beat the eggs with the yogurt. Add the oil then combine with the dry ingredients.
Spoon half the mixture into the tin, make a small channel with the back of a spoon and pipe in the lemon curd. Not to the end though. Top off with the remaining cake mixture and smooth out. Bake for approx 40 minutes.
For the syrup, place the sugar into a small saucepan with the lemon juice and water. Heat over a medium heat, stirring occasionally, to dissolve the sugar. Raise the heat and bring to the boil. Boil until slightly reduced and becomes like a syrup.
Remove the cake from the oven and allow it cool slightly in the tin. With a skewer make lots of small holes over the top of the cake and pour over the syrup.
Transfer to a cooling wire, pouring any syrup left in the base of the tin, over the top. Allow to cool completely.
Recipe courtesy of Nestle. 
---
Rice Krispie Brownies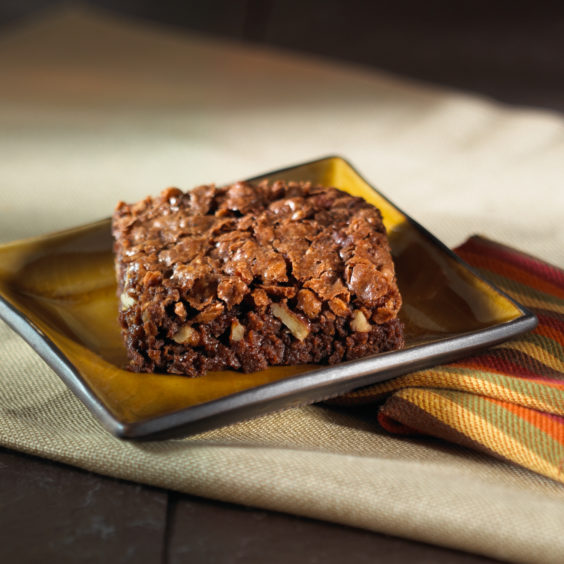 Ingredients
90g Rice Krispies
400g sugar
65g plain flour
60g cocoa powder
¼ tsp salt
50g pecans, chopped
120ml vegetable oil
3 eggs
60ml semi-skimmed milk
1 tsp vanilla flavouring/extract
Method
In a large mixing bowl combine Kellogg's Rice Krispies, sugar, flour, cocoa powder, salt and pecans.
Once thoroughly mixed, add the remaining ingredients and mix until combined.
Spread evenly in a 3 x 9 x 2 inch greased baking tin.
Bake at 180°C/ gas mark 4/ 350°F for about 30 minutes or until a metal stick inserted comes out clean.
Cool completely on a wire rack before cutting into 2 inch squares.
Recipe courtesy of Kellogg's. 
---
Cherry Coconut Bars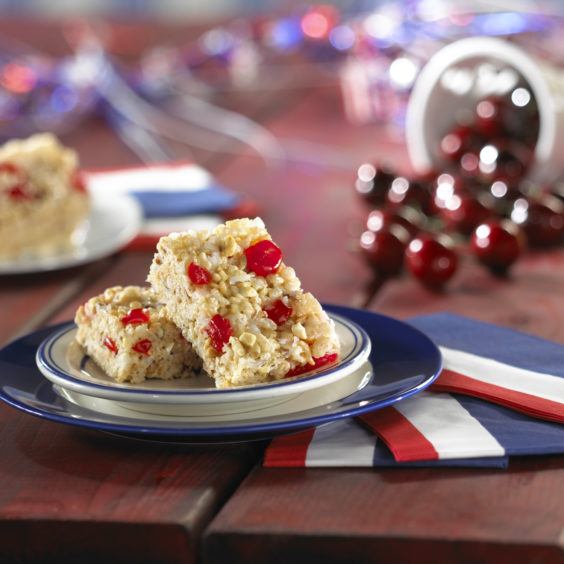 Ingredients
45g butter or margarine
300g marshmallows
150g Rice Krispies
75g flaked coconut
60g peanuts, coarsely chopped
60g maraschino cherries, well drained and chopped
Method
Melt the butter or margarine over a low heat and add the marshmallow, stir until completely melted. Remove from the heat.
Add the Kellogg's Rice Krispies, coconut, peanuts and the cherries. Stir well until coated.
Pour and press the mixture into a 3 x 9 x 2 inch tin and press down firmly.
Allow to cool and cut into 12 bars.
In a microwave-safe bowl heat butter and marshmallows on high for 3 minutes, stirring after 2 minutes. Stir until smooth. Follow steps 2 through 4 above. Microwave cooking times may vary.
Recipe courtesy of Kellogg's. 
---
Cheerios marvellous mini lemon cheesecakes
(Serves 4)

Ingredients
For the base:
50g Multigrain Cheerios
200g low fat 2% Greek yoghurt
For the topping:
5 tbsp lemon curd
Lemon zest, finely grated
100ml whipping cream, lightly whipped
100g blueberries
40g Multigrain Cheerios, whole
Method
Arrange four 7cm glass ramekins on a baking tray.
Divide the 50g CHEERIOS equally between the ramekins to form a base.
To make the topping, put the greek yoghurt, lemon curd and lemon zest into a large bowl and mix until smooth. In a smaller bowl, whip the cream until it makes slightly floppy peaks.
Fold the cream into the lemon mixture until smooth.
Carefully spoon the mixture onto the Cheerios and smooth off with a palette knife.
Chill in the fridge for at least 30 minutes until firm.
For the topping use cheerios to decorate as hair and make a blueberry and cheerios face.
Recipe courtesy of Nestle.