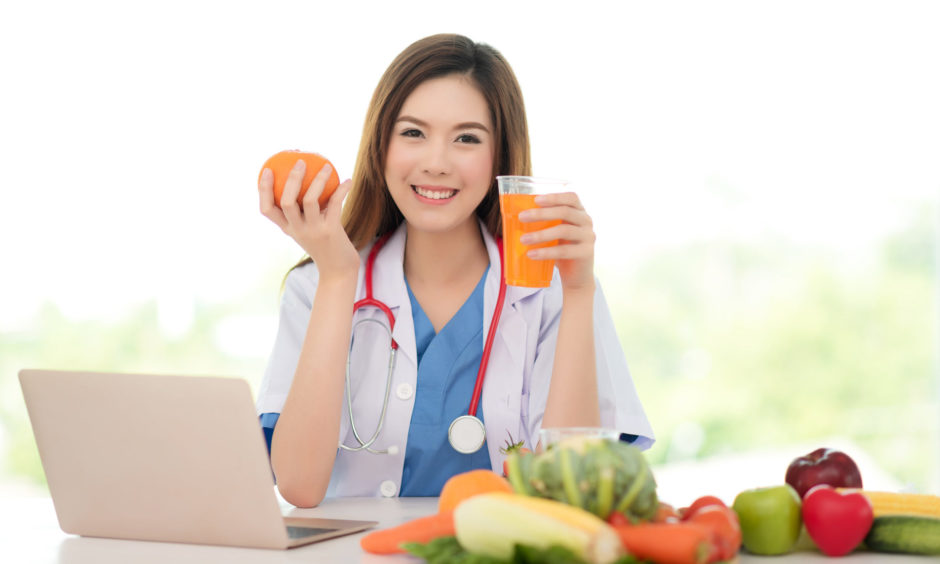 With a rise in 'immunity consumers' looking for health-boosting foods and supplements amidst the pandemic, Clare Johnston explores the research and gets expert advice on the nutrients we should look to include in our diet.
Summer is fading fast, and with the schools back, the temperatures falling and the nights drawing in, we move into a time of year when infection rates typically rise.
The global pandemic has put health high on the national agenda amid fears of a second wave. And it seems this has placed diet and nutrition on the priority list for consumers as never before.
Sales of vitamin and mineral supplements have risen sharply during the pandemic, reaching record levels in the UK, according to market research which also points to the rise of the "immunity consumer" looking for food that benefits the immune system.
There is growing scientific evidence that our individual lifestyles and health can make us more or less susceptible to infections, with type 2 diabetes, inflammation and obesity, all putting us at greater risk of worse outcomes for Covid-19 in particular.
In its 10-point summary on the role of diet, nutrition and micronutrients in relation to the Covid-19 pandemic, the Global Centre for Nutrition and Health highlights said: "Poor nutrition, due to either insufficient dietary intake of key nutrients or a poor overall diet quality, can compromise immune function and increase overall infection risk.
"Micronutrients, commonly known as vitamins and minerals, are required in small quantities but are critical for health and pivotal in strengthening the immune system."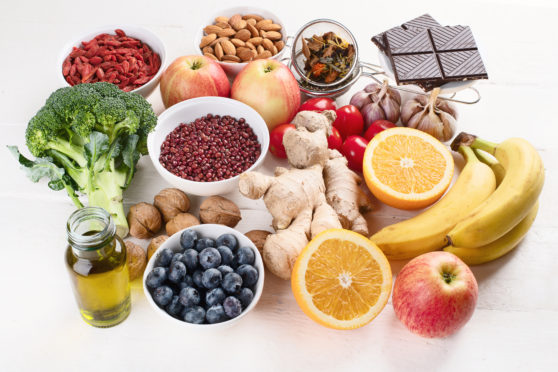 So when it comes to the key question as to whether we can eat our way to a stronger immune system, the answer is not quite as straightforward as we'd hope, according to Fife-based dietitian and nutritionist Dr Carrie Ruxton, of the Health and Food Supplements Information Service.
She explained: "We have loads of evidence around individual nutrients and what they do for immune systems, but the difficulty is having a definitive study that shows, 'if you get a group of people and give them something – let's say vitamin D or fish oils or vitamin C – you then see a clear improvement. That's because the immune system is complex and there are a couple of ways to check its efficiency. The first is by measuring blood immune markers – some will go up, some go down, some don't change – and it's the interpretation that's hard. It's not like checking iron in your blood where levels normally go up when you take an iron supplement – the immune system doesn't operate that way.
"The first is that you have several immune markers – some will go up, some go down, some don't change – and it's interpreting that which is hard. It's not like checking iron levels in your blood where you give an iron supplement then test the level of iron which goes up or down.
""The second method is by testing whether the immune system is more capable of fighting off infections but that requires long-term clinical studies where people eat a particular food or diet, or take a supplement, and are followed for several months. The results need to be compared with a control group where people were given a placebo (dummy) pill or diet. These types of studies have shown benefits for vitamin C and D.
"But scientists are clear there's a range of nutrients that influences immune function, so rather than boosting or enhancing your immune system, I prefer to view it as eating the best diet, and considering supplementing with specific nutrients, which help support normal immune function."
Age or underlying disease and medical disorders, including inflammatory conditions such as arthritis or type 2 diabetes, can influence immune function, so Dr Ruxton believes the goal should be "to make the best of what you've got".
She added: "We've all got our own ranges of immune function, so it's about making sure our immunity is working within our optimal normal range."
But just as a diet that's diverse and rich in nutrients can have a positive impact on our ability to fight off infections, so a nutrient-poor diet can have a negative effect.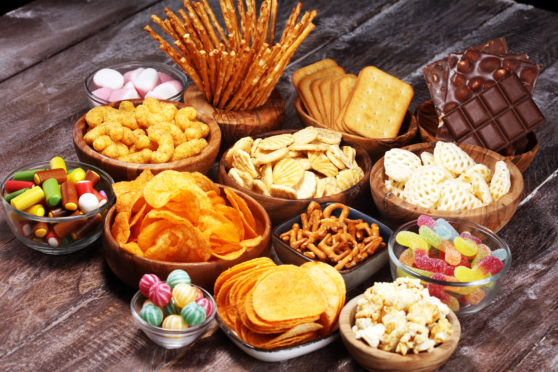 Food Standards Scotland highlighted its concerns in a report summarising food and drink spending data from consumer researchers at Kantar between 2014 and 2018.
It found the purchase of "discretionary" – more often termed "junk" – foods still accounted for a disproportionally high total of our food and drink spending.
The report said: "In 2018, 32% of calories were purchased on price promotion, decreasing from 41% in 2014 and 2015. Purchase on promotions remains skewed towards less healthy and discretionary products, such as confectionery, cakes, biscuits, pastries and crisps."
Sales of sugary soft drinks decreased, leading to a reduction in total sugar purchased from soft drinks, but there was rise in diet drinks.
Food Standards Scotland's Head of Nutrition Science and Policy, Dr Gillian Purdon, said: "Discretionary foods continue to contribute disproportionately to total purchase of calories, fats and sugars, and purchase on promotion is currently skewed towards these unhealthy products.
"This latest evidence adds to our recommendations for changing and improving our food and drink environment, including limiting availability, marketing and promotion of these less healthy items which are high in fat, salt and sugar."
Dr Ruxton said the report made for frustrating reading, adding: "Apart from more people buying diet drinks as opposed to sugary drinks – thanks to the sugar tax – everything else is flat-lining and some less healthy foods are even going up.
"It's not just about what we're eating, but the vitamins, minerals and healthy fats we're missing because such a large proportion of our diet is from discretionary foods. I don't like to call them junk foods because I enjoy them as much as anyone else, but they're optional extras in moderation once you've eaten all the healthy stuff. I just feel we have far too much discretionary foods and, for many people, they are driving up obesity levels."
So, as winter approaches and we move into a season where the spread of infection rises, what are the foods and nutrients we should look to include in our diets?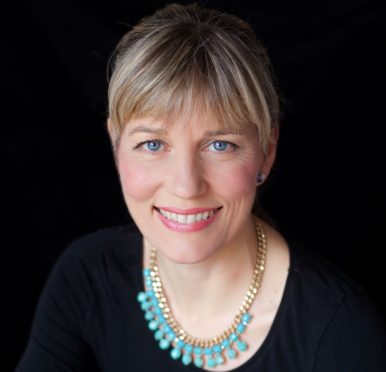 Dr Carrie Ruxton shares the key nutrients for supporting our immune systems 
"These are the nutrients which individually play an important role in supporting our immune systems but which quite a lot of people in Scotland can be low in."
Vitamin A – plays a role in the regulation of our innate immune responses as well as cell-mediated immunity through the growth and differentiation of B cells. Cell-mediated simply means an immune response that doesn't involve an antigen. Food sources of vitamin A include dairy foods, broccoli, kale and eggs.
Vitamin C – influences the production of interferon, a protein made by immune cells which can inhibit virus replication, including the influenza (flu) A virus. Vitamin C also has anti-inflammatory and antioxidant effects which are important in limiting damage by free radicals released during rapid immune response. Studies show that vitamin C represses the viral lytic cycle (the stage at which a virus bursts out of the host cell to infect other cells). Food sources include citrus fruits and juices, peppers, berries and spinach.
Vitamin D – one of the most important nutrients for the immune system. Many immune cells have vitamin D receptors and vitamin D has been shown to increase the killing capacity of immune cells, control the production of inflammatory cytokines, and help immune cells lock onto antigens (proteins on the surface of bacteria and viruses). Studies have reported associations between poor vitamin D status (levels in the blood) and our susceptibility to acute respiratory tract infections. Meta-analyses (super studies) have reported that vitamin D supplementation helps prevent acute respiratory infections. Dietary sources are limited – mainly oily fish, liver and eggs – so Scottish and UK health experts recommend that everyone considers a daily supplement of 10 micrograms.
Vitamin E – working with vitamin C, vitamin E acts as a powerful antioxidant that helps protect body cells by strengthening their cell walls. Vitamin E also supports T cell function by improving the cells' membrane defenses and reducing inflammation. Studies show that vitamin E has clinical relevance as it affects host susceptibility to infectious diseases, such as respiratory infections, and allergic diseases, such as asthma. Food sources include vegetable oils, nuts and seeds.
Zinc – plays a role in innate immunity, adaptive immunity and the production of cytokines – proteins that are produced across the immune system to attack invading microorganisms. In the initial immune response, zinc supplies in the blood are drained to supplement immune cells. When people are low in zinc, the immune response is the first to suffer and there is a greater risk of oxidative stress (free radical attack) and inflammation. Food sources include seafood, pork and beans.
Omega-3 fatty acids – the most important are DHA and EPA, found in oily fish and fish oil supplements. These support immune function by acting directly to resolve inflammation and promote healing once bacteria and viruses have been neutralised. Commenting this year in the journal, Nutrients, Professor of Nutritional Immunology, Philip Calder and colleagues explained: "Nutritional deficiencies in these essential fatty acids can result in delayed or suboptimal resolution of inflammation. This could be very important in the context of severe Covid-19 which manifests as uncontrolled inflammation, the so-called cytokine storm linked with acute respiratory distress syndrome (ARDS)."
Natural dietary sources are limited to oily fish and seafood, so supplements made from fish oil or algae (vegan) are important alternatives if you don't eat fish regularly.
Folate – About 90% of girls and women have low levels of folate in their blood which we worry about for different reasons, but we also know that folate supports normal immune function. There is an authorised health claim for that at European level, so scientists accept there is sufficient evidence. Food sources include broccoli, Brussels sprouts, orange juice, kidney beans, leafy green vegetables (including kale and spinach) and fortified breakfast cereals. Women planning a pregnancy should take a daily folic acid supplement.
More on eating for health:
With a health buzz around honey for treating coughs, colds and more, here's why local is best