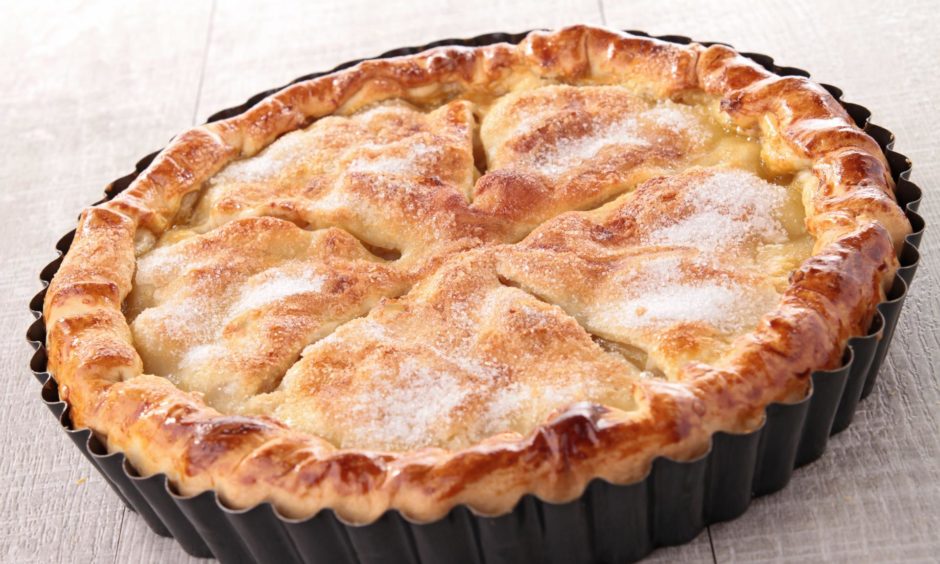 Make full use of these soup and apple pie recipes to celebrate the season and serve up a dish of warming goodness.
More than ever, I feel the need to absolutely stick to the seasons with what we eat.
For me, this is because of these strange times, the necessary isolations, the ongoing rules and regulations imposed upon us all by the politicians – some seem so sensible, others seem contradictory.
However we feel about this present time, there are two things to give us all comfort.
Firstly, the knowledge that these months WILL pass and this wretched virus will be something we will all learn to live with as we do 'flu; and the second comfort is food!
The seasons bring us such a plethora of choice. Right now, we are in the times of apples and pears, but when you buy them, do be sure they're as local to you as possible.
Several varieties of eating apples are indigenous to Scotland.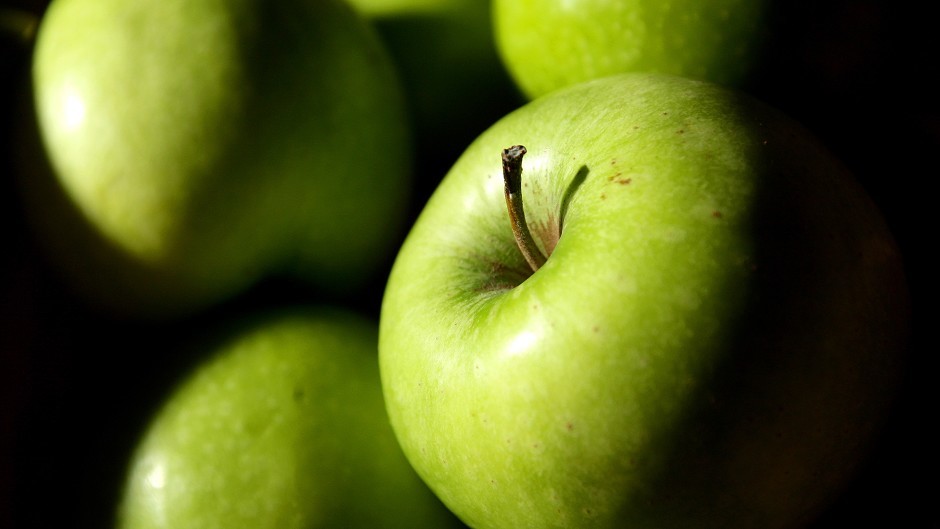 If you buy in a supermarket, be sure the packages have the British label and aren't imported from other countries as at this time of year our own apples and pears are so delicious, and our fruit farmers deserve our support.
The two recipes today use sweet or eating apples. There are two varieties I never buy, Granny Smith and Golden Delicious.
In the case of Granny Smith, I dislike their sourness, while their texture is so hard as to be a real gum grazer.
In the case of Golden Delicious – marketed by the French, who bred this variety in the first place, as Le Crunch – they just aren't what they profess to be – delicious.
But so very many British varieties really ARE delicious, and they vary in their flavour in a most interesting way.
When I cook with eating apples in a savoury recipe, I core them but leave on the skin. It just adds to the nutrition of the soup or casserole.
And eating apples are so very good in a number of savoury recipes when combined with leeks, as in today's soup recipe, and with ginger and with curry spices.
In sweet recipes, their enhancing food counterparts incorporate orange and lemon, dried fruits, ginger both fresh and preserved, dark chocolate, and vanilla.
And apples are, and always have been, appreciated as being one of the essential daily fruit intakes for the good of our health and wellbeing.
Just an added bonus to this most delicious of autumn and winter fruits!
---
Curried leek and apple soup
(Serves 6)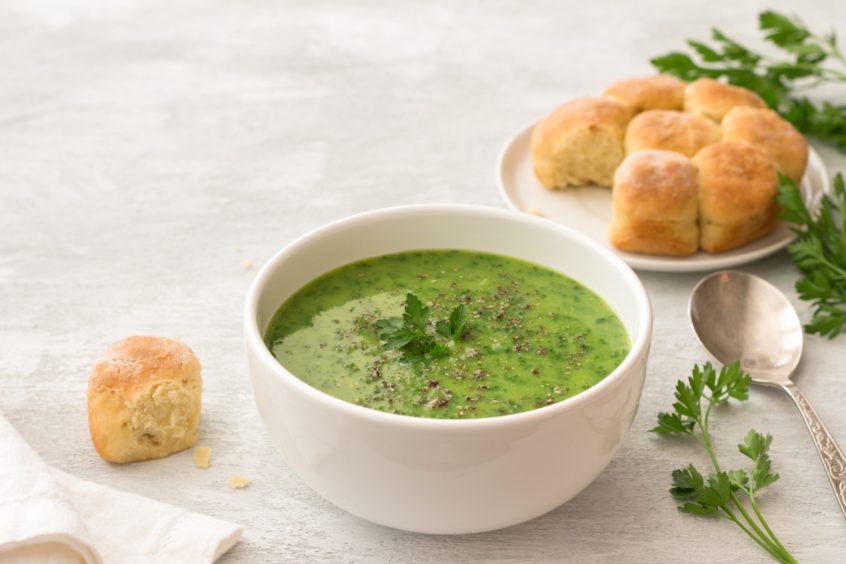 Ingredients
1 medium onion, skinned, halved and chopped
3 fairly large leeks, trimmed and finely sliced
50g butter plus 1 tbsp olive or rapeseed oil
2 eating apples, quartered, cored and chopped (skin left on)
1 rounded tsp med-strength curry powder
900ml chicken stock
12-15 grinds black pepper
1 tsp salt
1 tbsp lemon juice
Sprigs of flat-leaved parsley
Method
Heat the oil and melt the butter in a wide saucepan.
Fry the onion and leeks over a moderate heat, stirring occasionally, for 10-15 minutes.
Stir through the curry powder, apples, salt and black pepper.
Cook for a couple of minutes then add the stock.
Cover with a lid and bring the liquid to a gentle simmer.
Simmer for 15 minutes or until the apple feels soft when squished.
Take the pan off the heat then liquidise the contents using a hand-held blender.
Taste, adjust the seasoning, adding the tablespoon of lemon juice at this time.
Reheat to serve, floating a parsley sprig on top of each serving.
---
Apple and ginger puffed pie
(Serves 6)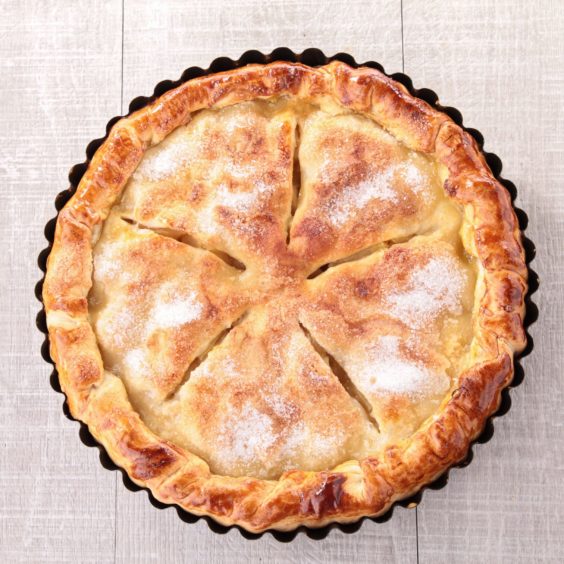 Ingredients
9 eating apples, quartered, cored, peeled and chopped neatly
50g demerara sugar
Finely grated rinds of 1 lemon and 2 oranges
75g fat sultanas
6 pieces of stem ginger, diced, plus 2 tbsps of the preserving syrup
Ready rolled-out all-butter puff pastry
1 egg, beaten
Method
Add the apples, sugar, rinds, sultanas, ginger and syrup to a bowl and mix well.
Once mixed, put into a baking dish and cover with the puff pastry.
Crimp the edges by pressing your thumb all around the edges.
Slash the surface in 4-5 places to release steam underneath as the pastry cooks.
Brush the pastry all over with beaten egg.
Bake in a hot oven, 400F/200C for 35-40 minutes, or until the pastry is puffed and golden brown.
Serve with either custard, double cream, or vanilla ice cream – or a combination of all three!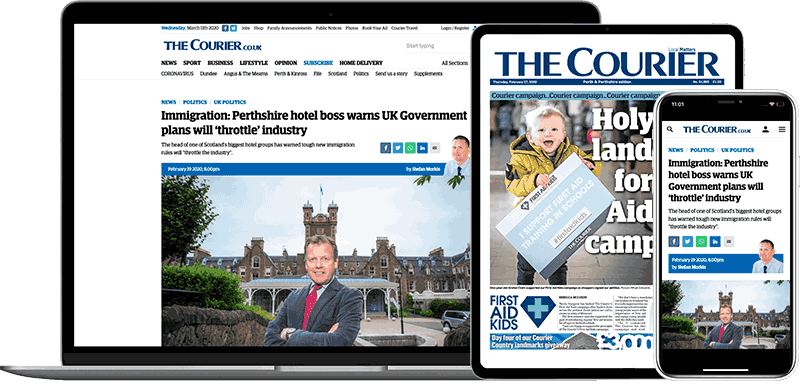 Help support quality local journalism … become a digital subscriber to The Courier
For as little as £5.99 a month you can access all of our content, including Premium articles.
Subscribe