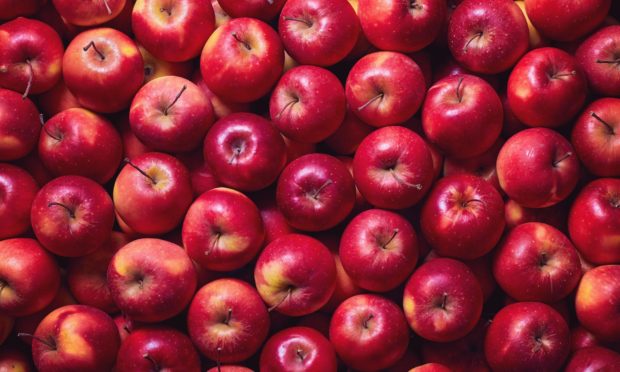 Take advantage of apple harvest season with these three easy-to-make recipes.
Did you know that more than 7,500 apple varieties are grown worldwide and that a medium-sized apple has about 80 calories?
Well, we've found three ways to help you make the most of apple harvest season – with two salads and a crumble cake.
For more inspiration, take a look at our previous recipes in this series.
---
Celery and apple matchstick salad
(Serves 2)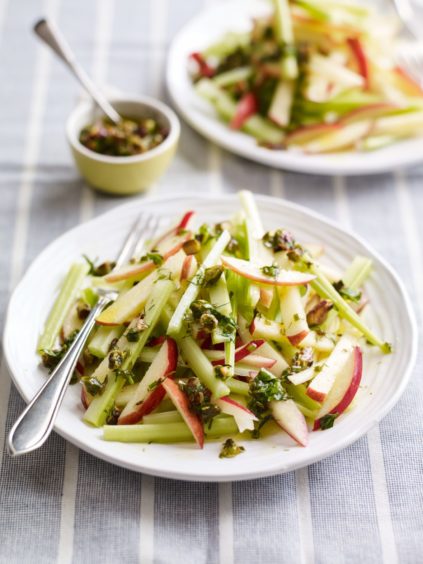 Ingredients
For the dressing:
2 tsp fennel seeds
30g pistachios, chopped
2 tbsp olive oil
Juice of ½ lemon
½ tbsp red wine vinegar
3 sprigs parsley, chopped
1 small bunch chives, chopped
3 sprigs dill, chopped
Salt and freshly-ground black pepper
For the salad:
1 head celery
2 dessert apples
Method
Place a frying pan over a medium heat and toast the fennel seeds and chopped pistachios. When the nuts and seeds begin to smell fragrant and start to brown, remove from the heat.
In a jar add the olive oil, lemon juice, red wine vinegar, chopped parsley, chives and dill and season with salt and freshly-ground black pepper.
Add the toasted seeds and nuts. Put a lid on the jar and shake well to combine the dressing ingredients.
Finely slice celery and apple into matchsticks, pile on to plates and drizzle with the dressing.
Recipe from: www.lovecelery.co.uk
---
Blueberry and apple crumble cake
(Makes around 10 slices)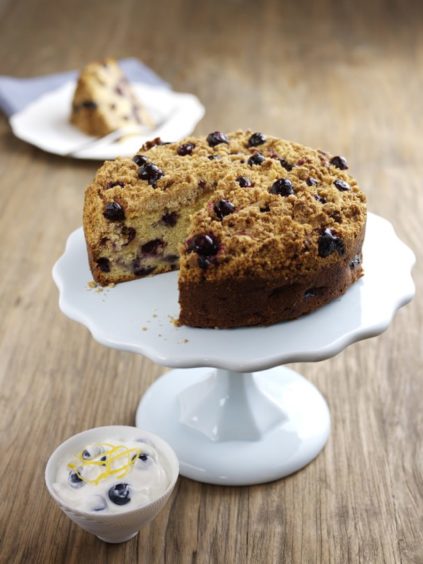 Ingredients
For the crumble topping:
100g plain flour
50g butter, cubed
50g light brown muscovado sugar
½ tsp ground cinnamon
250g blueberries
150g butter, softened
150g caster sugar
3 free range eggs
4 tbsps natural yoghurt
Zest of ½ lemon
1 tsp vanilla essence
1 Pink Lady apple, cored and cut into small cubes
250g self-raising flour
1 tsp baking powder
For the yoghurt topping:
400g low-fat, Greek-style natural yoghurt
100g blueberries Zest of ½ lemon
Method
Preheat oven 200C/180C fan/gas 4. Grease and line a 20cm loose-bottomed, round cake tin.
First, make the crumble topping by placing the flour into a large bowl, rub in the butter until it resembles coarse breadcrumbs, stir in the sugar and cinnamon, put to one side.
Make the cake by, first, washing and drying the blueberries, sprinkle with a dusting of flour to stop them sinking.
Cream the butter and sugar until light and fluffy, beat the eggs together and add a little at a time continuing to beat, fold in the yoghurt, lemon zest, vanilla essence, apple cubes, ¾ of the blueberries, flour and baking powder.
Spoon the mixture into the prepared tin and smooth the top. Sprinkle over the crumble topping and sprinkle over the remaining blueberries, pushing down a little. Bake for 1-1¼hrs, until golden and a skewer inserted into the middle comes out clean.
Leave to cool a little in the tin then remove to a wire rack and cool completely.
Mix together the yoghurt, lemon zest and blueberries and serve with generous slices of the cake.
Recipe from: www.berryworld.com
---
Warm watercress, bacon and apple salad
(Serves: two for lunch or four as a side dish without the bread)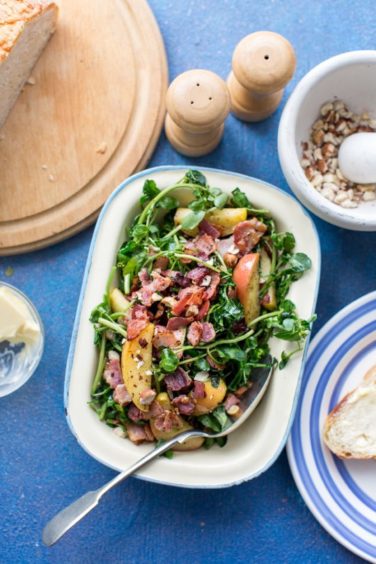 Ingredients
150g watercress
6 rashers smoked streaky bacon
2 Bramley apples
100ml apple cider
½ tbsp vegetable oil
To serve:
Bread rolls and salted butter
Method
Chop the bacon into small pieces. Cut the apples into quarters before removing the core and cutting into segments.
Place a large frying pan or wok on to the stove on a high heat and add in a half tablespoon of vegetable oil.
Once the oil is hot, add in the bacon and apple and stir. Fry until the bacon begins to crisp and the apple is coloured nicely on the outside. Add in the cider and reduce to a sticky consistency.
Add in the watercress and stir fry for 30 seconds, making sure it is well coated in the bacon and cider.
Serve in a large dish along with some crusty bread and salted butter if having for lunch, or why not serve with a pork chop and some mashed potato for a delicious evening meal.
Recipe courtesy of thewatercresscompany.com
---
Read more in this series…
Three one-pot supper recipes that will keep you going through autumn
Three ways with pumpkin: A risotto, chilli con carne and a healthy smoothie