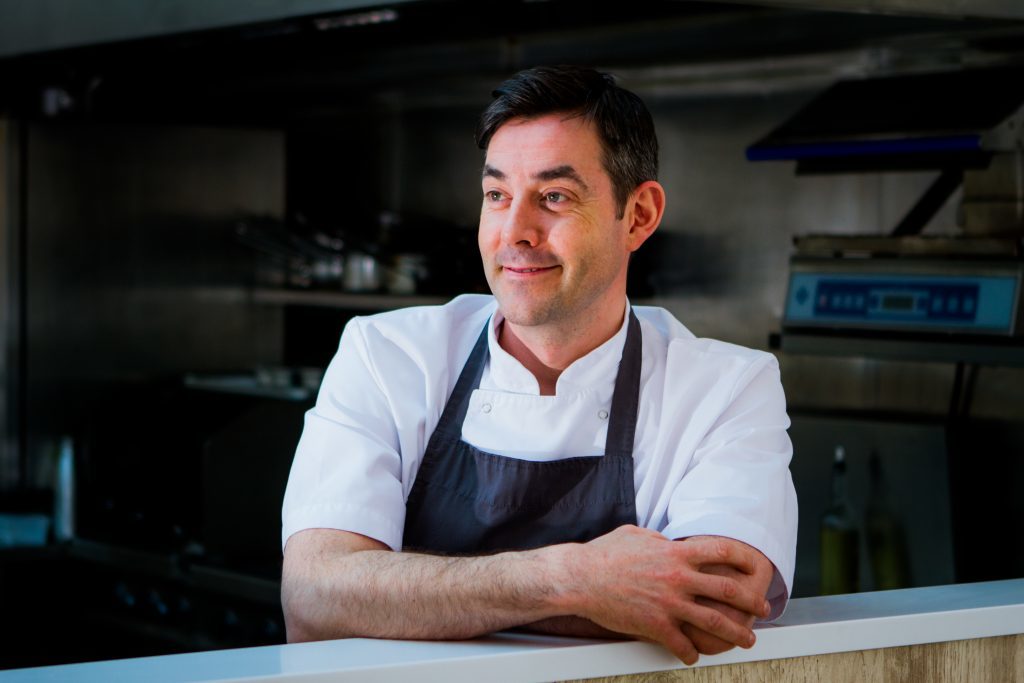 It's every chef's dream to work with the legendary Albert Roux and for Darin Campbell, executive head chef at Andy Murray's hotel Cromlix House in Dunblane, that dream has become reality.
His appointment, heading up the Chez Roux restaurant at Cromlix – overseen by the legendary Albert Roux, one of the world's top chefs – is the pinnacle of a love affair with food that has its roots in Darin's childhood.
"I grew up on a beautiful old farm in Largs and have fantastic memories from that time – milking the cows, drinking the double cream from the top of the milk, eating the wonderful beef and lamb," Darin, 44, recalls.
As a child he took all this for granted but it sparked a love of good food and fresh, seasonal produce that would stand him in good stead.
When Darin was 17 he got a part-time job in a local hotel.
"I spent three years there learning the basics," he explains. "It was pretty hectic but life on the farm had got me used to long hours and hard work."
A move to the prestigious Sheraton Grand in Edinburgh as first commis chef saw him working under influential French chef Jean Michel Gauffre, and he soon worked his way up to chef de parti.
The next few years flew by as he gained valuable experience with top chefs including Marcus Wareing, Gordon Ramsay ("They were 18-hour days!" he recalls) and Andrew Fairlie at One Devonshire Gardens in Glasgow for 10 years.
"Andrew was a massive influence and inspiration, and helped me enormously," says Darin.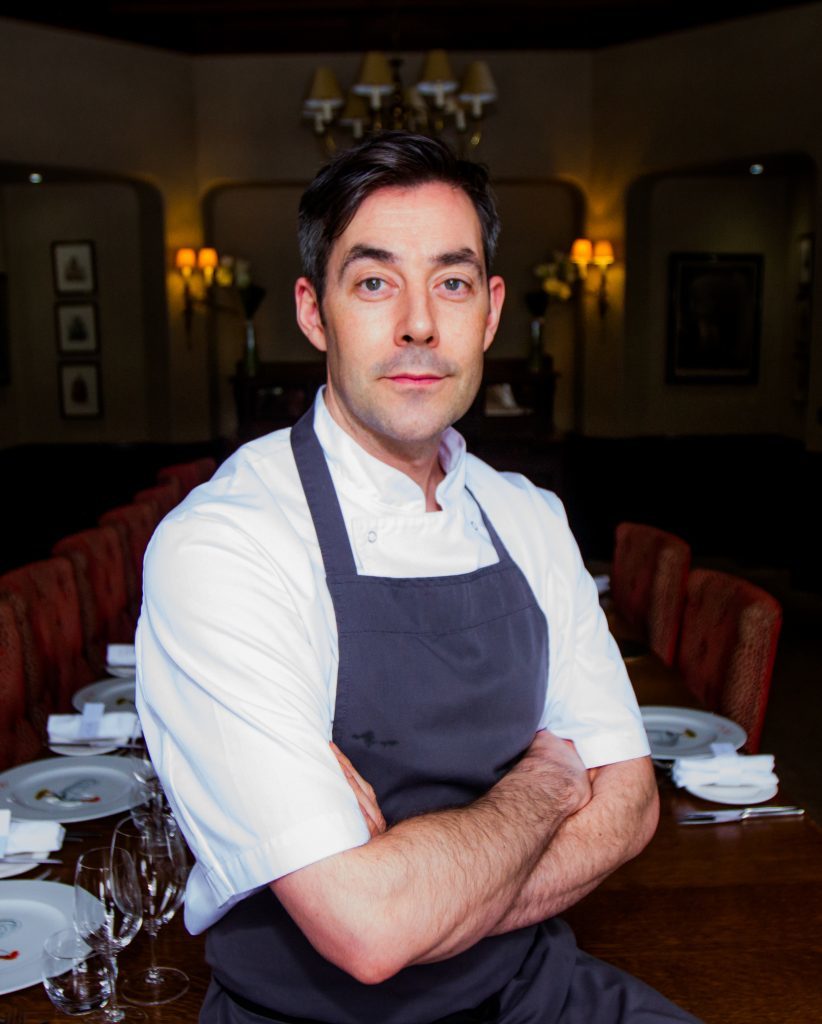 A few years later he was working at a two-Michelin starred restaurant in London when he got a phone call from Andrew asking him to come and work with him at Gleneagles.
Darin spent five happy years there before moving on to Ballachulish House Hotel as head chef, where he won a Michelin star. By then he and wife Kirstie had had their first child and, in search of a work/life balance, he moved to Fortingall Hotel before returning to One Devonshire Gardens, this time as executive chef.
His impeccable credentials impressed Albert Roux, a keen supporter of Scottish chefs, and Darin was appointed executive head chef at Cromlix in 2014.
"I'm directly answerable to Albert but he is always so generous with his advice and help. It's wonderful to be able to phone someone of his stature whenever I need to," he enthuses.
The ethos of Chez Roux is to serve classic French dishes and source the best of Scottish produce, working with the seasons.
"We work very closely with our suppliers, and look to make the menu creative without overcomplicating it," says Darin.
"We have a fantastic team here and Albert is very good at training young people and developing young talent – everyone has an input."
As Darin leaves behind winter fare, he is getting excited about the short asparagus season which begins in May. "I greet it like an old friend," he smiles. "I'm also looking forward to using Scottish strawberries and raspberries and Scotch lamb at their peak."
Kidneys, however, don't get such a good reception. "I absolutely detest them, " he admits, "although luckily I have no problem cooking them."
The team at Chez Roux prepare a lot of their own charcuterie and Darin is proud of the kitchen's old-fashioned piston sausage machine.
"Our sausages are made from scratch and that way you know exactly what's in them: simply good quality meat, seasoning and fat," he says.
Cromlix has a superb kitchen garden comprising 14 raised beds and a polytunnel.
"It's very grounding," says Darin. "It's great sitting down with the gardener and deciding what to grow and then using our own produce in the kitchen."
In the last year, Cromlix has won Scottish AA Hotel of the Year, and the restaurant awarded 3AA rosettes.
"I'm incredibly proud of that," smiles Darin. "The staff and the team are fantastic, real superstars, not just in the kitchen but front of house too, and we're constantly pushing ourselves and fine tuning what we're doing.
"Cromlix is a beautiful property and in a lovely part of the world. Although it can be very demanding to be involved at this level of the business, it's hugely rewarding."
When Darin gets some down time he's a real family man, spending time with Kirstie and their three boys – seven-year-old Jamie Finlay (10) and Connor (13) – going to the football and rugby and playing Warhammer.
"Kirstie's a great baker and the boys have helped out in the kitchen many times. I wouldn't push them into being chefs unless they wanted to be though," says Darin.
While he can't guarantee you'll end up working with Albert Roux, Darin has some good advice for anyone hoping to become a chef.
"Prepare yourself for lots of hard work and devotion to the job, " he says.
"There's no room for ego and you'll need a lot of manners, thick skin and a sense of humour to survive. You might find yourself asking yourself 'Why am I doing this?' but remember that you're being constantly pushed to be better."
Quail, Dingwall black pudding and spiced apple chutney
Serves 4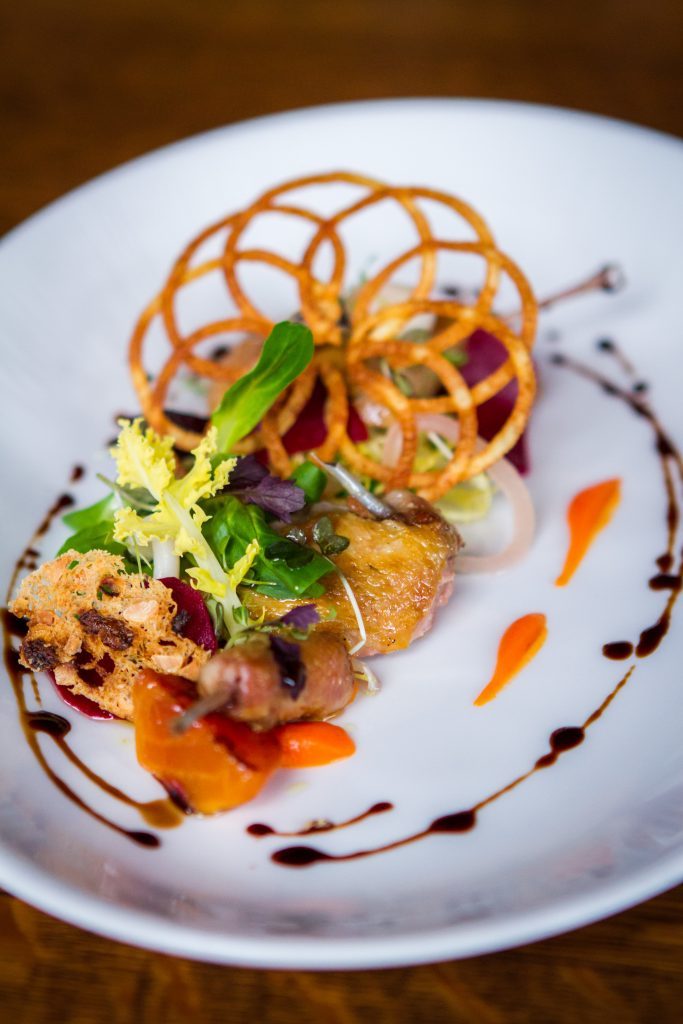 Ingredients
4 x quail crowns
Olive oil
30g butter
100g Dingwall black pudding
30g frisee lettuce
30g lamb's lettuce
10g lemon oil
10g balsamic vinegar
30g pickled shallots
For the spiced apple chutney:
1 onion
6 tomatoes
10 Granny Smith apples
100g fresh ginger
750g sugar
250g vinegar
10g ground nutmeg
Directions
Pre-heat the oven to 180°C.
For the chutney
Finely dice the onion and chop the tomatoes into small chunks. Then peel the apple and dice into 1cm pieces and peel and finely grate the ginger.
Place the sugar and vinegar in a large heavy based pot and bring to the boil. Add the ginger and nutmeg to the syrup before adding the rest of the ingredients to the pot. Turn the heat down and cook very slowly for two to three hours.
Once cool, blend half of the chutney and fold through the remaining half. Set aside.
For the quail
Place the quail crowns in a medium heated pan with a little olive oil skin side down. Colour in the pan until golden brown and then add the butter.
Place in the oven for five minutes before allowing to rest for a further five minutes.
Place the black pudding in the oven for four to five minute – once cooked through, keep somewhere warm until serving.
Take the chutney and smear it across the plate. Remove the quail from the bone and season the breast before placing on top of the chutney.
Arrange the black pudding on the plate and dress the salad leaves with lemon oil and balsamic vinegar. Place the pickled shallots on top of the quail and serve.
Organic Shetland salmon with caviar butter sauce and Savoy cabbage
Serves 4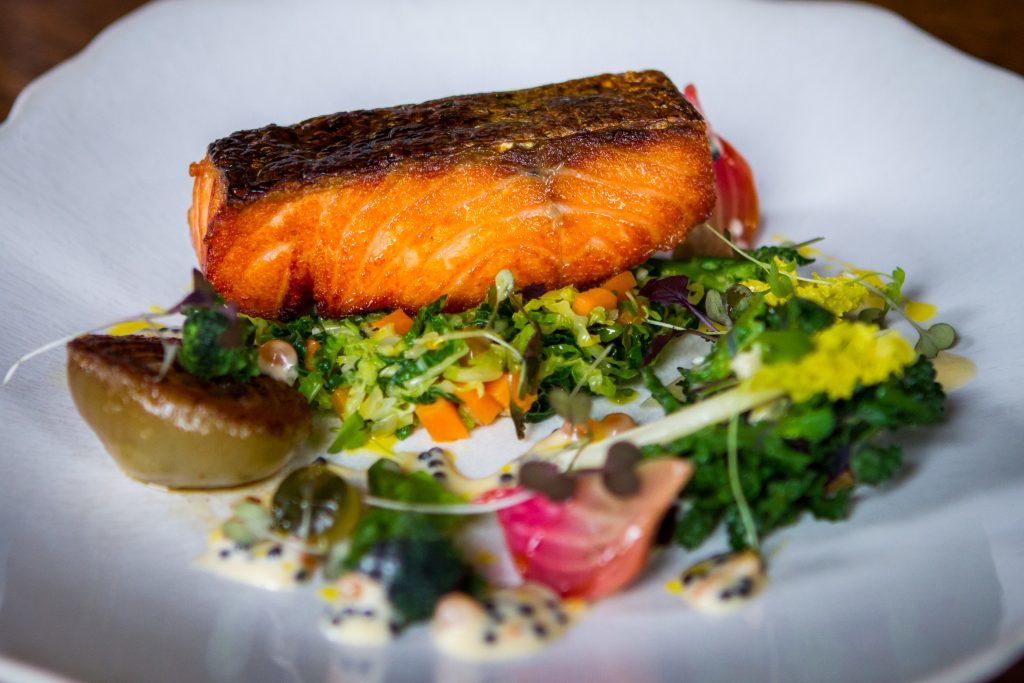 Ingredients
For the salmon:
200g peeled baby potatoes
200g peeled Jerusalem artichokes
150g tenderstem broccoli
150g cauliflower
150g red pepper
4x150g pieces of salmon
For the caviar butter sauce
1 x shallot
100ml white wine vinegar
100ml white wine
50ml cream
200g butter
10g caviar
Directions
Pre-heat the oven to 180°C.
In a pan of salted water, place the peeled potatoes and bring to a gentle boil. Cook for 15 to 20 minutes until just soft.
In the meantime, roast the cabbage in the oven until it is completely soft – this should take around 20 minutes.
Combine the potatoes and cabbage together and crush with a potato masher. Keep warm until serving.
For the garnish
Prep the broccoli, cauliflower and red pepper so they are roughly the same size, around 2cm chunks.
Cook in heavily salted boiling water for around two minutes until slightly tender.
For the sauce
Slice the shallot and place in a pan with the vinegar and white wine. Reduce by half and then add the cream. Reduce again until thick.
Slowly add the butter, cube by cube, whisking at all times. When all the butter has been added, strain through a sieve.
In a medium hot pan, place the salmon skin–side down with a generous splash of oil.
Place the crushed cabbage and potato in the middle of a serving plate and arrange the vegetables.
Add the caviar to the butter sauce and spoon over the vegetables before placing the cooked salmon on top.
Bramble soufflés
Serves 5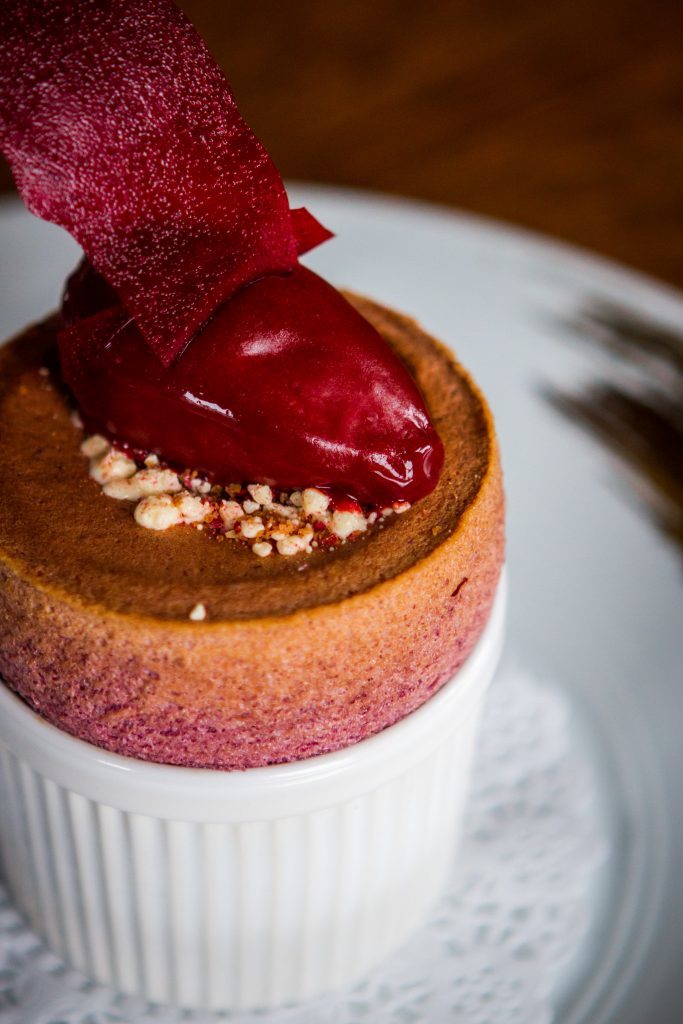 Ingredients
For the base:
500g bramble puree
125g caster sugar
45g cornflour
For the soufflés:
A little butter for greasing
25g caster sugar
180g egg white
Directions
Pre-heat the oven to 180°C.
To make the soufflé base heat 375g of the bramble puree with 100g of caster sugar to 100°C.
In a bowl, whisk the remaining fruit puree with 25g caster sugar and the cornflour until well combined. Next whisk the mix into the pan of reducing puree and whisk continuously until the cornflour is cooked out.
Transfer the soufflé base on to a tray and cover with a double layer of cling film to prevent a skin from forming. Leave until completely cool.
To make the soufflés first prepare the moulds. Carefully brush 10 soufflé dishes with butter, using vertical strokes. Coat each mould in caster sugar, shaking out any excess.
In a large bowl, whisk soufflé base until smooth. Then, in a food processor, whisk 180g egg white with 25g caster sugar to very soft peaks. Add one third of the egg whites to the soufflé base and whisk until well combined and even in colour and texture. Fold in a further one third of the egg white into the soufflé base mix, again ensuring colour and texture are even. Repeat with the final third and transfer the soufflé mix into a piping bag.
Cut a one-inch hole in the end of the piping bag and fill each soufflé dish with mix, slightly overfilling each mould. Using a pastry scraper or the back of a knife, scrape the excess mix off the top of each mould, leaving behind a perfectly flat surface. Using your thumb and forefinger, clear a rim around the top of each soufflé. This will allow the soufflés to rise evenly.
Bake in the oven for eight minutes and serve.