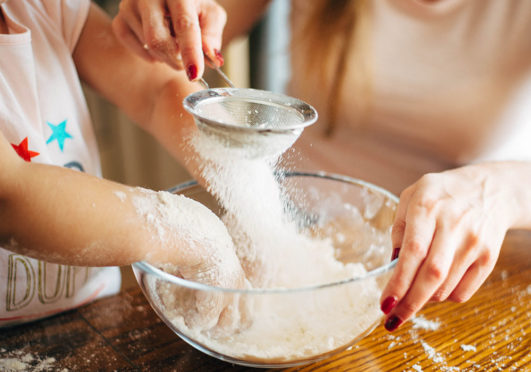 I love baking. Mainly I'm driven by my love of eating it, which in turn inspires me to get the mixer out.
It's hardly surprising that the whole country seems to be turning to flour and rolling pins during lockdown. There's a homeliness and warmth like no other when the sweet fragrance of what is to come is released from the oven. It's a smell that drives kids to lay down screens and follow it to the kitchen where they enquire what it is and how soon they can eat it.
As, over the years, I've become more aware of what I'm eating, subliminally weighing up the calorific content and nutritional value of everything that passes my lips, I recognise that while baking is not something I can consume in vast quantities (significant is fine), it doesn't necessarily have to be 'bad' for you.
In fact, by making a few tweaks we can start to introduce a higher nutritional value to what we bake by adding in fruit, nuts and a little fibre – and reduce the calories in the form of sugar and fat. Most baking recipes hugely overdo the sugar and, as a general rule, I cut it by half with no obvious impact on the taste. I also reduce the butter, making minor adjustments to other ingredients as I go. So many recipes can withstand this kind of tampering and it's worth playing around with your favourites to see what you can get away with.
By way of example, I've included my recipe for chocolate chip cookies in which I've used around half the sugar and lowered the butter content compared with typical recipes. I've also added in 50g of ground almonds – the only way I can get my teenage boys to eat nuts (other than a Snicker bar). And that's the great thing about baking. Kids love it, so it's an ideal opportunity to throw in a few nutritional extras without anyone really noticing.
For sticky toffee puddings you can use dates as a natural sweetener which will also up the moisture and fibre content. So why not take another look at where you might be able to trim back calories on your existing favourite recipes, and have a go at adding in some nutritional extras.
After all, the healthier the bake, the less guilty we feel about eating it – which is a total result as far as I'm concerned.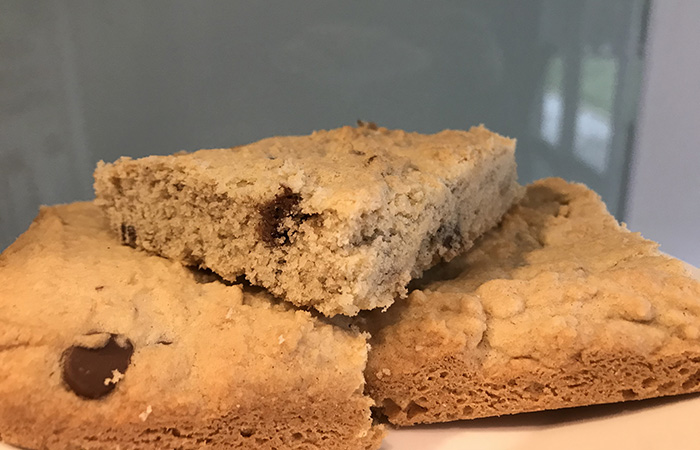 Easy (and slightly healthier) chocolate chip cookies
Ingredients:
100g salted butter, softened
90g golden caster sugar
2 tsp vanilla extract
1 large egg
150g plain flour
50g ground almond
 ½ tsp bicarbonate of soda
¼ tsp salt
40g milk chocolate chips
Method:
These could not be easier to make as I literally throw all the ingredients into a mixer at once, apart from the chocolate chips which I stir in by hand at the end. I then distribute the mix evenly in a 20cm x 20cm square tin and bake in the oven at 190°c  (170°c fan) for just over 10 minutes (or until golden brown on top), but you can use a larger baking try and distribute in even dollops to make traditional circular cookies.
Once cooled I cut the baked mixture into square cookies with a knife – one batch should make around eight.
Just a little note on this that one of my family is coeliac so I use gluten-free ingredients. In the case of these cookies, gluten free flour makes them a little more crumbly (partly because of the reduced butter) so you need a plate, but they still hold their shape. Naturally, the recipe works just as well with 'normal' flour.