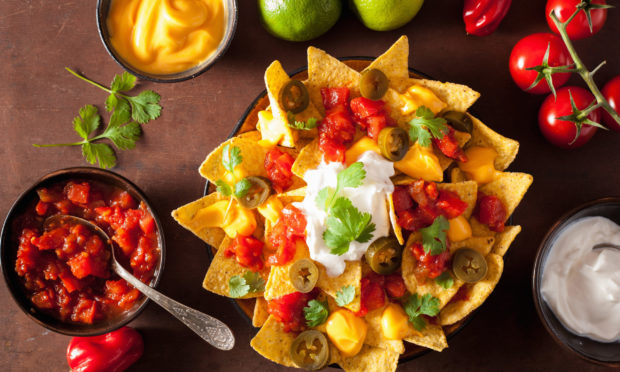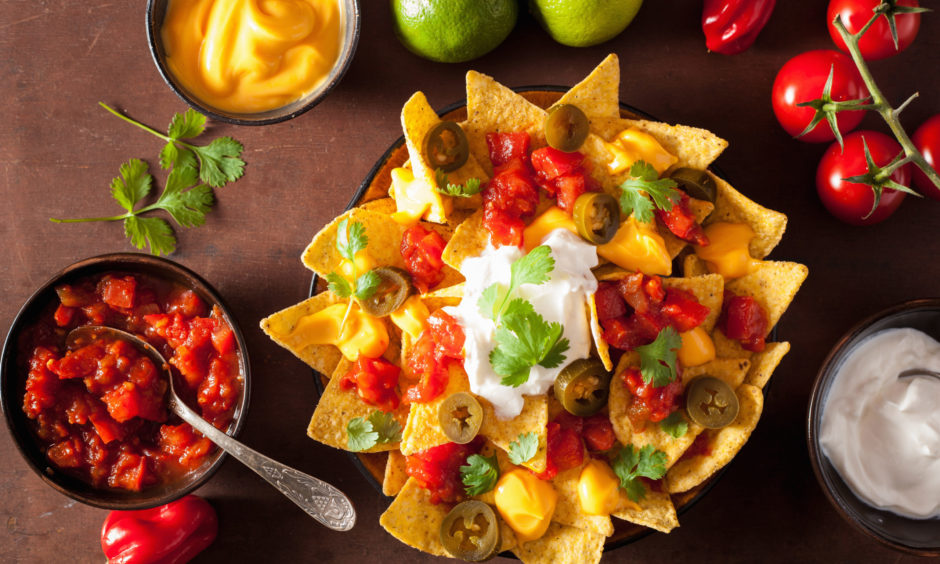 Food from Mexico rarely disappoints and you will be on to a winner here with this brilliant recipe for a vegan nachos plate.
Mexican cookery and the amazing dishes that come from the country have been growing in popularity in recent years.
Several celebrity chefs, including Rick Stein, have visited Mexico to shine a spotlight on the dishes they create there.
Corn is central to the cuisine in Mexico, playing a key role in tacos, enchiladas or, as with today's recipe, nachos made with corn chips.
Versatile nachos
Nachos are a great starter or snack and one that can be made very easily with a variety of ingredients, like this one for our Friday Fakeaway.
It is one of those great dishes that can be placed in the middle of the table for everyone to dive in and help themselves.
This recipe from food writer Bettina Campolucci Bordi is from her book the 7 Day Vegan Challenge.
"Take 10 minutes out of your time to make this plate of deliciousness, put on a great movie, relax and indulge yourself," she says.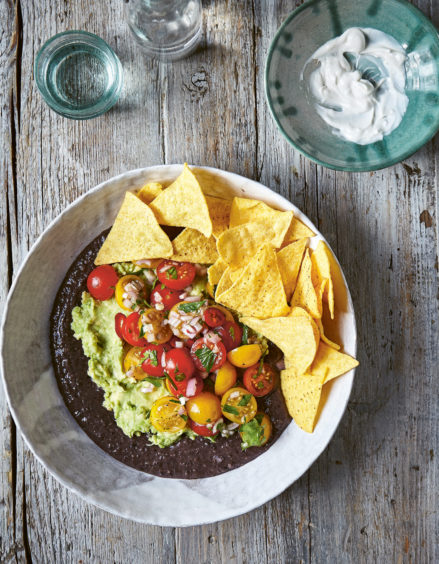 Mexican Nacho Plate
Ingredients
(Serves 2)
240g drained tinned black beans
1tbsp fajita spice mix
1 splash of Plant Cream
1 avocado, peeled and pitted
1 squeeze of lemon juice
Salt
Corn chips, to serve
Lime wedges, to serve (optional)
For the plant cream – either cashew, almond or sunflower cream:
(Makes a 250ml jar)
60g of cashews or almonds or sunflower seeds (depending on which type of cream you wish to make)
250ml boiling water
For the fresh salsa:
300g cherry tomatoes, halved
30g coriander leaves, chopped
½ shallot, finely chopped
½ chilli, chopped
1 pinch of salt and freshly cracked black pepper
Method
Make the plant cream: Regardless of which version you choose, simply put all the ingredients in a blender and blitz until you have the desired smooth texture. If you want an even smoother consistency, put the nuts or seeds and water in the blender jug and leave them to soak for at least 20–30 minutes before blending.
To make the black beans, put the drained beans in a blender with the fajita spice mix, Plant Cream and a pinch of salt and pulse until well mixed. Scoop out onto a plate and spread evenly. Next mash the avocado with the squeeze of lemon and a sprinkle of salt and put on top of the black beans.
To make the salsa, put the tomato halves in a bowl and add the remaining salsa ingredients. Toss gently.
Put a dollop of salsa on the plates, scatter the corn chips around the edges and add some lime wedges for extra zing, if you like. Enjoy straightaway!
This recipe is completely adaptable and you can add some steak mince that has been gently fried in olive oil with the fajita spice mix to make it a meat feast or add a Scottish twist by using crumbled haggis on your nachos which works brilliantly with salsa and the melted cheese.
More Friday Fakeaway recipes …
Friday Fakeaway: Local Indian chef shares his signature dish, Chillies' Garlic Butter Chicken
Make the Mac Burger – the perfect Friday Fakeaway for lovers of a meat treat