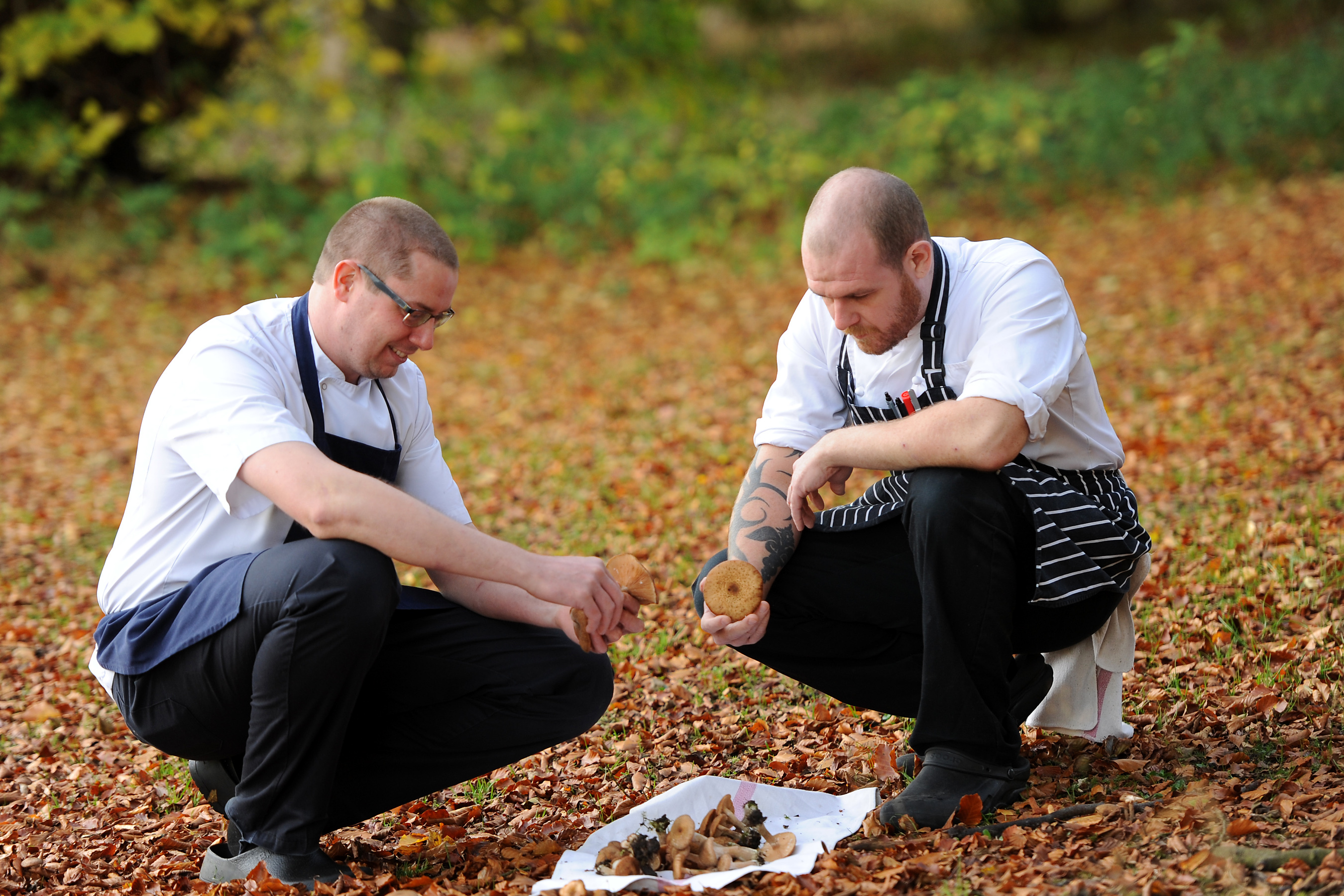 A historic building in the heart of a Fife country park, lies Balbirnie House Hotel is one of Scotland's top wedding venues. Jack McKeown meets its executive head chef, Callum Dow.
Although he's only 34 years old Callum Dow has been working in kitchens for 20 years. The executive head chef at Balbirnie House Hotel was a kitchen porter at 14 and took up his first head chef role when he was just 24 years old.
Born in London, he moved to Newcastle aged six. "When I was 14 I got my first KP job in my local pub, washing pots and pans," he says. "When I was a kid I wanted to be a fireman but bad eyesight and childhood asthma put paid to that and instead I went into cooking.
Aged 18, Callum moved to Scotland when he got a job at Gleneagles. The next three years saw him learn the ropes throughout the renowned hotel's many kitchens. "It was a really good time for me," he says. "Working in a hotel like that at such a young age was a great experience."
His career took him back down south where he worked his way up from chef de partie to sous chef at a hotel in Shropshire before getting his first head chef job in the Newcastle area. Stints at various Michelin star restaurants followed before he returned to Scotland, working for MacDonald Hotels and then Gleneagles once more. He became executive head chef at Balbirnie House Hotel 14 months ago.
With two restaurants, the Orangery and the Bistro, as well as being a phenomenally popular wedding venue, a lot of cooking goes on at Balbirnie and Callum heads up a team of around 30 chefs and kitchen porters.
"The bistro specialised in French cuisine but last year we won a major European hotel award and since then we've changed to a more broadly European menu with quite a bit of Italian influence," he explains. "The bistro does mainly Scottish food with – I hope – a bit of a wow factor to it."
As the hotel's top chef Callum's duties involve a lot more than just cooking. "I'd say around 50% of my time is spent in the kitchen and the other half in the office," he continues. "I spend a lot of time costing new menu options, dealing with suppliers, sorting out the rotas for 20 chefs and 10KPs. And Balbirnie doesn't have an HR department so I do all of the human resources stuff for the kitchen staff.
"My chefs seem to think I go to the office for a rest but really I'd much rather be doing what I love and cooking."
When it comes to sourcing the finest ingredients Callum thinks he knows best. "The hotel has an external procurement company but I bypass them more often than not," he says. "I've worked in the hotel industry in Scotland for so long that I know a lot of suppliers. In this industry there's a lot to be said for loyalty. Once I've built up long-standing relationships with suppliers I know they're not going to let me down."
Callum's day starts at around 9am. "I'll come in and do a couple of hours in the office before heading into the kitchen and getting the lunchtime shift up and running. Then it'll be a mix of cooking myself when I can, overseeing things and sorting stuff out in the office. I finish anytime between 10pm and midnight depending how busy we are."
Those seem like long hours. "They're not that bad for the industry. At the end of the day you don't get into cooking unless you have a love for it. If you don't love it there are much easier ways to make better money.
"I am trying to address the long hours culture though. When I was working for some of the Michelin starred places I was doing 20 or 21 hours a day, going home for a couple of hours' sleep then heading back again. Some of those places are still like that.
"I have three young kids now and I want to get the work/life balance right for myself and my staff. We're working towards a four day week where you do long hours but then have three days off."
Weddings are the biggest part of Callum's job – Balbirnie has won the Scottish Wedding Hotel of the Year nine out of the past 11 years. "The cooking I do tends to be banqueting," he says. "It's our bread and butter. We had 176 weddings last year, which was a record year for us."
It seems amazing that kitchen staff can produce 250 perfectly cooked steaks, salmon fillets or chicken breasts all ready at the exact same time.
"It is amazing," Callum laughs. "I do it all the time and I'm still not sure how."
Recipes: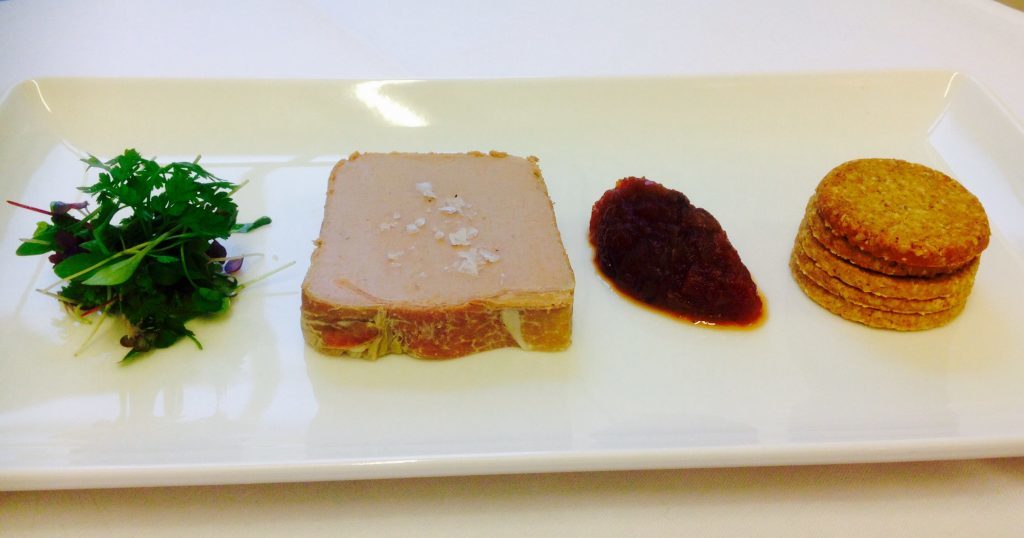 Chicken Liver parfait ( makes 1kg terrine)
500g fresh chicken livers- washed and patted dry, and left to room temperature
500g unsalted butter- melted and left to room temperature
2 whole large eggs
3 egg yolk
1 g Pink salt/flaked sea salt
3g garlic puree
15g chopped white onion
2 g thyme leaves
30ml red wine
10ml Cognac/ brandy
15ml port
6 slices of Parma ham ( optional )
Pre-heat oven to 120oc.
You will require a 1kg terrine mould or a suitable dish such as a loaf tin to make the parfait. You could however make the parfait in individual little dishes or kiln jars which is sometimes what we do here at Balbirnie House. Times for cooking however would need to be reduced accordingly.
Firstly line the dish or mould that you are using to cook your parfait in with cling film, double layering the cling film will make it easier to lift out when it has set.
At the hotel we then line the mould with Parma ham, not essential but does help a little with presentation. 6 slices should be plenty.
Now onto making the actual parfait mix.
In a small sauce pan add the garlic, onion, thyme, red wine, port and cognac. Just bring the mix to the point of boil and take of the heat and allow to cool to room temperature.
"The trick to prevent the parfait mix from splitting is to make sure that all of the ingredients are at room temperature. If not the butter with solidify when added and give the appearance that it has split. (Don't worry if this happens though as it can still be saved. Just sit the bowl with the mix in it in a warm sink of water and blend until it comes together again)"
Add the alcohol mix from the saucepan to the chicken livers along with both the whole egg, egg yolk and salt, and using either a jug blender or hand blender ( food processors will work as well ) blend the ingredients until it resembles the consistency of a smoothie ( I wouldn't advise that you drink this one though!!! ). Slowly begin to add the melted butter whilst still blending the mix. Once all the butter has been added strain the raw parfait mix through a sieve to remove any unwanted bits.
Pour the sieved mix into your mould carefully , once filled carefully fold the Parma ham over the top and same again with the cling film, making sure to fold the ends over as well.
Either using a lid or a small piece of tin foil cover the top of the mould. Now place the entire terrine/mould into a baking tray and pour in enough hot water to reach half way up the terrine/mould. ( This is what us chefs refer to as a Bain Marie/ Water bath
Place the tray with the parfait into the pre-heated oven and cook for approximately 45-50 mins. Once cooked the parfait should be set but still have a little wobble. Allow to cool slightly and place in the fridge overnight to cool completely. To turn out simply grab hold of the Clingfilm and lift out.
This parfait will last 4-5 days I the fridge , and will actually taste better after the first couple of days, once all the flavours have had a chance to marry. Serve with either some oatcakes or brioche and a simple chutney.
Roast fillet of Hake, garlic mash, French style peas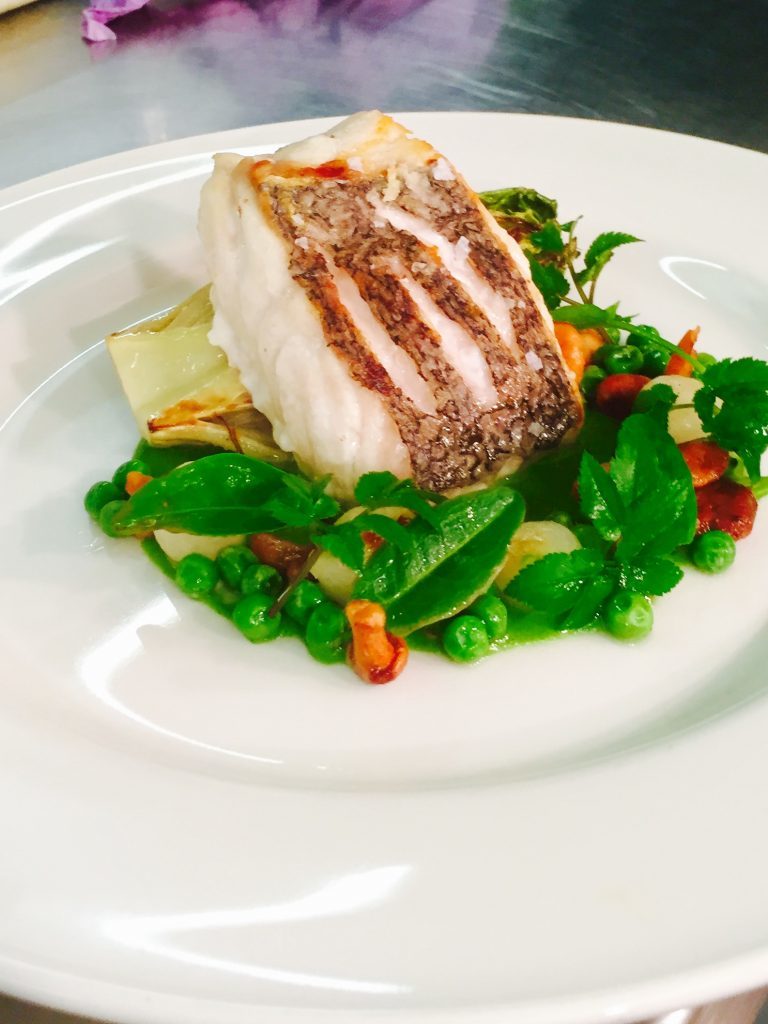 Ingredients ( serves 4 )
4 x 160g portions of hake, scaled & pin boned (speak to your fishmonger, as most will do this for you)
2 large baking potatoes
1 bulb of garlic- wrapped in a small bit of tin foil 80ml double cream
7 tblsp of Scottish rapeseed oil
100g fresh peas
85 g diced pancetta / streaky bacon
100g Roscoff onions/ baby round shallots- peeled, but leave the root on 125ml white wine ( not something too sweet , a chardonnay would be perfect for this dish ) 200ml chicken stock ( most supermarkets make some great fresh stocks ) 150g unsalted butter diced juice of half a lemon 80g Fresh Scottish Girolles / your preferred mushrooms small bunch of Fresh parsley Selection of wild herbs to garnish
Pre-heat oven to 180oc, cook potatoes and garlic until soft. Approx 40 mins In a large frying pan add 3 tblsp of oil, the onions and pancetta. Stir occasionally for an even colour.
Add the wine, allow to almost evaporate, then add stock and turn the heat down and cover with a lid.
Cut the cooked potatoes in half when warm, remove flesh, and push through a ricer. Squeeze garlic to remove the flesh and add to mash.
Bring the cream to a boil in a pan, add mash, garlic and 40g of butter and beat until smooth, season .
Warm a frying pan on a medium-high heat, use a little silicone paper on the bottom of the pan to stop the fish from sticking, if you do not have a non-stick one. Add remaining oil and place fish skin side down. Add 40g of the diced butter ,season and put in oven, cook for 4-6 mins.
By this time the onions should cooked. Remove the lid form the pan and turn the heat up full. Add the mushrooms, peas and butter. The sauce should coat the back of the spoon. Finish by adding the chopped parsley and lemon juice, season to taste.
Now to plate….
Remove the fish from the oven, gently squeeze the piece of fish and it should spring back. Another check is that a little of the white protein should be just starting to come out of the fish. The middle of the fish should reach 62oc .
Present the mash into the centre of your plate. Spoon the peas , onion and pancetta mix and a little of the sauce around the mash. Place the fillet of fish, skin side up on top of the mash. Finally garnish with a few choice herbs.
Valrhona Chocolate delice- (makes 6 portions)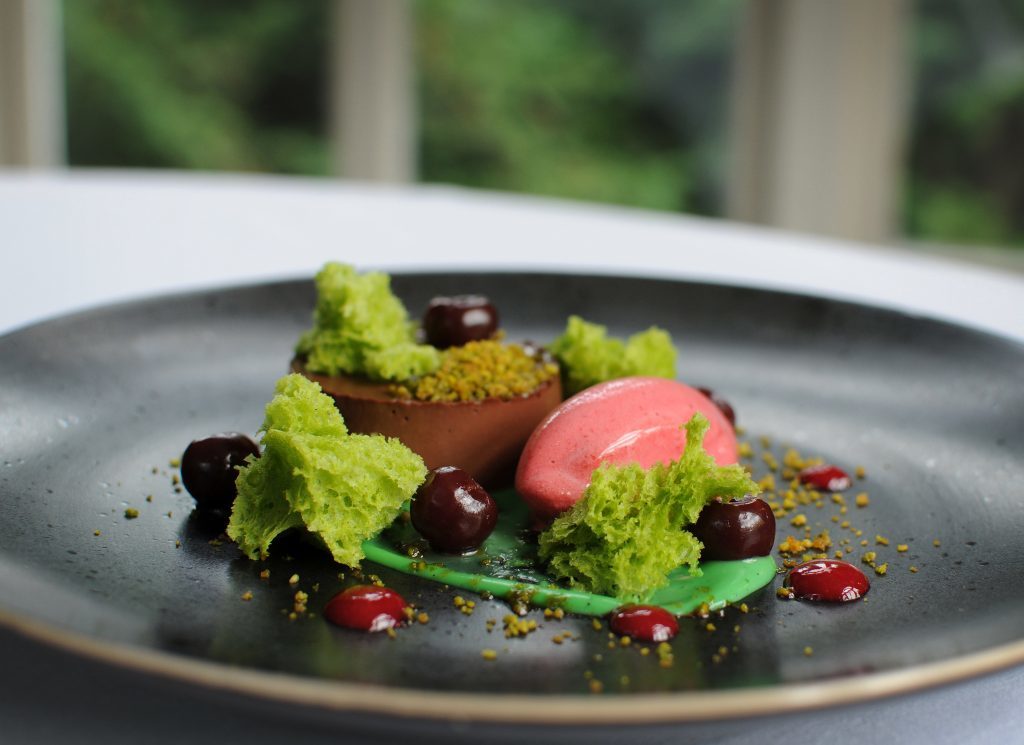 155g unsalted butter
75g good quality cocoa powder
275g double cream
30g icing sugar
75g Valrhona chocolate ( or another good quality dark chocolate with high cocoa solids- at least 70%)
2 egg yolks
135g castor sugar
This recipe is incredibly versatile and can be set in a terrine , in a similar fashion to the Chicken liver parfait and simply turned out and sliced. It can also be poured into glasses to be served as a verrine. ( A posh French word for "served in a glass!!!". At Balbirnie however we set the mix in a metal ring with a base of pistachio sponge that we then push out to serve as you can see in the picture.
Place butter and Cocoa powder into a bowl and place above a pan of simmering water, not boiling and allow to melt. Once melted remove and allow to sit at room temperature. Now do exactly the same with the chocolate, again once melted remove the bowl from the top of the pan and allow to sit at room temperature.
In a separate bowl whisk the double cream and icing sugar to what us chefs call the ribbon stage, this literally means that the cream will just hold shape when you pull the whisk through it.
In a separate bowl add the egg yolks and castor sugar and place on the pan of simmering water. Whisk constantly for a couple of minutes untill the sugar has dissolved and the egg yolks have become fluffy and pale in colour. Be careful not to allow the eggs to get too hot and turn to scrambled eggs !!!!
Now to bring the mix together.
Pour the egg mix into the melted chocolate and fold together.
Now pour in the melted butter mix to the chocolate and again fold in.
Take a spoon full of the whipped cream and mix into the chocolate mix to loosen slightly, and then fold the remaining cream in carefully to give a light silky texture.
Finally pour your complete chocolate mix into your desired serving dish and allow to set in the fridge for a minimum of 4 hours, preferably over night to be sure that it is set.
Serve with your choice of garnish whether it is some home-made ice cream which you can buy direct from Balbirnie House Hotel, with over 40 flavours available, or a few seasonal berries. The choice is yours!!!